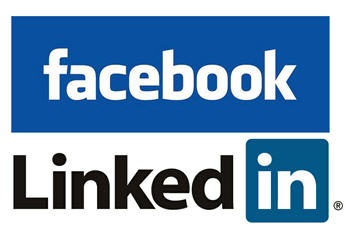 Facebook (NASDAQ:FB), the rising star of the 21st century, was founded in the dorm room of Mark Zuckerburg. He had this idea of connecting people through a fundamentally different way. He pointed out that sharing is an instrumental factor in the harmony of human relationships. By the help of start-up believers, Facebook grew to be one of the billion dollar companies set in Silicon Valley. This young technology company has been the leader in the social media realm of the Internet.
On the other hand, LinkedIn (LNKD) is also a social media company that aims at connecting professionals worldwide. Their thrust revolves around giving services to the users that range from networking with alumni, utilizing SEOs to ultimately helping an individual find a job.
Fresh from their IPOs, I am here to evaluate which company is the better buy this year. As the two companies entered the public market, I am going to analyze their core fundamentals and stock performance last year and use that to decide which social media company should reign in the 21st century.
The Industry
The yet to be fully realized potential of the social media industry is on its way to a steady substantial climb as the earnings season demonstrated substantial profits for both companies. This industry can be soon pitted against the behemoths of the Internet world such as Google (NASDAQ:GOOG) and Yahoo (YHOO). The ability of social media companies to generate revenues is relatively comparable to the diversified business revenue streams of the aforementioned companies. This industry has redefined the advertising industry by taking it to a higher level of production, resulting in "overnight" stories of the young billionaires.
Price Movement

source: ycharts
The stock price of LNKD posted an impressive 46.35% year-to-date return and is more likely to offer a sizable amount of upside if the estimates of analysts are accurate. LNKD's performance for the past year has outperformed FB by 108.76%. It has been apparent that FB's first year in the open did not do well for them with prices losing 12.47% year-to-date. The price-to-earnings multiple of FB is very high standing at 1,166x compared to LNKD's 480x, making the former more overvalued by the investing public.
Financial Comparisons
Year-on-Year Growth on Income

Facebook's total revenue has grown to an outstanding $5B USD in a matter of years. It has posted a CAGR of 86.9% while managing a grown level of gross profit as well. Facebook spent a lot on research and development that led to the reduction of its bottom line figures. Facebook's latest bottom figure showed that its first year as a public company has not gone so well as its stock price took a beating. FY2012 is the first full year since its inception that posted a decrease in FB's net income.

LNKD has had a great run since its May 2011 IPO debut, posting a 78.29% return. Total revenues show a CAGR of 100.8% while gross profit manages to get 107.9% as the company controls the management of costs. Its operating income increased from $20M to $57M during the period of 2010-2012. Note that this figure excludes 2009's operating income when the project lost $3M as part of the normal start-up process. While FB had an increase in the percentage of sales devoted to SGA costs from 19.35% to 35.13%, LNKD managed to lower costs from 15.6% to 12.91%. The difference in income statements shows that LNKD has a more promising future in terms of growth.
Ratios and Margin Analysis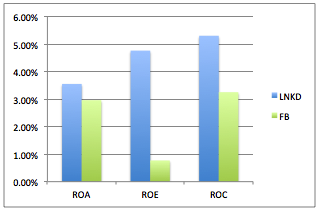 In terms of probability, LNKD has a significant advantage over its competitor by beating FB in these three significant indicators. In my opinion, LNKD will generate more value for its shareholders in the long run as it continues to grow at an incredible pace. This makes LNKD a better investment vehicle compared to Yahoo offering a very low ROE of 0.77%, as compared to LNKD's 4.76%. This is impressive considering that a majority of its revenues operate using the same business model of display and advertising.

Moreover, LNKD's efficient use of assets in generating revenue has been outstanding compared to its rival social media company. Both companies have little financial risk as their capital structure takes on very little debt.
Conclusion
At the end of the day, it's all about the ability to make money for shareholders. Nominally speaking, FB sounds like a better deal but when I looked at the hard financials and fundamentals of the companies, LinkedIn looks like a better choice in the long run with greater upside in terms of growth, well-managed financial ratios, sterling IPO year and good management that make it more attractive than the rival public social media company. I recommend a strong BUY position on LNKD over FB.
Disclosure: I have no positions in any stocks mentioned, and no plans to initiate any positions within the next 72 hours. I wrote this article myself, and it expresses my own opinions. I am not receiving compensation for it (other than from Seeking Alpha). I have no business relationship with any company whose stock is mentioned in this article.