Most people agree that when the Federal Reserve ends QE there will likely be at least a small stock market correction, even Ben Bernanke said so himself. The real question is has the economy really improved and are brighter times ahead. If the economy has improved enough it is possible that the Fed could tighten monetary policy without triggering another recession. In this article I will examine many different indicators to get an idea of what to overall market is likely to do. The goal is to help inform investors of all kind if the stock market is a safe place to be right now. In this article when I refer to the market I am referring to the broad stock market, usually measured by the S&P 500, or the ETF SPY. I will rate each indicator a -2 (strongly bearish), -1 (bearish), 0 (neutral), 1 (bullish), 2 (strongly bullish). Those with little time can skip to the end to see the markets total score.
New and Existing Home Sales (1)
Recent Existing: 4.97M (0.6% M/M Change)
Recent New: 454K (425K consensus)
Home sales are always a good indication of the health of the overall economy which is why they get so much attention. Both the price of homes and actual sales were up, however the supply of homes on the market actually increased. Because of this home sales are scored as a bullish signal because the steady increase in sales.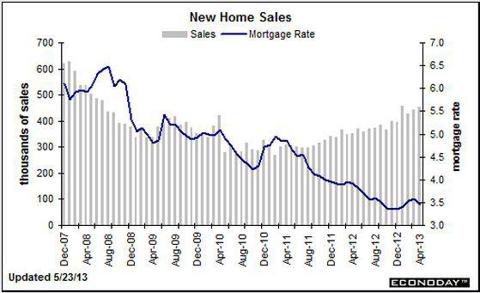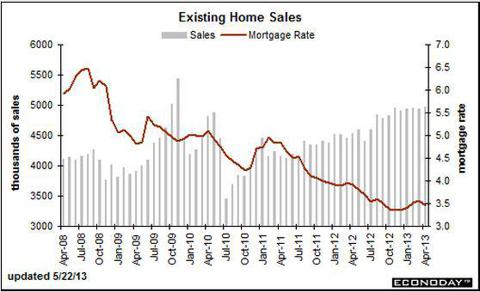 Housing Permits and Starts (1)
Year-to-Date for April: 27% increase (234.9K to 297.8K)
Housing Starts are another good indicator of overall economic health. New houses would not be built if people were not willing to buy them. If people are willing to buy them it means that they must have at least some faith in the economy. There has been a significant increase in housing starts since last year which is why this indicator received a bullish ranking.
Total Automobile Sales (-1)
Recent: 14.9M (15.3M consensus)
Automobile sales are an important number to look at because a car needs so many different materials to be made and is such a big purchase, that it is an excellent indicator for the overall economy. Sales were down in April and missed expectations slightly, which means automobile sales received the first bearish ranking.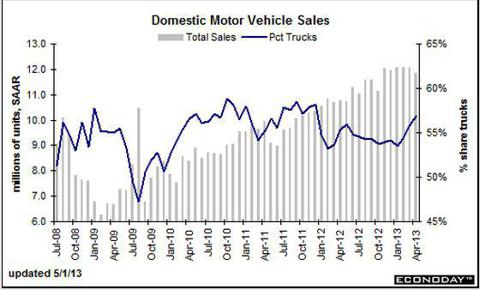 Consumer Sentiment (2)
Recent: 83.7 (Consensus 78)
Since we are a nation of consumers, consumer sentiment is very important. If the consumer is confident and buys more the economy will likely improve. Recently consumer sentiment has soared which is why this indicator received a strongly bullish ranking.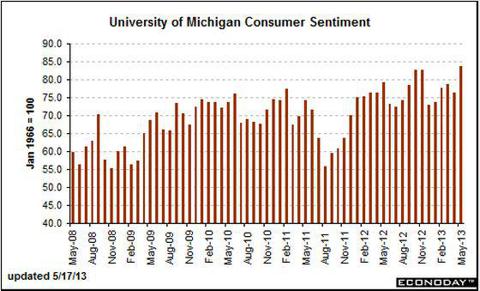 Underemployment (-1)
Recent: 7,916K (Previous 7,638K)
Instead of looking at unemployment which can be slightly deceiving, I look at underemployment or the number of people who work part time or under their ability for economic reasons. This number had increased slightly from a month ago giving it a bearish ranking.
Durable Good Orders (1)
Recent: 3.3% M/M (Consensus 1.1%)
Durable good orders are important for the same reason home and automobile sales are important because they represent big purchases. After declined drastically the last month, durable good orders were up more than estimated given it a bullish ranking.
Industrial Capacity Utilization (0)
Recent: 77.8% (Consensus 78.3%)
Industrial capacity utilization is important because it indicates how healthy current businesses are, and if it is high enough it could signal future business investment. Currently capacity utilization has remained relatively flat giving it a neutral rating.
Book to Bill Ratio for Semiconductors (1)
Recent: 1.08 (Previous 1.11)
Although semiconductors are clearly not the only part of the economy it is good to look at their book to bill ratio which if it is over 1.00. This means that the orders are greater than what the industry is able to fulfill. Because of this, this is a bullish indicator.
ISM Survey (0)
Recent: 50.7 (Consensus 51.0)
This index is a measure of how well the manufacturing sector is doing. Scores over 50 are seen to be positive. Since the score has declined recently but still is slightly above 50 I gave it a neutral rating.
Copper Price (0)
Recent: 3.277
The price of copper is often looked at as an indicator of economic activity since it is used so heavily by the industrial sector. Clearly the price of copper can be manipulated by other things but generally, when the price is increasing and above $3 it is good. Since the price is above $3 but has been decreasing I gave this a neutral ranking.
Producer Price Index (0)
Recent: -0.7% M/M (Consensus -0.7%)
The producer price index is a measure of how much producers have to pay for their materials. It is mainly used as an indicator for future inflation or deflation. However it does tend to spike up before recessions. Since this is not the case I have given it a neutral rating.
Philadelphia Fed Business Conditions (0)
Recent: -0.5
This index measures the overall health of the economy by looking at many different things the average value is 0. Right now the value is slightly negative but coming back up which is why I give it a neutral rating.
Philadelphia Fed Business Outlook (-1)
Recent: -5.2 (Consensus 2.2)
This is a survey of the manufacturing conditions in the northeast. A reading of 0 is neutral and below zero means there is contraction. Since the number moved below zero it is a bearish indicator.
Baltic Dry Index (-1)
Recent: 905.42
This is a measure of the cost of transporting raw materials overseas. It can be used to judge the demand for raw materials, although it can be heavily influenced by other factors. If the demand for resources is high the economy must be doing well. Currently the index is at a historically low level; therefore I gave it a bearish ranking.
Oil Inventories (-1)
Recent: -0.3M barrels (Prior -0.6M)
Oil inventories can indicate the health of the economy since we consume so much of it. Decreases in the supply usually mean the economy is heating up. Recently the supply has been going up although this week it was relatively flat. Since the supply is relatively high I gave this indicator a bearish ranking.
Weekly Leading Index (1)
Recent: 6.8% Growth
The weekly leading index tries to read the future state of the economy weekly. Currently it has been steadily increasing every week which indicates the economy is chugging along. Therefore, I gave this indicator a bullish rating.
Personal Savings (1)
Recent: 313.3B (Previous 427.7B)
Personal savings for Q1 is down from a year ago while personal income actually increased. This usually means people are consuming more which is good for the economy in the short term. This is why I have given this indicator a bullish ranking.
M2 Weekly Change (1)
Recent: 12.7B (Previous 5.2B)
This is a measure of the amount of money in the economy. If it increases significantly or decreases significantly it can be seen as bullish or bearish. It has recently increased more rapidly than the previous week and therefore is a bullish indicator.
TED Spread (1)
Recent: -0.02%
This is a measure of how willing banks are to lend to each other. It is important because it can forecast a credit crisis. Currently the spread is actually negative meaning banks are very willing to lend to each other which is bullish for the overall economy.
Credit Spread AAA BAA (1)
Recent: 84 Basis Points
This is a measure of the risk appetite of the market; the lower the spread usually the better the market will do because people are willing to take on more risk. Currently the spread is relatively small which is bullish for the economy.
Yield Curve (Spread between 10Y bonds and 3M Treasuries) (2)
Recent: 2.093%
Generally when the spread is high and positive it is bullish for the economy, as the spread decreases and becomes negative it is extremely bearish for the economy. Currently, due in large part to the feds policies, the spread is very positive, which is a strongly bullish sign for stocks.
VIX (1)
Recent: 14.90
The VIX has continually fallen as the stock market has reached all-time highs, but we must never forget to watch for a spike in the VIX which could indicate the start of a recession. Currently the VIX is staying at its low level, which is bullish for the economy.
Conclusion (Total Score: 9)
The max possible score is 44 and the max negative score is -44. Given the fact that many of the positive indicators such as the yield curve and credit availability indicators are heavily influenced by the Fed's actions, which could change soon, the overall look of the economy seems rather neutral. It appears the economy is simply chugging along. This means the recent surge in the stock market is likely artificial. People heavily invested in the market must watch closely to make sure they are not hit by a stock market plunge when the Fed reverses its policies.
Note: This is my first articles of this type. If it is successful, I plan to write a similar article every month to keep investors updated. If you believe I should add an indicator please mention it in the comments, also mention if you believe an indicator is not relevant. Next time I will include the source of every data point, I got most of my data from the WSJ Market Data Center.
Disclosure: I am long VB. I wrote this article myself, and it expresses my own opinions. I am not receiving compensation for it (other than from Seeking Alpha). I have no business relationship with any company whose stock is mentioned in this article.