If you're wondering if there's a bull market in alternative energy stocks, then look no further than one of the stocks I've been covering: Revolution Lighting Technologies (NASDAQ:RVLT). Since my first article on it three months ago, RVLT has run as much as 243% with very little news. If this isn't a sign of a bull market in alternative green energy, I don't know what is. Now the question is how to play this stock now that it has run up so much so quickly so soon?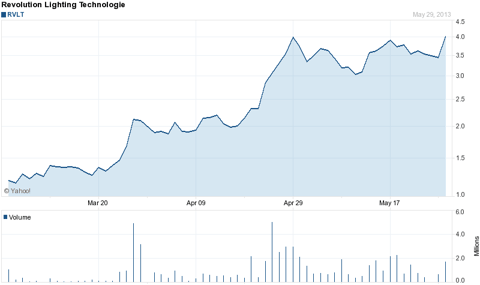 (click to enlarge)
Source: Yahoo Finance
Revolution Lighting Technologies is a leader in the design, manufacture, marketing, and sale of light emitting diode (LED) lighting solutions focusing on the industrial, commercial and government markets in the United States, Canada, and internationally. Through advanced technology and aggressive new product development, Revolution Lighting has created an innovative, multi-brand lighting company that offers a comprehensive advanced product platform. The company goes to market through its Seesmart, Lumificient and Lighting Integration Technologies brands, each of which has an extensive line of high-quality interior and exterior LED lamps and fixtures that produce immediate energy savings and a rapid return on investment. Revolution Lighting Technologies markets and distributes its product through a network of independent sales representatives and distributors, as well as through energy savings companies and national accounts.
Since my original article on RVLT, my concerns haven't gone away and in fact have become more profound. Although its Q1 results showed a sharp improvement in sales, which is always a great first step for progress, its market cap continues to be far too large versus its small sales. With the stock rallying 243%, in the last three months, that's even truer. Even annualizing sales of last quarter, the current market cap is over 12 times annual sales, and that's not even factoring in the effect of options, warrants, and shares for future financing deals. RVLT has a history of equity capital raises. As of March 31, it only had less than $6 million left in the bank while it burned over $5 million in cash from operations. That would suggest RVLT could be broke as soon as July. With the share price up so high and the cash on hand down so poorly, one should expect another capital raise possibly at a large discount to the current share price, which could serve as a short-term catalyst for a hard sell-off. Add to that past convertible financing deals such as this one are sitting on massive paper profits (if the investors are still holding), and there is quite an incentive to take profits. Finally, in its May 15, press release, the CFO mentioned "We believe we have adequate resources to meet our cash requirements in the near future as we continue to invest in the growth of the company." Translation: near future only, which would be through to July or so. It needs to raise money, and if the past is any indication it won't be on current-shareholder-friendly terms.
So why is RVLT so hot and how would I play it? Perhaps there's a news leak of something big coming that I can't see right now, but in the last three months RVLT hasn't announced much at all, good or bad, and especially not much to account for the dramatic rise in the stock price. On April 17, the CEO published a letter to shareholders, but it contained very little substance and reads to me like little more than a "feel good" letter. The market certainly wasn't all that impressed by it as RVLT only finished up 2 cents that day so I doubt the shareholder letter accounts for much of the 243% move.
In light of all this along with no specific guidance from the company indicating future earnings results will be much different than the huge losses it has been reporting, RVLT looks like an attractive short to me with a small position. One of the biggest risks with shorting any alternative energy stock is one never knows when positive legislation could come out in its favor, such as described in this article here.
Disclosure: I have no positions in any stocks mentioned, but may initiate a short position in RVLT over the next 72 hours. I wrote this article myself, and it expresses my own opinions. I am not receiving compensation for it (other than from Seeking Alpha). I have no business relationship with any company whose stock is mentioned in this article.