2013 is going to be a tough year for engine maker Cummins Inc. (NYSE:CMI) after first quarter sales were weak in most major end markets. While the first quarter is expected to be the worst of it, earnings are still projected to fall 7.3% for the year.
Cummins makes diesel and natural gas engines and services customers in 190 countries making it a good indicator of what is going on in the global economy.
In April, it didn't mince words as it described a "significant decline" in demand within the Engine Business in the first quarter, as total unit volumes dropped 18%. Shipments of high horsepower engines fell 24% due to weakness in the mining, oil and gas and power generation markets.
One bright spot in North America, Latin America and Korea was for engines for agricultural applications which saw demand rise modestly.
Reaffirmed Dismal Full Year Guidance
Cummins expects the first quarter to mark the low point for the year in terms of sales. However this Zacks Rank #5 (Strong Sell) also remained cautious about its full year outlook. It reaffirmed its current forecast, with revenues expected to be flat to down 5% for the year.
The analysts, however, wasted no time in cutting their full year EPS estimates. In the last 30 days, 12 estimates have been cut. The Zacks Consensus has fallen to $7.92 from $8.75 in that time. No estimates have been raised.
Cummins' industry of Engines, is also struggling, in general. It currently has a low Industry Rank of just 214 out of 265 industries.
No Breakout in the Shares
Unlike many other stocks in 2013, shares of Cummins haven't had a big breakout.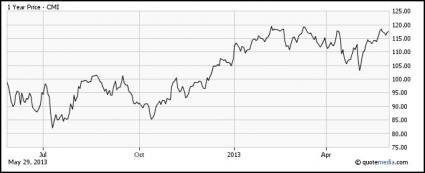 Investors are clearly being cautious given the big miss in the first quarter.
However, if you're interested in the engine market, you might want to consider Power Solutions International (OTCPK:PSIX) instead. This Zacks Rank #2 (Buy) is expected to grow earnings by 22% in 2013.
CUMMINS INC: Free Stock Analysis Report (email registration required)

POWER SOL INTL: Get Free Report (email registration required)