Spectrum Pharmaceuticals (NASDAQ:SPPI) received a Complete Response letter from the FDA regarding its supplemental biologics License Application (sBLA) for Zevalin® (ibritumo-mab tiuxetan) for first-line consolidation setting for non-Hodgkin's Lymphoma (NHL) patients.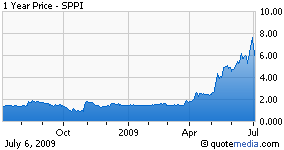 The FDA's letter requested that Spectrum submits data files from the FIT study to support and verify a subset of the data that are currently under review for the proposed labeling. Many investors got disappointed, or pretended to be disappointed, and caused the stock to fall, rather than to be boosted on the good news.
The truth is that, we, and most people who follow up on the biotech industry believe that the response is extremely good news for Spectrum. The response is almost equal to an sBLA approval. As a matter of fact, the FDA did not request any additional clinical studies. It did not request clearing of any misunderstanding of the data presented by Spectrum and more importantly, it did not even request any additional new analysis for any data.
That's why the firm believed it could formally respond to the FDA's requests by this Wednesday, July 8, 2009, i.e., two days from now. The requested data is probably available, but the firm might have believed it was not essential for proving its point That's why Spectrum is confident that the data it will submit will satisfy the the Complete Response letter's requirements and, to expect a favorable regulatory decision.
Zevalin, we knew, does not need safety trials, as the drug has been approved and marketed by Spectrum for the treatment of patients with relapsed or refractory, low-grade or follicular B-cell NHL, including patients who have rituximab-refractory follicular NHL.
Our opinion is that the news from the FDA is good and that Zevalin's sBLA will be approved.
Maybe the recent selling of the stock gave a short term opportunity for the short sellers to breathe before the sBLA approval, which we expect now more than anytime before.
Disclosure: Long SPPI