Introduction
In the carbonated beverage industry, no one can stand up to PepsiCo (NYSE:PEP) and Coca-Cola Co (NYSE:KO) due to their massive production, distribution systems and, most importantly, the brand value attached with their consumption. While it may be an unending debate as to whether PepsiCo or Coca-Cola is better when it comes to taste, I plan to have a decisive verdict by the end of this article as to which stock is a better buy for aspiring shareholders. Buying the shares of the two companies presents a predicament for investors as the two companies are proven dividend payers, and they also provide strong value. However, do they perform better than the market averages and other stocks available on the market? Essentially, it will only make sense to invest in PepsiCo or Coke if their values were expected to substantially increase in the future.
Financial and Stock Market Picture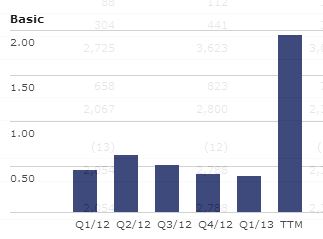 Starting off with Coca-Cola, we see that over the past 5 quarters the revenue stream of the company has been stagnant, hovering at $11 billion every quarter. Thankfully, enough of the company's profits have not budged and have remained consistent. However, the situation seems to be getting worse for its shareholders as the EPS value continues to decline as the graph suggests. Since Q2 2012, the EPS value has been decreasing. The company reported a massive improvement in its EPS during 2010, but since then the performance has been very unstable. The company reported a better than expected EPS for the last quarter, and its current EPS is $1.97. Over the last 10 years, KO's revenue has more than doubled, but if the current crunch continues for the foreseeable future, it can be suggested that any revenue growth will be stifled. That being said, the cash flow for KO is understandably flawless due to the scale of its operations.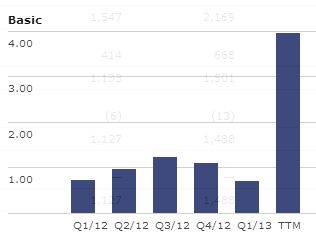 Pepsi's stock has been up by 27% over the last 12 months despite having to deal with weak North American sales like its primary competitor, Coca Cola. Like Coca Cola, the company's EPS is also showing signs of weakness as it faltered in the preceding two quarters. In the revenue metric, PepsiCo has outdone Coca Cola as its quarterly revenues are much higher on the back of renewed marketing efforts, including its first bottle redesign in 17 years. What is re-assuring about PepsiCo is its ability to increase its share's intrinsic value year after year, as the EPS review of the past 10 years suggests. Its latest annual EPS stands at $3.92.
Based on average market valuation, PepsiCo and Coca-Cola look undervalued, even when the earnings do not seem to be improving anytime soon. However, there is an inherent security about PepsiCo and Coca-Cola regarding their performances in driving revenues, which will fuel the stock market. Perhaps, for the potential that the two hold, such an undervalued perception is expected for their stocks. While Coca-Cola is relatively cheaper at about $43 per share, PepsiCo's $83.81 per share is significantly higher. However, PepsiCo also has an unfortunate high debt/equity metric rating. That being said, the two stocks are very closely matched.

The 52-week range for Coca Cola is from $35.58 to $81.33 per share, which suggests that this could be a good entry point for a stock with proven potential. It offers a yield of 2.71%, compared to 2.61% for PepsiCo. The payout ratio for KO and PEP are in excess of 50% as the companies continue to provide more cash for their shareholders. For the last 10 years at least, PEP and KO have increased dividend payouts to shareholders on a regular basis.
The two graphs above are illustrations of the two stock's performances over the last year and the last 5-year periods. Over the past 12 months, Coca-Cola and PepsiCo have trailed the Dow Jones Industrial Average and the S&P 500 since Q3 2012. Coca-Cola's performance has been worse than PepsiCo's, though it does seem to be clawing its way back up for now and provides a good opportunity to buy the stock. Over the 5 years, Coca-Cola has completely decimated its competition and has outperformed the market as well by approximately 26%.
Make or Break for Investors?
The global impact that the two brands have only added value to their stocks, as any positive moves are vastly spread across markets. Interestingly, soda stocks are now closely following the trend of tobacco stocks, as their consumption is now being discouraged in developed countries. However, while legislation enforces a lot of discouragement for tobacco, no such legislation exists for soda even though its obesity-causing properties are well documented.
In an effort to maintain revenues and expand, Coca-Cola and PepsiCo are taking strong marketing steps to expand their customer bases. Coca-Cola in particular has launched its Australian marketing campaign by printing customized names on its bottles. This is also happening in Europe as well. Coca-Cola has seen its stock price slide a long way recently, as the 52-week range suggests. However, if Warren Buffett's advice means anything, then you shouldn't even think about selling your Coca-Cola stock. As awareness increases in the developed world and sales of Coca-Cola drop, the company is now focusing its efforts on India and China to maintain a healthy revenue stream. While the health drawbacks of Coca-Cola are undeniable, it's safe to say that its sales and stock performance will remain strong for the foreseeable future.
In the U.S., the consumption of sodas has been on a downward slide during the last eight years. Thus, PepsiCo is moving forward with its own marketing push and also delving into Asia, the Middle East and Africa, driving its operating profit up by 24% in Q1 2013. Furthermore, PepsiCo has also made a strategic alliance with one of the leading food and beverage companies of China, Tingyi. This will allow it to access the company's distribution network and will undoubtedly result in greater profits. However, the current price of PepsiCo is a major deterrent, as it is quite expensive and its potential to climb to further heights on the price chart meet with skeptical reviews. While the stock provides solid dividend returns, its price and valuation are a decisive hurdle when recommending it to investors.
Morningstar provides the following ratings for these two stocks: PEP - 3/6 buy, 2/6 hold, 1/6 underperform. KO - 3/6 buy, 3/6 hold.
Bottom Line
That being said, Coca-Cola's superior price and ensured growth in developing countries, due to its brand recognition, gives it the lead over PepsiCo for now. I believe that the current price of Coca-Cola shares provides a good entry point to stick with throughout 2013 at least, as it is undoubtedly a solid buy right now.
Disclosure: I have no positions in any stocks mentioned, and no plans to initiate any positions within the next 72 hours. I wrote this article myself, and it expresses my own opinions. I am not receiving compensation for it (other than from Seeking Alpha). I have no business relationship with any company whose stock is mentioned in this article.