Many large cap pharmaceuticals have been taking hits to their revenue as patents for a number of key drugs run out. With future revenue under threat, pipeline drug production and streamlining business is now becoming more fundamental. Having recently written about AstraZeneca (NYSE:AZN) and their restructuring to facilitate earnings and revenue growth (Britain's second largest Pharmaceutical company), I thought I would cover GlaxoSmithKline (NYSE:GSK) (Britain's largest pharmaceutical) which has been devoting more money and attention to pipeline development and cost restructuring.
The company started in 1717 from a pharmacy in London, and through the years has developed and merged into one of the largest healthcare companies. In 2000, Glaxo Wellcome and SmithKline Beecham merged to form GlaxoSmithKline, or GSK, and now with offices in more than 115 countries they provide a broad range of innovative medicines and consumer brands around the world.
Revenue growth has struggled over the past five years and as a result, they have been focusing on cutting costs and streamlining the business which should generate further cash supporting their growing dividend and buy back policy. First quarter revenue and EPS came in line with the company's expectations and this should facilitate a 6% growth in dividends for 2013. Pipeline drug development is key to a successful future for GSK, and 2013 looks to make some headway in this area. A number of drugs are awaiting approval, such as Breo Ellipta, and Dolutegravir, an intense inhibitor for HIV which was given a priority review by the FDA with an action date of August 17th. There is certainly some positive progress being made to increase revenues further down the line, however the current sales growth has been falling. Emerging markets continue to offset falling sales from developed nations. Emerging market sales grew in the double digits in 2012, and first quarter growth was also strong, rising 8%. The existing portfolio of drugs will be able to facilitate further growth in emerging markets as healthcare demand rises.
| | | | | | | |
| --- | --- | --- | --- | --- | --- | --- |
| Year (ending Dec) | 2008 | 2009 | 2010 | 2011 | 2012 | Q1 2013 |
| Revenue ($m) | $36,350 | $44,254 | $44,008 | $44,093 | $42,025 | $10,095 |
| Profit After Tax ($m) | $7,032 | $8,844 | $2,872 | $8,788 | $7,543 | $2,465 |
| Adjusted earnings per share | $2.95 | $3.42 | $0.98 | $3.25 | $2.91 | $0.60 |
| Dividend per share | $2.14 | $1.85 | $2.00 | $2.21 | $2.32 | $0.55 |
GSK not only has a large portfolio of drugs, they also have some top consumer brands, such as Lucozade and Ribena, and this mirrors the likes of Johnson and Johnson (NYSE:JNJ) who also own a portfolio of consumer brands. Despite the consumer brands segment being profitable, in keeping with a more focused and streamlined business, GSK are looking to divest this segment when they can realize full value.
Shareholder Returns
What has attracted many to GSK and other pharmaceuticals is a strong dividend, an attribute that has become more and more attractive in recent years. A dividend has been paid since the 1980s and has grown significantly over time.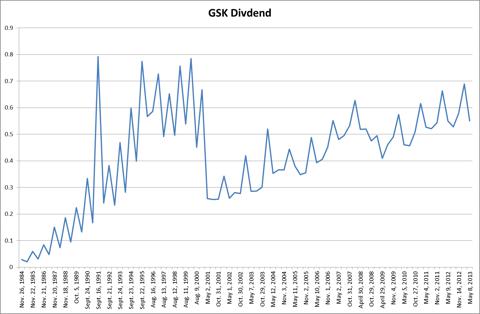 Dividend growth has been fairly robust over the past 10 years, despite falling in 2008 after the credit crisis. As I have previously written, dividend growth can facilitate strong returns over the long term on both initial and reinvested capital, if you invested five years ago your yield on the initial investment will now be 6.25%.
Despite falling revenues, cutting costs will free up further capital for increasing dividends in the short term, however medium term earnings growth is fundamental if the current 6% dividend growth rate is to be maintained.
The current yield of 4.51% is supported by a strong free cash flow due to the strong margins and cash generation from the business.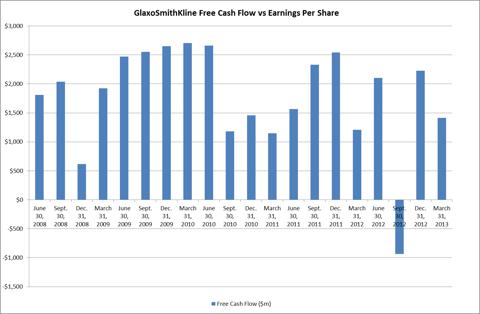 The current payout ratio is around 90%, however factoring in free cash flow the dividend is covered 1.5 times and as costs continue to be brought down it is evident there is room for further growth.
Share buy-backs have also been contributing to shareholder returns, and this year they are targeting between £1-2bn.
Share price performance has disappointed many over the past 10 years, however it may look to change going forward, despite having a P/E of 20, pipeline production and cost cutting should increase EPS going forward and offer a good entry point for the long term.

The changing sentiment towards pharmaceuticals has driven rising share prices over the past year, and for income investors especially, this sector is a must have for the long term. GlaxoSmithKline is a good candidate, and future patent expiries in the short term are not as detrimental as a number of its other competitors. With a number of key drugs awaiting FDA approval in 2013, buying GSK on these recent market dips may be a wise decision.
Financial data sourced from ycharts.com and GSK quarterly earnings reports.
Disclosure: I have no positions in any stocks mentioned, and no plans to initiate any positions within the next 72 hours. I wrote this article myself, and it expresses my own opinions. I am not receiving compensation for it (other than from Seeking Alpha). I have no business relationship with any company whose stock is mentioned in this article.