The American Society of Clinical Oncology annual meeting takes place this weekend; 31May13 through 04Jun13 in Chicago. ASCO is a non-profit organization representing physicians of all oncology sub-specialties who would like to give cancer the boot. I think it's safe to say we all know someone that has had cancer, some have won the battle against it and others weren't as fortunate. There are hundreds of companies and institutions which will be in attendance at this meeting to present new data on previous products they've been working on or to offer some insight on new treatments they are exploring. A lot of the companies presenting have already released their abstract documents on the ASCO website.
One of the companies I personally like at this meeting is Gilead (NASDAQ:GILD). Gilead is a company that is already making game-changing news with their HIV and Hepatitis C treatments and will be presenting on the results of the phase 1 study of idelalisib which will be used to help treat leukemia; a type of blood cancer that begins in the bone marrow. Bone marrow is the soft tissue in the center of your bones which produces blood cells to help fight off infections in your body. The drug is also being studied to treat non-Hodgkin lymphoma, which is the cancer of the lymph tissue which is also important for the proper function of the immune system. Let's face facts here, in order to fight off any sort of infection, you need your immune system operating at 100%, and if your body can't produce the proper items required to keep your immune system at 100%, you have a more serious problem, and that's where Gilead's idelalisib comes to play. How does idelalisib work you ask? Idelalisib is a select inhibitor of Phosphatidylinositide 3-kinases (PI3K-delta). PI3K-delta is an enzyme involved in the growth of cells, bad cells, the kind associated with cancer. Idelalisib is an oral inhibitor of PI3K-delta which reduces proliferation and enhances apoptosis (cell death) of the bad cells. Idelalisib has shown to be effective and has a favorable safety profile in patients with chronic lymphocytic leukemia. Gilead's results were excellent to the point that they have asked the FDA for expedited approval. The estimated market for this treatment is around $10 billion, and as a shareholder of Gilead, I'd like to see that they get a huge portion of market.
Valuation
Gilead currently trades at a trailing twelve month P/E ratio of 36.95 which doesn't bother me too much because I like to purchase a stock based on where the company is going in the future as opposed to what it has done in the past. On that note, the 1-yr forward-looking P/E ratio at 19.24 is currently priced just right to me for a growth stock. This company should be insulated from global macroeconomic headwinds as humans will always want to pay money to extend their lives, which makes it a very good candidate to hold onto if you believe we will be experiencing turbulence in the near future due to Japan, Europe, or China. The PEG ratio which measures the ratio of the price you're currently paying for the trailing twelve month earnings on the stock while dividing it by the earnings growth of the company for a specified amount of time (I like looking at a 5-yr horizon) tells me that Gilead is inexpensive based on a 5-yr EPS growth rate of 26.66%; what this really tells us is that Gilead has really great potential. Personally, I like to consider anything with a 5-yr growth rate greater than 20% as a candidate for my growth portfolio.
Financials
On a financial basis, the things I look for are the dividend payouts, return on assets, equity and investments. Gilead currently does not pay a dividend (as most high-growth biotech companies don't) while sporting return on assets, equity, and investment values of 13.54%, 32.88% and 17.09% respectively. These are all very respectable values, especially for the return on equity. There is no shelter to hide under for Gilead in the form of a dividend if macroeconomics do takeover but consumers will always spend money on weddings, kids, and their personal health, and Gilead certainly fits in the last bucket.
Technicals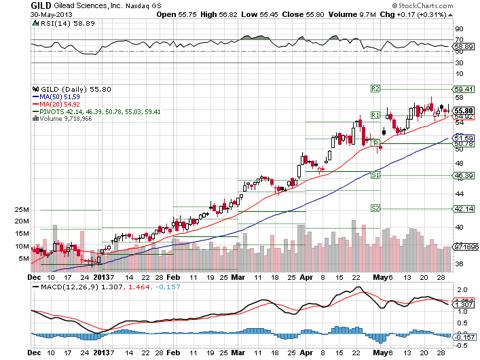 Immediately looking at the chart, someone can spot that the stock is flattening out and has been riding the 20-day moving average all the way from January of this year. The stock is using the $55.03 value to either create a strong floor of support or there is a very strong ceiling of resistance at around $56. I would actually look for this ASCO annual meeting to be the catalyst either driving the stock higher or lower. If it shoots up the next ceiling of resistance is $59.41 or the next floor of support could be $50.78. The relative strength index (RSI) shows a value of 58.89 which doesn't indicate whether the stock is overbought or oversold, however, the direction is downward, so there can possibly be some selling in the near term. Taking a look at the moving average convergence-divergence chart illustrates to us that there looks to be some downward momentum in the stock because the black line has crossed downward of the red line and the divergence is getting larger, meaning some downward momentum might be on the way.
Conclusion
The company will be holding seven presentations at the annual meeting, giving them more opportunities to score big. The stock has already run up 52% year-to-date but has the potential of moving even higher after this meeting. On a purely valuation basis, the stock isn't too expensive given the potential breakout this stock can have. I certainly placed this stock in the growth section of my portfolio and will be looking to add more on dips if the macroeconomic news brings the stock in a bit. If the microeconomic news presented at the annual meeting brings the stock down due to technical reasons then I'll back up the truck and buy some more, but if the stock moves down due to the news presented at the meeting then I'll have to re-evaluate my position in the company.
Disclaimer
These are only my personal opinions on the homework I did and you should do your own homework. Only you are responsible for what you trade and happy investing!
Disclosure: I am long GILD. I wrote this article myself, and it expresses my own opinions. I am not receiving compensation for it (other than from Seeking Alpha). I have no business relationship with any company whose stock is mentioned in this article.