In a Seeking Alpha article yesterday, I explained that the attraction to REITs are "the cumulative impact of reinvested dividends on long-term investment performance." Furthermore, I explained that the greatest value proposition for REITs are the "higher dividends that provide a cushion against downturns and severe sell-offs."
In another article this week, I explained that "dividend investors must stay on the course and focus on the long-term road map, not just an intermediary trip." This holds true to just about any investment; however, I went on to explain:
The good thing about REIT investing is that habits can be formed with very little effort and the key is to maintain patience and consistency. You don't have to take huge risks. Just stay focused on your long term vision.
As most of you know, the markets have reset and that has created some buying opportunities. Since REITs are income oriented equities, it's important to establish some target price points (based on yield) and determine if there are REITs that are worthy of ownership. In my opinion, the recent market correction has created somewhat of a window of opportunity for REIT investors, and the expected reverse of fortune has now turned into a shopping occasion.
Shopping for the REIT Opportunity
I have included a chart below with 36 equity REITs (most of which I have written detailed articles on). This list includes the current share price, the 52-week high price, and the difference in the two numbers. Note: The top 12 REITs (highlighted in yellow) have the widest price variance.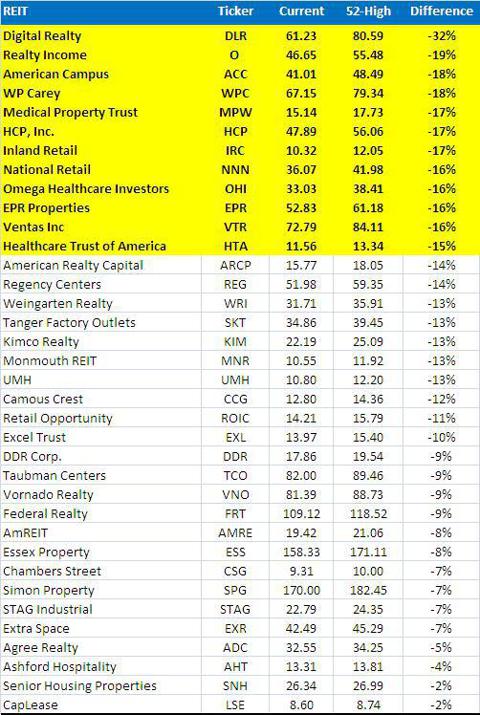 The next chart (below) illustrates the same 36 equity REITs, and this list compares the current P/FFO (see my article on REIT valuation here), the previous 12 month P/FFO, and the variance in the two time frames. Note: The top 12 REITs (highlighted in yellow) are trading below (or close to par) with the valuations listed a year ago.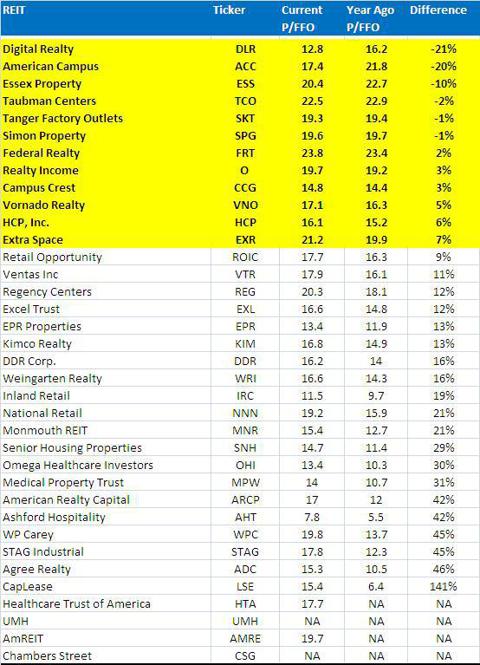 The next chart (below) illustrates the same list of 36 equity REITs, and in this chart the companies are compared based upon the current dividend yield, the dividend yield a year ago, and the variance. Note: The top 3 REITs are less than a year old and the next 7 REITs (highlighted in yellow) have either increased the dividend yield or they are very close to the yield a year ago.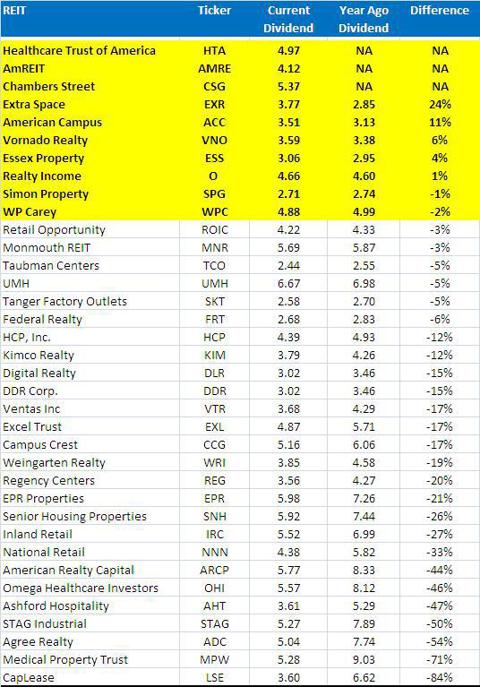 Now finally the last chart is the most important one. In this chart, I have provided my target dividend yield for each of the REITs. In addition, I have included my target prices based upon my corresponding entry yields. Given the most recent market correction indicators, I have formulated my target dividend entry points based upon my research and certain risk-adjusted valuation metrics (primarily P/FFO).
Note: The top 16 REITs (highlighted in yellow) are companies that are at or within 10% of my target price point. In other words, these 16 REITs are companies that are trading very close to my expected yield range and I have them on the radar for BUY consideration. Digital Realty (DLR), Realty Income (O), WP Carey (WPC) and Healthcare Trust of America (HTA) are the strongest candidates and, as disclosed, my children own Realty Income now.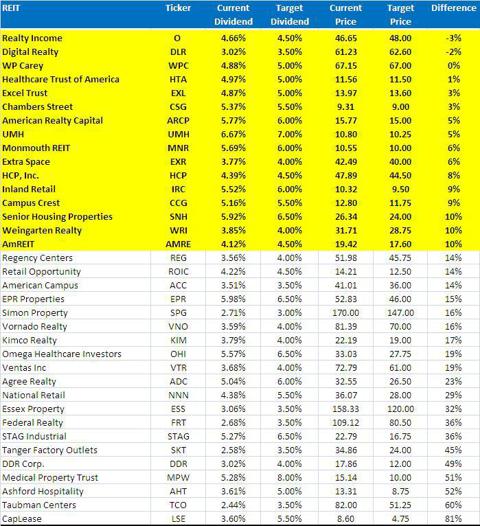 I'm Calling It The Bottom
As noted above, I have reset my targeted REIT yields based upon current market conditions. It's clear that we now have seen the first "head fake" and we are likely to see more as the summer rolls on. Eventually, interest rates will begin to creep up and that could have a modest impact to certain lower quality REIT portfolios. I do not except to see much impact to the higher quality REITs and that is why I have been focusing on the vital signs (in my research) to determine where there is "mispriced risk" today (overpaying for low quality REITs).
As yield expectations begin to reset, I am confident that REITs will also start to increase cap rates (lower acquisition costs) in anticipation of rising rates. If I were a Chief Investment Officer of any REIT, I would be increasing my target cap rates by 250 to 500 basis points. In other words, if I were buying Walgreen (WAG) stores last month at 6.5% cap rates, I would begin to make offers closer to 6.75%. In my opinion, the winds are starting to move the other way and I think that the market is telling us that we are no longer at the bottom.
Any investor today who owns income producing real estate (fee-simple) should consider selling. In my opinion, cap rates aren't going to fall and the winds are starting to shift. This is the best time in the cycle to be a seller.
Finally, and most importantly, I believe that REIT investors are in the stages of new cycle of wealth creation. I have interviewed around 20 REIT CEOs over the course of a week and most have provided me with strong evidence that portfolios are performing well and debt is well managed. I believe that the recent dip has created a nice window for buying (creating wealth), and I recommend increasing exposure based upon your specific risk tolerance levels. Next week I plan on attending the annual NAREIT conference (REIT Week) in Chicago and I hope to provide you with insight into specific REIT stocks as well as overall market conditions.
Here is a link here to 8 REIT CEO interviews broadcasted by audio on The Commercial Real Estate Show.
Source for all charts: SNL Financial
REITs mentioned: (VNO), (DDR), (CCG), (ACC), (UMH), (ESS), (KIM), (REG), (WRI), (FRT), (ROIC), (EXL), (AMRE), (IRC), (TCO), (SPG), (SKT), (EXR), (STAG), (MNR), (CSG), (ARCP), (NNN), (ADC), (EPR), (LSE), (VTR), (OHI), (MPW), (HCP), (SNH), and (AHT).
Disclosure: I have no positions in any stocks mentioned, and no plans to initiate any positions within the next 72 hours. I wrote this article myself, and it expresses my own opinions. I am not receiving compensation for it (other than from Seeking Alpha). I have no business relationship with any company whose stock is mentioned in this article.