Amira Nature Foods' (ANFI) stock price and perhaps very presence on the NYSE defies reason. Even a cursory look below the surface reveals a low quality, commodity business with a host of highly concerning investment risks. As with Professional Diversity Network (NASDAQ:IPDN) that was written up earlier this month, Amira went public last fall as an "emerging growth company" under the reduced disclosure standards of the JOBS Act. This is a company that would not have met SEC nor NYSE standards prior to this Act. It has yet to even report earnings for the March 31 quarter. Remarkably Amira trades at 19x EPS while its competitors trade at 2-4x EPS. (Note: LTM EPS is $0.48 per share based on 35.7M fully-diluted shares outstanding, most data sources inaccurately report EPS of $1.10 per share on 14.9M shares which does not account for the IPO. Likely another reason for the disconnect in the stock price.)
Amira is in the business of purchasing and distributing basmati rice. It only processes a fraction of the rice it purchases, relying on third-parties to handle this step (see below table published by APEDA). Why would someone pay such a multiple for a business that is basically an agriculture trader? At the IPO, this legacy family-run commodity business added "Nature" to its name in order to be grouped with US health food successes like The Hain Celestial Group, Inc. (NASDAQ:HAIN) and Annie's, Inc. (NYSE:BNNY). More significantly, Amira has sold shareholders with the statement that 99% of sales come from branded products. Bulls compare ANFI to these other high growth health foods brands. In reality only 1/3 of sales from Amira branded product, the rest is from "third-party branded rice." This distinction is important, as third-party branded rice is just product that Amira has purchased and sold to another rice brand. Thus it is only functioning as an intermediary and not adding any value. This is a very low barrier, low margin business with intense competition. This is why competitors KRBL, LT Foods and REI Agro, trade at the multiples they do. Amira management contends that these peers trade at such lower multiples because they are "not international" and are "family-run." These statements are just wrong as is detailed in the table below. All peers have equivalent revenue from international rice sales and in fact less insider/ family ownership. Amira's competitors also have much more established brands and are vertically integrated with significantly more processing capacity. Amira processes the majority of its rice with competitor. This is clearly not an ideal completive position for it. US investors and sell-side analysts apparently did not check this and have overlooked or have taken a blind eye to these realities.


Now to the structural and accounting concerns. Below and on page seven on the IPO S-1 (F-1 since it's a foreign issuer) is a table showing the corporate structure. This chart raises several concerns. First, Amira is incorporated in the British Virgin Islands, an offshore location with limited shareholder rights. Second, all operations are held two levels below the parent in an Indian entity, Amira India, which is 20% owned by CEO Chanana. This means shareholders only own 80% of the underlying operations (less if you take out Chanana's holdings in the parent). At the very least, shareholder earnings should be reduced according to economic ownership. Page 31 of the filing summarizes an additional concern.
"Mr. Chanana and certain of his affiliates, including various companies controlled by him and direct members of his family, will also hold a significant minority equity interest in Amira India, through which we conduct almost all our operations. These shareholders may have conflicting interests with our public shareholders. For example, if Amira India indirectly makes distributions to us, Mr. Chanana and these affiliates will also be entitled to receive distributions pro rata in accordance with their percentage ownership in Amira India, and their preferences as to the timing and amount of any such distributions may differ from those of our public shareholders."
So Chanana, et al can distribute profits from this subsidiary under different terms than those of shareholders. That is a major conflict of interest. If it were to occur, good luck recouping any funds in the BVI or Mauritius courts.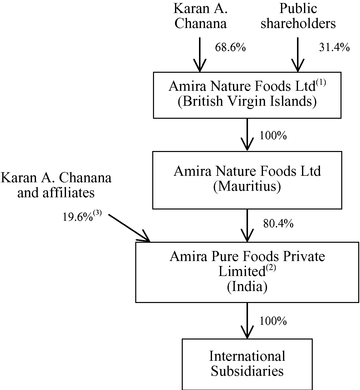 Not only are there conflicts of interest in the structure, but also a number of ongoing related-party transactions. This includes the sale of goods, direct payments and loan agreements amounting to over $20M in the last three quarters ending 12/31/12 alone. See page 14 of the recent earnings report for further detail.
One could get comfortable with this structure if the company and management had a very clean track record and reputation. But unfortunately it does not. In September 2012, Amira's COO Protik Guhu was accused of smuggling $10M of rice and was charged with contempt of court by the Philippines Senate. Starting in 2011, Amira was charged and fined for trademark infringement in the UAE. Amira is now prohibited from selling its Amira branded product in the UAE, the world's largest consumer of basmati rice. In 2010, Amira and its management were investigated by the Indian tax authority and were fined $256,739. The Indian Government is also investigating Amira for illegal exporting. This is all from the SEC filings.
Over the last three years, Amira has generated negative cash flow of $100M but managed to record close to $40M in earnings (LTM FCF of -$60M on $17M in reported earnings). Its earnings quality must place it among the lowest of any public company. This is a major red flag regarding Amira's accounting practices. An earlier post by Footnote Finder does a nice job covering the cash flow challenges and earnings of the business. Bottom line: Amira can keep reporting accounting earnings, but its negative cash flow is leading to major challenges.
The list of concerns goes on: over-levered (3.7x net debt/ EBITDA), high cost debt, forex exposure with rupee, etc. The stock should trade at a more appropriate level once shareholders realize Amira's low earnings quality and factor in the large numbers of risks to the business. If valued based on more appropriate peer multiples, Amira's stock is worth $1-$2 per share (versus the current $9.36) and if valued on the basis of cash flow, there is no equity value at all.
Disclosure: I am short ANFI. I wrote this article myself, and it expresses my own opinions. I am not receiving compensation for it (other than from Seeking Alpha). I have no business relationship with any company whose stock is mentioned in this article.