As a leading Chinese online gaming company, NetEase (NASDAQ:NTES) is widely followed by investors: Covered by 19 brokerage firms, NTES's market cap exceeds $4 billion and its average trading volume was 2.4 million in the last three months. This article introduces the main drivers of NetEase's stock price and discusses investment strategies.
Prior to mid-April 2009, NTES was mainly driven by Fantasy Westward Journey (FWWJ), NetEase's key game. NetEase regularly announces Peak Concurrent Users (PCU) of FWWJ. I have collected 60 such announcements from the official website of FWWJ, and put them into the graph below. In this graph, every yellow circle represents a PCU of FWWJ announced by NetEase (left axis). The blue line is NetEase's stock price (right axis).
The graph shows that before mid-April 2009, FWWJ's PCU and NetEase's stock price were highly correlated. For example, from June 2006 to December 2006, the lack of good news on FWWJ caused NetEase's stock to plunge. From March 2008 to August 2008, FWWJ's surging PCU propelled NTES to a new high of $27.16 on August 25, 2008.
Graph: Drivers of NetEase's Stock Price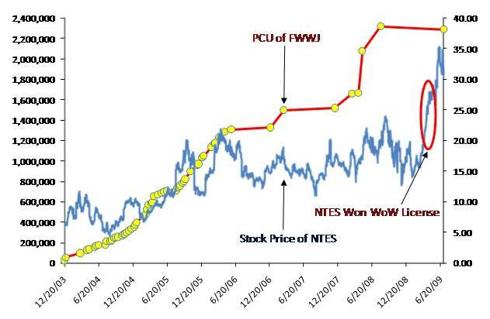 Since mid-April 2009, NTES has been driven by World of Warcraft (WoW), a popular game licensed from Activision Blizzard. The strong correlation between FWWJ and NTES ended around April 16, when NetEase announced it had obtained the license to operate World of Warcraft (WoW) in China. The news stimulated investors' optimism about NetEase's future earnings, because WoW was one of the most popular online games in China. As a result, NetEase's stock surged to an all-time high of $38.74 on June 10, 2009.
Investment strategies for investors. First, for investors interested in NTES, it's very important to follow the news flow on WoW. To do this, investors can use this link; it's provided by JLM Pacific Epoch, a China-focused research firm. Second, FWWJ should still be closely watched. Although FWWJ has not had significant impact on NTES in the past three months, it may become the main driver again.
Historically, FWWJ has repeatedly surprised investors with new PCU records (see the graph above). It has always been a mistake to underestimate the potential of this 5-year-old game. In fact, NetEase has just announced another significant PCU performance of FWWJ. Investors can use this link to follow FWWJ.
Disclosure: No positions