There have recently been several articles published on sites such as Sum Zero and Business Insider about "Lumber prices plunging to 5 month lows" while housing prices continue to uptick. As Tyler Durden puts it, "we are left assuming that they are building houses with hopium, as opposed to wood, these days..."
Business InsiSoberlook published this chart which makes it look like Lumber prices are taking a major hit.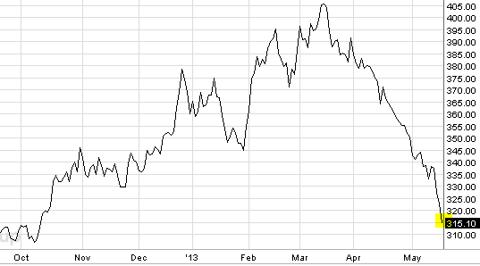 If you look at a longer picture though, lumber prices are still high relative to historical prices: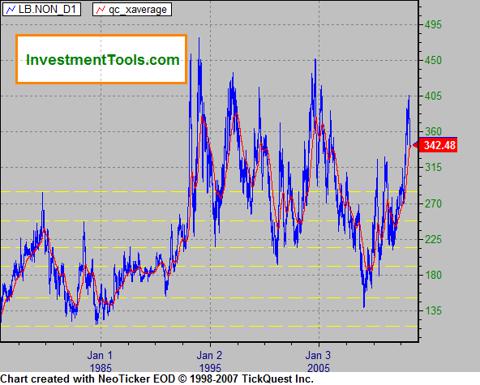 Although lumber prices have come off recent highs (which were also near decade highs) by about 25%, they are still near prices not seen since 2006.
As Nate Silver points out in his book "The Signal and the Noise", sometimes short term data is just noise and needs to be ignored.
Lumber ETF's such as CME Random Length Lumber Futures (NYSEMKT:LB-OLD), Claymore/Clear Global Timber ETF (NYSEARCA:CUT), iShares S&P Global Timber & Forestry ETF (NASDAQ:WOOD) have all remained near 52 week highs despite the recent pullback in lumber prices highlighting investors' confidence in the industry.
US lumber REIT Plum Creek Timber (NYSE:PCL) has only retreated about 10% which is considerably less than lumber prices and is still up by over 25% over the last year.
I wouldn't write off the housing recovery due to a small short term correction in the lumber market though in my opinion there are for more troubling charts such as the Baltic Dry Index and Uranium SWU prices which I would like to see recover before betting on a full economic recovery.
Disclosure: I have no positions in any stocks mentioned, and no plans to initiate any positions within the next 72 hours. I wrote this article myself, and it expresses my own opinions. I am not receiving compensation for it (other than from Seeking Alpha). I have no business relationship with any company whose stock is mentioned in this article.