If 'King Dollar' is back and we are going to see the US Dollar Index advancing and commodity prices decreasing then commodity investing will have to take on derivative plays in order to be successful. We have included one such play which has caught our eye this morning in the 'Chart of the Day' section.
Also of importance today is that OPEC has agreed to keep their production quota at current levels. It remains to be seen whether this meeting will drive a wedge between the haves and have nots within the cartel, but right now it appears all is well.
Chart of the Day:
Many probably have come across articles discussing retailers and those who make and/or brand clothing discussing cotton and how it has impacted their earnings. With cotton prices appearing to have peaked in March, we are now approaching levels seen at the beginning of this year and end of last year. If this continues it could be bullish for retailers and that might be a general trade based on commodity pricing.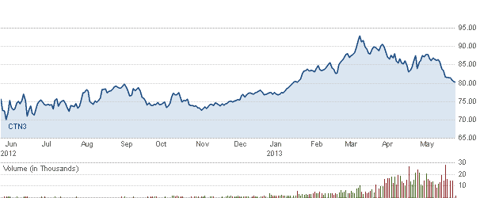 Chart courtesy of CNBC.com
Commodity prices this morning are as follows:
Gold: $1410.60/ounce, down by $0.90/ounce
Silver: $22.555/ounce, down by $0.135/ounce
Oil: $93.02/barrel, down by $0.59/barrel
RBOB Gas: $2.8075/gallon, down by $0.005/gallon
Natural Gas: $4.039/MMbtu, up by $0.016/MMbtu
Oil & Natural Gas
Wunderlich raised its price target on shares of PDC Energy (NASDAQ:PDCE) to $67/share yesterday providing further ammunition to PDC bulls to keep the uptrend going. Not only did the firm raise their price target they even went as far to stress that they would be buyers right now at these prices, which somewhat conflicts with our viewpoint that we want confirmation that the midstream issues are under control and the company is not facing any bottlenecks in regards to production issues. The firm did make some good points in regards to short-term news items so it is hard for us to argue with their bullishness, especially since they did state they were long-term bulls too.
We were looking for some sideways movement in the shares as we approached the yearly highs, but others think there is still room to go higher in the short-term. It is very possible.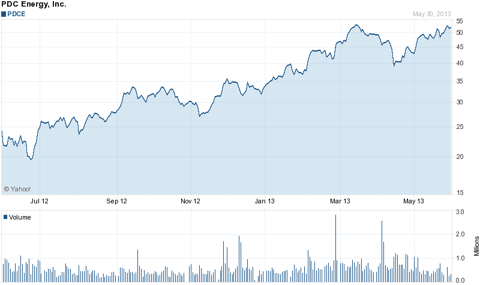 Chart courtesy of Yahoo Finance.
Also in the news yesterday was Kodiak Oil & Gas (NYSE:KOG) which was initiated at Imperial Capital with an 'In-line' and initial price target of $10.50/share. The news impacted the shares little, but we wanted to highlight it for readers who may have initiated positions in Kodiak on our recommendation for trading as it is one firm which believes that the shares will break $10/share, something we have recently discussed.
Coal
We noticed Peabody Energy (NYSE:BTU) soaring yesterday morning and the news there was that Carl Icahn had established a stake in the company. Shares traded as high as $21.29/share on that news, which turned out to simply be a rumor. When we saw that Carl Icahn denied having a position in the company cross the wires we were not at all surprised to see the shares fall off a cliff. Readers need to be wary of news items such as that because the probability that someone such as Mr. Icahn accumulates a stake is pretty slim due to his specialty being that he turns companies around who have operating issues and that are not commodity focused. The only good thing to come of all of this for investors is that the shares did finish above the $20/share level.
What goes up on false facts must fall when those facts are confirmed to be rumors, and that was the case yesterday for Peabody shares.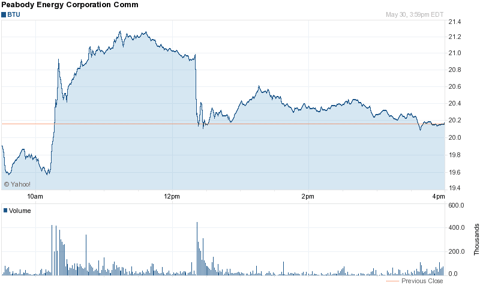 Chart courtesy of Yahoo Finance.
Precious Metals
With gold rising above $1400/ounce yesterday and getting stronger through the day, precious metals names rallied along with the physical metals. We were most surprised with Barrick Gold (NYSE:ABX) on our gold watch list as shares rose nearly 7.5% to close at $21.29/share with 29.8 million shares changing hands. The volatility in the sector continues and other big cap names such as Silver Wheaton (SLW) have fallen into line and performed sporadically the last few months, mostly mimicking the downtrend in the prices of physical gold and silver. As we stated yesterday, we are not buyers on these little blips higher, but want to see some economic data which justifies adding more to what thus far in 2013 have been positions which have declined in value (referencing our holdings of physical gold and silver as well as junior gold explorers, or course).
It appears getting to $25/share will be an adventure, but crossing it will be even more important. That is the level we are watching.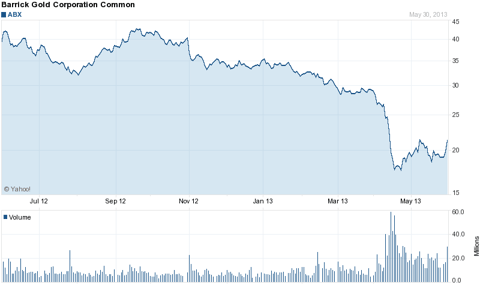 Chart courtesy of Yahoo Finance.
Disclosure: I have no positions in any stocks mentioned, and no plans to initiate any positions within the next 72 hours. I wrote this article myself, and it expresses my own opinions. I am not receiving compensation for it (other than from Seeking Alpha). I have no business relationship with any company whose stock is mentioned in this article.