Diamond Offshore Drilling (NYSE:DO), is an offshore drilling contractor operating jackup rigs, semi-submersible rigs, and one drillship. Diamond has no net debt, a rarity for the industry. This allows it to pay strong dividends, invest in new capital programs, and provides it stability in what can be a volatile industry.
Diamond has historically earned a higher return on capital than its peers, exceeding 20% returns in the past five years. This demonstrates its ability to make effective capital decisions.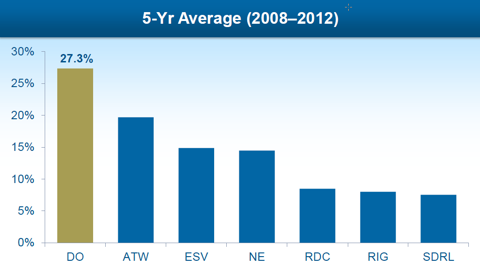 Source: Company Presentation
Diamond has been able to maintain high levels of capital efficiency using a judicious program of upgrading older rigs and purchasing new builds.
In fact, it announced a new-build semi-submersible on May 30. This project came with a $755 million all-in price tag. Diamond also announced a three-year contract with BP (NYSE:BP) to hire the new rig for $585,000 per day.
The company has four additional drill ships on order. The first two of these are expected to be delivered this year and have five-year contracts to operate for Anadarko (NYSE:APC) in the Gulf of Mexico for $495,000 per day. A recent corporate presentation indicated expected operating costs for new drill ships of $200,000 per day and EBITDA of $126 million per year. This is sufficient to recoup the upfront cost of the rigs over their initial five-year contract.
An alternative way to evaluate this capital purchase is as a 5.0 EBITDA multiple on the capital expended. Because this is much lower than DO's equity multiple, the purchases are accretive and should drive future earnings while renewing the fleet.
One final capital expenditure is the upgrade of the Ocean Patriot. This semi-submersible rig has been working in Asia, but will receive a $120 million upgrade later this year to the higher standards required for work in the North Sea. This has allowed Diamond to contract the rig for a three-year term at $400,000 per day, an increase of $125,000 per day over its prior rate. This should increase the return from the rig by $35-40 million, an excellent return on the $120 million investment. This also demonstrates how Diamond has found success operating older assets. The Ocean Patriot was built in 1983, and this shows the potential to add value to a rig fleet, even when the asset in question is 30 years old.
The recent Q1 conference call discussed the profitability of North Sea rigs, which further justifies the spending on the Ocean Patriot.
Our North Sea rigs, which we've highlighted are among the most profitable in our fleet and probably within the industry, when you look at the low operating costs that occur in that environment and the future day rates that we've got booked going forward.
The capital expenditures outlined above provide a road map to increasing cash flow for Diamond Offshore. It is also reasonably valued on the basis of current earnings, suggesting that the coming growth provides significant upside. Diamond's current liabilities and debt are approximately equal to its current assets of $2 billion, and its equity market capitalization is $9.7 billion. This gives it a EV/EBITDA of 7.2x when compared with 2012 EBITDA of $1.35 billion. It has a P/E ratio of 13.6, which is very reasonable considering the growth potential in its earnings stream.
The company also pays a dividend, comprised of its "regular" dividend of 0.8% and "special" dividends, which have recently been 4.2%. This is a total yield of 5%. It always includes language in releases saying the special portion of the dividend is subject to change, but it has been constant since 2010.
The bear case for Diamond has always been that it has an older fleet of rigs than its competitors, with an average rig construction date of 1985. However, this neglects the very important point that much of the value of the company comes from the newer rigs. The company's fleet overview contains a spreadsheet of all the rigs and where they're operating. It also notes that four older rigs are "cold stacked" and not providing earnings. They are a free upside option, in that they'd have value if day rates increased dramatically, but they're not currently earning money so are not in the valuation above. Pro forma for removing the cold stacked rigs and adding the new builds into the calculation, the average year of construction for the rigs is 1991. The company's most valuable ultra-deepwater rigs (rated to 7500 feet or deeper) are even newer, with an average construction year of 2004. This provides certainty to the business going forward, as the most valuable assets are relatively new.
There are also a number of potential catalysts for Diamond going forward. It has some older rigs held for sale, which aren't providing earnings but may have value to a smaller operator. If these were to be sold it would provide additional capital and positive news flow. It also has contract space open for two drill ships being delivered in 2014. A contract win for those ships would be positive as it de-risks future earnings. This is incredibly likely as it just contracted a new drill ship at a great rate this week to BP, proving the market is still strong.
Diamond is majority owned by Loews (NYSE:L), a company that I found to be excellent value in my article on that company. Loews supports its subsidiaries with capital if they need it, giving Diamond a "port in a storm" should it need one in the future. All things considered Diamond is a growing company trading at an excellent valuation.
Disclosure: I have no positions in any stocks mentioned, and no plans to initiate any positions within the next 72 hours. I wrote this article myself, and it expresses my own opinions. I am not receiving compensation for it (other than from Seeking Alpha). I have no business relationship with any company whose stock is mentioned in this article.