Further signs of increased U.S. commercial real estate market stress have manifested in higher regional market volatility across all major property types, according to the latest annual U.S. Property Market Metric (PMM) update report from Fitch Ratings.
With the average cash flow volatility score rising to 3.62 last year from 2.98 in 2007, volatility in U.S. commercial real estate has reached its highest levels since Fitch launched its PMM scores in 2000.
'While the increase in cash flow volatility was expected, what is noteworthy is the size of the increase since historic changes in PMM scores are generally small,' said Managing Director Bob Vrchota. 'With over 50% of the PMM scores showing greater volatility compared to just 10% in previous years, the magnitude of change reflects challenging forecasts for all commercial real estate property types across most U.S. markets.'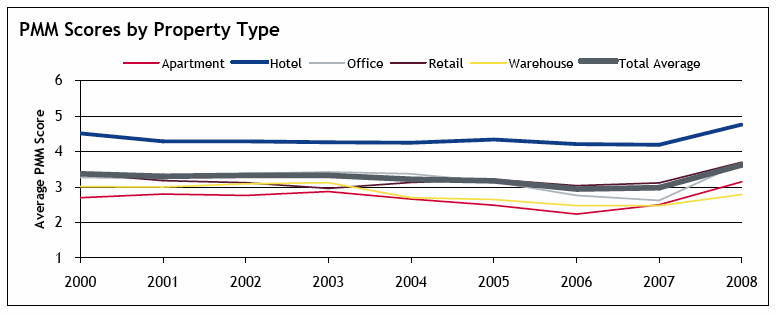 The office sector was the hardest hit property type, with the average volatility score jumping to 3.68 last year from 2.62 in 2007, this after four years of improvement. Primary office markets that showed greater volatility in 2008 include the U.S.'s three largest metropolitan statistical areas (MSAs); New York, Chicago and Los Angeles.
Multifamily properties worsened for the second straight year, with average volatility scores jumping to 3.15 in 2008 from 2.50 in 2007. San Francisco, Phoenix and Miami were among the multifamily markets that showed more volatility. PMM scores for retail markets also reflected more volatility with a 3.70 average score last year as opposed to 3.12 in 2007. Several MSAs in Texas were affected, including Dallas-Ft. Worth and Houston.
'On the positive side, U.S. CMBS multiborrower transactions benefit from property type and geographic diversity so more volatile PMM scores in and of themselves will not result in rating actions,' said Vrchota. 'However, the rise in volatility is another indicator of the challenges facing commercial real estate.'