Deflation is not a good thing folks, but it is readily evident these days in economic and pricing data. Despite what Fed forecasters have last indicated, it could be followed by new economic illness here at home. The latest evidence of deflation came in Friday's published Personal Income & Outlays Report for April.
Personal outlays (a.k.a. consumer spending) declined by 0.2% in April, short of economists' expectations for no change. The decline had a lot to do with the 0.3% drop in the PCE Price Index. In other words, prices fell, so that unit sales counted for less. This means that spending may not have declined outside of price impact, but without lower prices, perhaps less spending would have occurred. Indeed, when we remove price change, Real PCE increased by 0.1% in April.
When prices decline, that's called deflation friends, and it does not generally happen under healthy economic conditions, save perhaps in the competitive and innovative technology arena where the Apples (NASDAQ:AAPL) and Googles (NASDAQ:GOOG) of the world are competing for the attention of trend chasers, and where outdated gears get marked down quickly. However, this data measures the broader economy and is telling us something more important.
Prices can drop for various reasons, and this latest decline probably had something to do with food or energy. That's because when we exclude food and energy price change from the measure, the Core PCE Price Index was unchanged in April. So obviously we have isolated the issue. Food and energy prices can be afflicted by many factors, which all fit somehow within the supply/demand economic equation.
The Consumer Price Index (CPI), published in mid-May, showed prices fell by 0.4% in April. Once again, excluding food and energy, the message was much different. The Core CPI actually increased by 0.1% in April. The culprit certainly was not food, as food prices were marked higher by 0.2%. Energy prices, however, fell 4.3% in April, following the decline of 2.6% in March. In April, energy commodities were lower by 7.9%, gasoline was down by 8.1%, and fuel oil was cut by 4.4%. Obviously, that last portion was on seasonal issue. Some of the decline was offset by 0.5% higher electricity prices and 4.4% higher piped gas prices. Prices for apparel, transportation services and medical care services were each lower as well, but prices for motor vehicles and shelter were higher.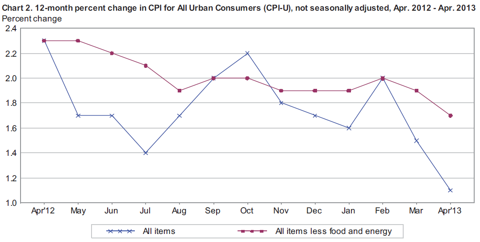 Given the many conflicting issues here, I might not have come to the conclusion that deflation is even a threat. However, I am also aware of the long-term trend here, and over the past year, the slowing rate of price increase is apparent in both the CPI and the Core CPI, indicating the threat of deflation exists. Over the year ended in April, consumer prices were only up 1.1%, or 1.7% excluding food and energy prices. That's less than the historical rate of inflation and also under the Fed's long-term target rate of 2.0%. Core PCE Inflation is running a bit hotter (1.7%) than the Fed's forecast for 2013 of 1.5% - 1.6%, but short (1.1%) of its PCE Inflation expectation of 1.3% to 1.7%. Still, each growth rate is slowing.
Economists expected the Core PCE Price Index to increase 0.1% in April like it did in March, but inflation is nowhere to be found given economic realities globally. The Core PCE Price Index is of high interest, given its status as the Federal Reserve's favored inflation gauge. Obviously, inflation has not been a concern, with the SPDR S&P 500 (NYSEARCA:SPY), SPDR Dow Jones Industrial Average (NYSEARCA:DIA) and the PowerShares QQQ (NASDAQ:QQQ) each continuing the year's run higher again in May.
You can see in the 2-year chart of the iPath S&P GSCI Crude Oil TR Index ETN that oil prices have been settling into a lower price range. Much of this certainly has to do with North American exploration activity and a more favorable supply-side of the equation that is resulting. Still, economic demand certainly weighs heavily in the energy price equation, and it has been in question globally. I argue that it is in question nationally as well, based on my interpretation of recent economic data.
Energy prices affect all prices when change in price becomes anchored. Once industries become accustomed to a new price level, producers of goods and providers of services begin to incorporate those changes into the price of their goods and services.
Optimists will note that other issues that are unrelated to economic softness may also contribute to lower pricing. For instance, increased global competition could lead market players to lower prices. Also, technological innovation which reduces cost of production could feed into lower pricing with time. But, the anchoring of energy price changes and the impact of global competition should take more time than is depicted here to impact the broader economy.
A stronger dollar will also factor, and recent global central bank catalysts in Japan, Europe and in the U.S. seem to favor a strengthening dollar. It is clearly a critical factor for the prices of imports into our economy, and is why Japanese stocks like Toyota (NYSE:TM) have been on the rise. This has also been evident in the downward move of the SPDR Gold Shares (NYSEARCA:GLD) and many commodity relative securities. The dollar's importance cannot be left out of this discussion and, given a recent support provided by Moody's (NYSE:MCO), gains even more credence. But it does not support the competitiveness of American made goods.
Europe was falling deeper into recession at the last check of the ECB. The direct impact of this is tied to the fact 20% of our exports are sold into Europe. We know Europe is impacting China growth as well, having an indirect impact on the United States economy as a result. This global demand issue is most important among commonly agreed upon concerns.
I add to that the nascent American economic question that I have posed over recent months. I continue to believe the Federal Reserve has overstated its economic projections for the U.S., and I remain worried about the 7.5 million estimated unaccounted for jobless Americans I find in my research. If unhealthy deflation is at hand, then profit margins are threatened as well as more American jobs. So, I suggest deflation in this instance is a symptom of economic illness, which is difficult to address, given its international supports. I will continue to follow this issue and other economic concerns of mine, and you are welcome to follow along.
Disclosure: I have no positions in any stocks mentioned, and no plans to initiate any positions within the next 72 hours. I wrote this article myself, and it expresses my own opinions. I am not receiving compensation for it (other than from Seeking Alpha). I have no business relationship with any company whose stock is mentioned in this article.