On May 14, we closed at S&P 1634 (NYSEARCA:SPY) and I was wondering about the short-term risk-return profiles of my stocks, and the market by and large. Then we broke on the upside. These were very volatile sessions, to be expected as we had three options: (A) a follow-through; (B) a triangle or pennant consolidation; or (C) a reversal. We actually had all three. However, today suggests that we broke the triangle on the downside. Here is how it looks short term, as well as going back to the October 2012 lows: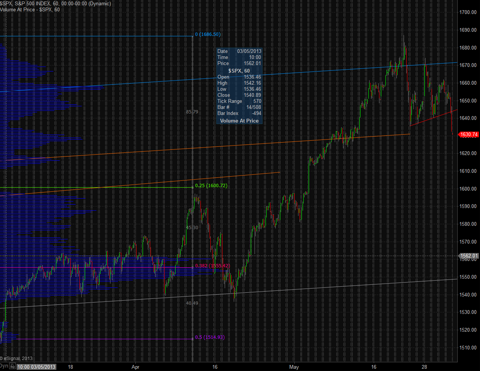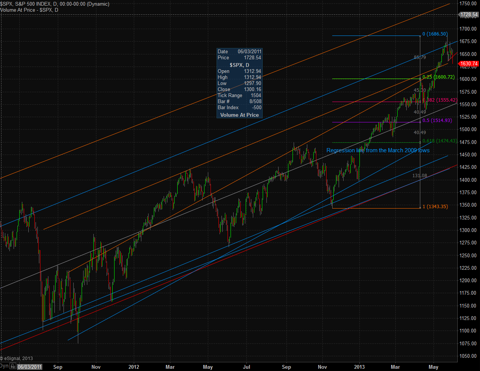 Add to this the Kiss of Death, the short term break in the Russell 2000: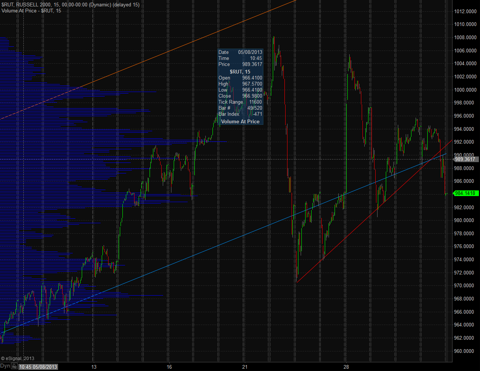 And the iShares High Yield Corporate (NYSEARCA:HYG):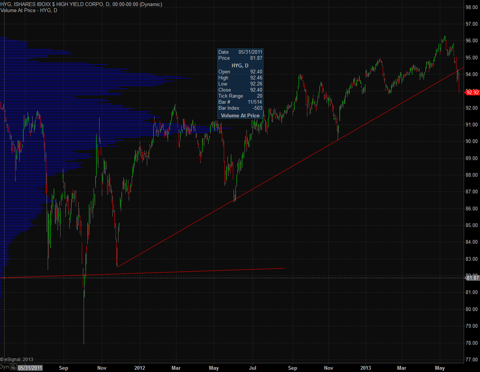 Now, this technical picture does not bode well for the short term. But it is one of the five entrails we must look at. The other four are: expectations, politics, liquidity and economics, i.e. earnings and interest rates. The Sixth Element is what we don't know. And the bottom line is Behavior.
On Technicals, the HYG breakdown bothers me the most. It signals that the Financial System still isn't fixed, despite all the soothing talk. After all, if business is good and corporations refinance, High Yield Corporate Bond Yields should go down. This break suggests that either business is not good, or that Balance Sheets are still too leveraged. I want to see how far this correction takes us because on the other hand, Household Debt as a Percentage of Net Worth is below its 2004 level - a huge improvement from the 2008 picture, albeit still way above the historical norm of 14% or so: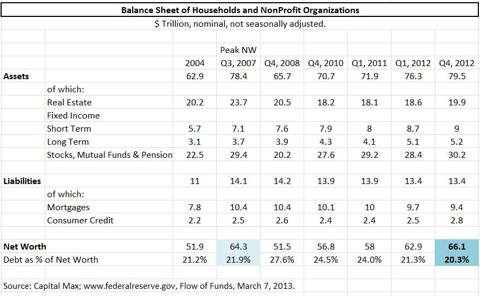 Add to this the correction of the Japanese "Bubble", the telegraphed talk of Sovereign Funds supporting the newly found "Grail", i.e. stocks - when I hear this, I am always weary, much like when Prince Al Waleed is interviewed by Maria Bartiromo -, the Consumer Confidence and ISM numbers which make for great headlines and bipolar market reaction, the uncertainty hovering Mr. Bernanke's fate in 2014 - when everybody knows he is the only pilot left in the plane - and, believe it or not, the upcoming Iranian elections. An air pocket may get you sick, but if it doesn't, you'll enjoy the next ride.
However, to be clear, while I continue to focus on S&P 2000, the technical breaks we saw today at the close are not to be ignored. The consensus seems to be forming that this is the beginning of a deeper correction. I won't disagree with that. As of now, I am market neutral, and I will reassess on Monday. My bet is on the downside momentum.
While I am at it, I will throw this one extra food-for-thought. It's a bit old, I computed this table in April 1999. But if you think when rates go up, stocks go down, think twice…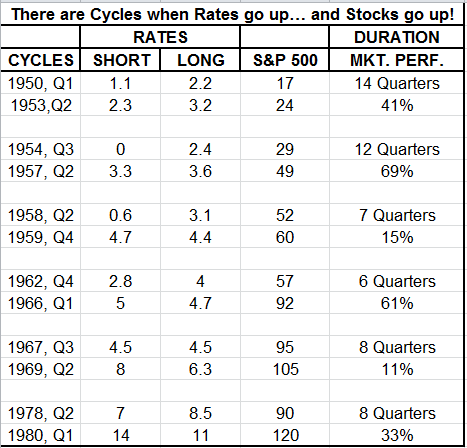 Disclaimer: As a Registered Investment Advisor, there are a few things we must tell you. We at Capital Max do not know your personal financial situation or investment objectives, so this article does not constitute a solicitation to purchase or sell any of the securities mentioned, nor is it intended to provide specific investment advice. Past performance is no guarantee of future performance. We live this every day, and you should know it too. The value of the securities mentioned herein may fall or rise and are not insured by any government or private company, even if it meant something. We believe what we write, and we take your audience quite seriously. However, since we cannot be held responsible for any loss or damage caused by reliance on the information and data herein, you should consult with your own advisor and/or do your own research before acting on any of our opinions, which we change without notice.
Disclosure: I am long FIATY.PK, MXWL, IMAX, TOL, WWD. I wrote this article myself, and it expresses my own opinions. I am not receiving compensation for it (other than from Seeking Alpha). I have no business relationship with any company whose stock is mentioned in this article.