Actionable Items:
Highest Positive Spread: ING Emerging Markets High Dividend Equity Fund (NYSE:IHD)
Focus Stock: Central Securities Corporation (NYSEMKT:CET)
Last Week's Focus Stock: Central Securities Corporation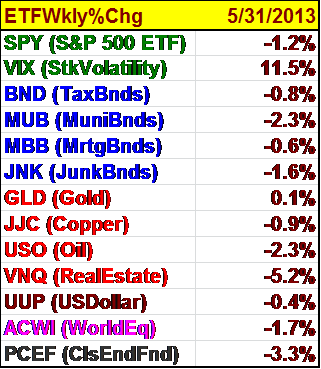 Junk Bonds Debacle: The $85 billion monthly bond-purchase program has produced a selloff for "junk" bonds. The U.S. Treasurys jumped 0.18% to 4.39% on Wednesday. The benchmark 10-Year Treasury note has risen 0.5% in the past month.
About $187 billion of junk bonds have been issued in the U.S. so far this year, a year-to-date record in data going back to 1995. This may be a sell-off of the "junk" bonds. The break in the pattern could mean high yield ("junk") investors may be threatened.
CEF "Junk" Bond Investors: Of the 73 CEFs of "HiYldBndFnds" it is only seven (7) CEFs without leverage. The leverage is 24% of net asset value, which will have to be leveraged again. Of "HiYldBndFnds" the premium is 0.9% and the average monthly yield is 7.2%. For the CEF industry (without HiYldBndFnds), the discount is -3.1% and the distribution yield is 6.0%.
Potentially, Scale-Out of Junk: The bond markets may be heading higher. Leverage rates may cut into the yield, particularly structural debt and if preferred shares are voided. If rates are headed higher, you might want to scale out of junk debt.
ETFs YTD: Health Care (+26.0%), Financial (+20.1%), and Consumer (+18.9%) were the leaders in the group. The Financial and Consumers reversed position. Laggards were Commodities (-16.4%), Asia/Pacific (-4.6%) and Currency (-3.4%). Bonds were off -1.2% in the markets (-1.1%).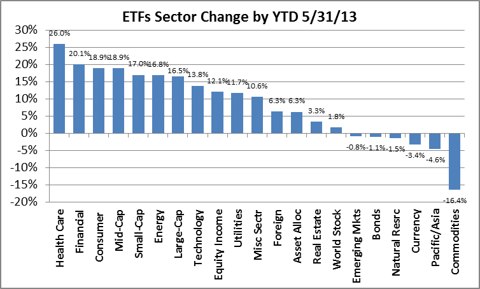 CEF Weekly Fund Type Performance: This week saw price rises for GenEqFnds (-0.9%), ConvtSecFnds (-1.5%) and WrldEqFnds (-1.7%). The laggards were WrldIncFnds (-5.2), PrefStkFnds (-4.5%) and SingleStMuniFnds (-4.4%). PrcNAVSprd rates were negative for all CEFs.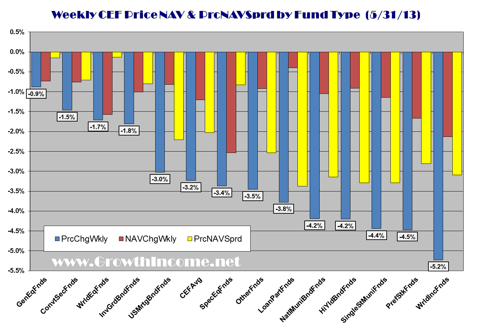 Highest Spread and Stock for the Week: ING Emerging Markets High Dividend Equity Fund was ahead by a price increase of +4.5% and NAV per share was down by -1.4%. The PrcNAVSprd was +5.9% (a positive number may mean a future decline in share price). The annual quarterly distribution per share is at 9.8% yield. The net assets are $270.9 million with no financial leverage. The fee structure is 1.4%. The premium is 6.0%, far from the 52 week high premium of 7.0%.
The quarterly distribution is for July the 1st. There is no return-of-capital ("ROC") and there are no short-term or long-term gains in its distributions. The equity is listed at 86.5%; so the 9.8% yield may have some gains in it. The distribution was cut to $0.36 from $0.40 in July 2012. There is no undistributed net investment income (UNII) to speak of: -0.0001 per share.
Lowest Spread and Focus Stock for the Week: Central Securities Corporation was our Focus Stock of the Week and last week. CET's share price was positive +0.5% and its NAV per share was a plus +0.6%. Its PrcNAVSprd decline was -0.1%. The discount is -20.1%, which touches its 52 week low of 21.4%.
The CEF has paid its dividend since 1955. The dividend is estimated to be $0.20 per share: $0.02 will be taxable as ordinary income and approximately $0.18 will be taxable as long-term capital gain. The ex-distribution date is typically on 6/7/13 with a record date on 6/11/13. Distribution payment is on 6/25/13. The dividend will be paid this week.
The assets are $605.3 million and the annual operating expenses are 0.78%. The fund seeks capital growth through investment in common stocks, convertible bonds, preferred stocks, convertible preferred stocks, warrants, options, real estate or short-term obligations of governments, banks and corporations
Focus Stock and High Price for Last Week: Last week's "Focus Stock" was Central Securities Corporation . CET was up for the week at 0.5% (1.1% for Thursday) and S&P 500 equity stocks were down -1.1%. The Highest Spread stock for the week was Aberdeen Chile Fund (NYSEMKT:CH) (share prices to go down) was which was off -0.3% for the week.
Disclosure: I have no positions in any stocks mentioned, and no plans to initiate any positions within the next 72 hours. I wrote this article myself, and it expresses my own opinions. I am not receiving compensation for it. I have no business relationship with any company whose stock is mentioned in this article.