Just over a month ago, I wrote up an article projecting the effect mild to moderate commodity price rebounds, over the next decade, might have on Freeport-McMoRan Copper & Gold Inc. (NYSE:FCX). I came to the conclusion that, purchased at the price then of about $29.90 per share, long term investors could reasonably expect a compound annual growth rate of between 10% to 36%. The important takeaway, was that Freeport in its undervalued state offers incredible upside potential with relatively little risk.
There have been a slew of releases and reports concerning Freeport-McMoRan over the past few days. Lets take a look at the most recent developments and their potential to affect the mining giant's earnings going forward.
The Good Acquisition
As planned, Freeport completed its purchase of Plains Exploration & Production Company (NYSE:PXP). The total transaction cost was something in the neighborhood of $16.3 billion, which seems like a lot for a company with a tangible book value of just over $3 billion. Further details of the transaction include:
Purchase of about $9 billion in debt
Issuance of about 91 million shares of Freeport common stock, an increase of about 10%.
Distribution of $3 per share special cash dividend to Plains E&P stockholders.
In fiscal 2012 Plains E&P recorded record high revenues and profits. The company also reported record high quarterly revenues during Q1 2013. Overall, Plains Exploration appears to be a smart acquisition.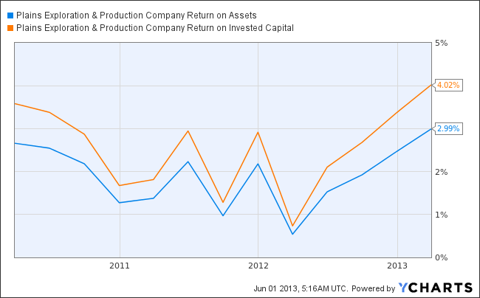 Although Plains E&P was carrying a frightening amount of debt at the time of purchase, its rate of return on assets and invested capital is slightly above average for its industry.
With the exception of a "definitive agreement to participate in an exploration program offshore the Kingdom of Morocco" disclosed in company SEC filings, Plains E&P assets are located entirely within the US, including the Eagle Ford Shale.
Recently purchased Gulf of Mexico and Eagle Ford assets added significantly to the company's top line. Overall, the acquisition of Plains E&P, seems like a smart one for Freeport. Given the increasingly hostile nature of commodity-rich emerging economies towards international miners, some regional stability would be a welcome change for Freeport.
Also, "included" in the deal are three board members. James C. Flores served as both Chairman and CEO at Plains E&P since its inception in 2002. No doubt he'll continue running the new oil & Gas E&P segment at Freeport. Flores is bringing with him two independent directors, both, strangely enough, are the third of their name.
Alan R. Buckwalter, III, is or has been involved with several financial institutions including the Federal Reserve Bank of Dallas, Houston Branch, where he was a Member of its Board of Directors.
Thomas A. Fry, III, has held Director positions at both the Department of Interior's Bureau of Land Management, and the Minerals Management Service. I think we can safely conclude that Freeport-McMoRan will have very little trouble navigating the federal regulatory landscape going forward.
The Distraction
Freeport has also announced a $1 per share supplemental common stock dividend. At recent prices, its regular dividend yield is nearly 4%, add in the extra dollar and you're up to an annual dividend yield of 7.24% at the Friday, May 31, closing price of $31.05. The date of record is June 14, 2013.
I'll bet that Freeport's board is hoping an effective dividend yield of 7.24% is enough to keep investors looking the other way as it acquires one of the uglier companies in the Oil & Gas E&P industry.
The Bad Acquisition
McMoRan Exploration (NYSE:MMR) has a TTM operating margin of -10.36%, just a shade better than the infamous Chesapeake Energy (NYSE:CHK). Luckily it is a much smaller operation. McMoRan Exploration has posted a loss every year for the past decade, but you don't need to look at any of the company's figures to know it's being undermanaged. Have a look at the front page of the company's investor center. Opening with a cautionary statement explaining that the company "assume[s] no obligation to update information contained in this website," hardly fills an investor with confidence.
The best reason I can think of for Freeport to acquire McMoRan exploration is because the directors are tired of trying to remember which company's meeting they are in. Here's a table of shared personal between the three companies involved.
| | | | |
| --- | --- | --- | --- |
| | Freeport-McMoRan | Plains E&P | McMoRan Exploration |
| James Moffett | Chairman of the Board | | Co-Chairman of the Board, President, Chief Executive Officer |
| Richard Adkerson | President, Chief Executive Officer, Director | | Co-Chairman of the Board |
| James Flores | | Chairman of the Board, President, Chief Executive Officer | Director |
| B. Rankin | Vice Chairman of the Board | | Vice Chairman of the Board |
| Kathleen Quirk | Chief Financial Officer, Executive Vice President, Treasurer | | Senior Vice President, Treasurer |
| John Wombwell | | Executive Vice President, General Counsel, Secretary | Director |
| Robert Day | Independent Director | | Independent Director |
| Gerald Ford | Independent Director | | Independent Director |
| H. Devon Graham | Independent Director | | Independent Director |
As of March 31, 2013, Plains E&P owned about 31.6% of McMoRan Exploration's outstanding shares. In effect Freeport-McMoRan has already purchased nearly one third of McMoRan.
The McMoRan deal should be completed on Monday June 3, 2013. It's still subject to shareholder approval. As you can see above, shareholder approval of the acquisition is about the only thing investors can be certain of this month. I just wish the long term effects of acquiring on one good, and one lousy oil & gas E&P were as easy to predict.
Like Plains E&P, most of McMoRan Exploration's assets are in the Gulf of Mexico or onshore in the Gulf Coast area of the US. Absorbing them into the new Oil & Gas Exploration & Production Division of Freeport-McMoRan Copper & Gold Inc. won't be an issue, and overall the three way acquisition should be a positive one for the company.
Concerning this deal, the biggest fear for investors, outside of commodity prices, is the company lengthening its name again to "Freeport-McMoRan Copper & Gold & Oil & Gas Exploration & Production Inc."
Disclosure: I have no positions in any stocks mentioned, but may initiate a long position in FCX over the next 72 hours. I wrote this article myself, and it expresses my own opinions. I am not receiving compensation for it (other than from Seeking Alpha). I have no business relationship with any company whose stock is mentioned in this article.