Precious metals plunged along with most other risk assets on Friday, erasing most of the weekly gain for gold while leaving silver with a modest loss. Renewed volatility in equity markets and growing uncertainty in global bond markets has resulted in some buyers of precious metals returning after sharp losses in recent months as evidenced by advances in the gold price during each of the last two weeks while U.S. stocks declined.
Though silver ETF holdings continued their very recent decline, gold ETFs saw their first increase in holdings since early last month and weekly outflows were at their lowest level since before the April sell-off. Gold buying remained strong with high premiums in Asia and the Indian government took new steps to curb gold demand.
But, probably the most significant development in metal markets came when the World Gold Council provided the first comprehensive report on the surge in Asian demand following the recent market rout that lowered gold and silver prices substantially.
A weaker U.S. dollar has played a role in precious metals' recent strength, however, record high short positions by speculative traders in futures markets have made it difficult for metal prices to advance. This comes at a time when commercial traders are the most bullish in seven years, setting up a possible showdown between these two groups sometime in the period ahead.
For the week, the gold price rose two dollars, from $1,386.30 an ounce to $1,388.30, and silver fell 12 cents, from $22.39 an ounce to $22.27. Gold is down 17.1 percent so far this year, some 27.8 percent below its 2011 all-time high, and the silver price has fallen 26.6 percent in 2013, down 55.0 percent from its record high reached in April of 2011.
After repeated attempts in recent weeks, the gold price once again failed to hold the important $1,400 an ounce level in Friday trading and this level has become an increasingly important psychological barrier. On Thursday, the gold price rose above $1,420 an ounce for the first time since May 15th before tumbling along with most other assets, ending with a loss of 5.8 percent for the month after a decline of more than 7 percent in April.
The WGC (World Gold Council) reported that recent price declines have prompted "unprecedented levels of demand" in Asia as gold imports to India alone rose to as much as 400 tonnes during the second quarter, almost half the total imports for all of last year. China will also likely show record gold imports during this period as net imports during just the month of April are believed to have reached 170 tonnes and, in the report, the WGC provided the friendly reminder below illustrating just who the world's buyers of physical gold really are.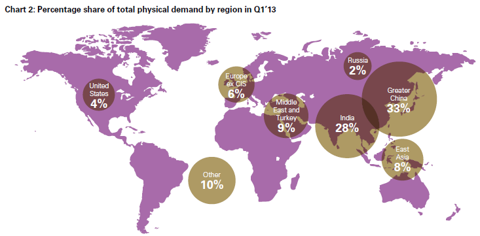 For better or worse, short-term gold and silver prices are set in Western futures markets but, ultimately, it is physical demand, primarily from the East, that will determine metal prices over the long term, a point that many sellers of ETF products in the U.S. have apparently forgotten as they've piled into stocks. The WGC also noted, "Even if ETF outflows continue in the U.S., it is quite likely that the gold previously held in ETFs will find a ready market among Indian, Chinese and Middle Eastern consumers who are taking a long-term view on the prospects for gold."
Most of the people in Asia could care less about gold and silver ETFs, preferring to buy the physical metal for which they are still willing to pay big premiums amid ongoing spot shortages. While premiums paid by jewelers to banks in India have fallen from over $10 in early-May to under $5 last week, premiums rose to a new high in Singapore, up from $5 to $7 over the London spot price, with gold kilo bars reportedly hard to come by.
After record gold imports in April that have wreaked havoc with India's trade deficit, the central bank took new steps to curb gold demand by prohibiting banks from making loans against gold ETFs and mutual funds. So far, banks and gold buyers have shrugged off these new efforts, but gold demand will surely fall from record levels in the months ahead as some of the spring demand was clearly pulled forward from the future as a result of lower prices.
Recall that India is the world' biggest - and most price sensitive - gold buyer. As for the efforts of the Reserve Bank of India, it has become comical to listen to officials, who last week said the "uncontrolled passion for gold must be contained" and, instead, countrymen should place their trust in paper financial instruments. Ordinary Indians clearly understand the difference between paper assets and gold over the long term.
Here in the U.S., futures traders could care less about the long term, that is, except for commercial traders who now are the most bullish since 2005. Commercial traders are often referred to as the "smart money" since they are the actual producers and users of precious metals who supply and take delivery of metal on the exchanges. This is in contrast to speculative traders who simply trade the metal and are generally trend followers or momentum traders, who recently have continued to follow the downward momentum of the last two months with record short positions.
These two groups are set up for an interesting period ahead that could produce some explosive price action.
The weeks ahead will also be interesting for ETF flows since the SPDR Gold Shares ETF (NYSEARCA:GLD) saw its smallest outflow last week since late-March. The fund shed 3.9 tonnes on Tuesday and then added back 0.9 tonnes on Wednesday with no changes on Thursday and Friday.
In GLD Holdings Rise, Stay Above 1,000 Tonnes last week it was noted that these holdings stabilizing at or near the current level of 1,013 tonnes would be wildly bullish for the gold price as many analysts have predicted that hundreds more tonnes of gold would exit the trust. They still might, but with equity market gains fading and bond markets looking shakier than ever, the gold ETF could attract new buyers at these prices.
As for silver, outflows from funds such as the popular iShares Silver Trust (NYSEARCA:SLV) have been a relatively recent phenomenon that continued last week as shown below.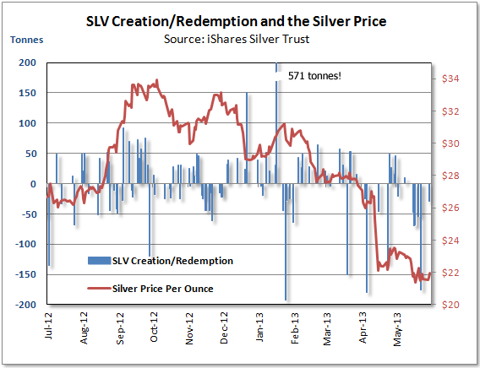 The SLV trust shed another 30 tonnes in recent days after more than 400 tonnes left the trust over the prior two weeks. This followed big gains earlier in the year that were only partially offset by outflows during the April sell-off. At this point, SLV holdings are down 92 tonnes this year, less than one percent, versus a remarkable drop of 338 tonnes for GLD, representing a decline of 25 percent.
Investment banks continue to update their price forecasts for precious metals based on recent market action and changing investor sentiment. On Tuesday, JPMorgan cut their 2013 outlook for gold from $1,745 an ounce to $1,595 and Bank of America now puts the average gold price at $1,478 an ounce this year, down 12 percent from its previous forecast of $1,680, however, they feel the longer term bullish case for gold still holds and cited scenarios for gold topping $2,000 an ounce.
Analysts at Credit Suisse - one of the three firms that provided very bearish calls just prior to the sell-off in April - said the gold price could drop to as low as $1,085 an ounce, due largely to investors having little concern about rising inflation despite central bank money printing.
There seems to be as much confusion as ever amongst investment banks as to which direction gold and silver prices will take.
Disclosure: I am long GLD, SLV. I wrote this article myself, and it expresses my own opinions. I am not receiving compensation for it (other than from Seeking Alpha). I have no business relationship with any company whose stock is mentioned in this article.
Additional disclosure: I also own gold and silver coins and bars