There has been significant market speculation that the tremendous run for utilities and other stable dividend payers has reached a peak, culminating in a large sell-off in the month of May. Berkshire Hathaway (BRK.A, BRK.B), run by the world's foremost investor, Warren Buffett, placed its own bet counter to this hypothesis, spending $5.6B to acquire Nevada-based utility NV Energy (NYSE:NVE). This article discusses five of my takeaways from this topical transaction.
A Way to Stay Rich
When Berkshire Hathaway's MidAmerican Energy Holdings unit bought Pacificorp in 2006, it was reported in Electric Utility Week that Buffett told Oregon regulators that owning utilities was "not a way to get rich - it's a way to stay rich." This quote came in the two years following Texas Pacific's failed bid for Oregon's Portland General Electric and KKR's nixed acquisition of Arizona's Unisource. Regulators at the time were concerned that these private equity firms would purchase the utility holding companies with excessive financing, the cost of which could be explicitly borne by customers in the form of higher rates and implicitly through backlogged maintenance as capital expenditures were crowded out by debt service payments. With the notable exception of the TXU leveraged buyout in 2007, the industry has eschewed large scale leveraging transactions in favor of incremental re-leveraging through conservatively financed share repurchase plans and above market dividend rates. Berkshire likely viewed the timing of the transaction as an attractive entry point to acquire a regulated business with the potential for cyclical growth in free cash flow generation - a cash transaction for a cash machine - a way to stay rich indeed.
Berkshire Buys As Utilities Suffer Setback
Utilities were caught in the vortex caused by sharply higher Treasury rates in May. The S&P 500 Sector Utility Total Return Index underperformed the total return of the S&P 500 by 11.65% for the month, the largest underperformance by the sector versus the broader market since November 2001, the month preceding the Enron bankruptcy. Berkshire had cash on the sidelines, and viewed this as an opportunity to buy utility assets on the cheap.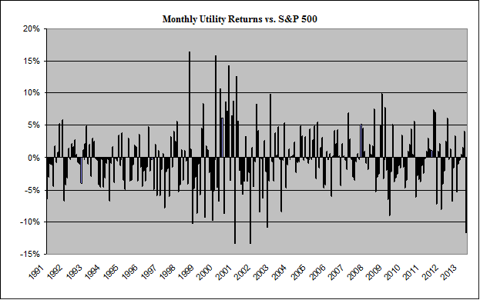 Source: Bloomberg, Standard and Poor's
While Berkshire paid a 23% premium, the pullback in NVE's stock over the last month provided a decent entry point. While the backup in Treasury rates negatively affected utility equities given the compression between the ROEs earned by regulated utilities and their financing yields, the forward earnings yield of the sector less the ten-year Treasury bond yield is still more than a standard deviation above its trailing ten-year average according to Wells Fargo Equity Research.
A Continued Bet on Low Volatility Equities
In my January 2013 article "Making Buffet's Alpha Your Own", I built on academic research by managers at the hedge fund AQR Capital Management to demonstrate that Buffett's extraordinary long-run outperformance can be boiled down to his early understanding that applying leverage to low volatility businesses generates alpha. I detailed the fact that applying the 1.6 turns of leverage that the AQR researchers determined that Berkshire had traditionally employed to the S&P Low Volatility Index (NYSEARCA:SPLV) replicated the returns of Berkshire Hathaway.
It was then not surprising when Berkshire Hathaway joined with 3G Capital to purchase Heinz, which was then the fifteenth largest constituent in the S&P Low Volatility Index. While NV Energy is not a member of the S&P 500, and thusly excluded from the Low Volatility Index, the company has a trailing twelve month beta of just 0.73 relative to the S&P 500. This transaction certainly fits the long-run profile of leveraging low volatility companies, an idea Seeking Alpha readers should consider as part of their investment plan. Electric utilities are the largest individual sector weighting of the S&P 500 Low Volatility Index, and given their underperformance in May, could offer a nice entry point for conservative, long-term holders.
Conservative Bet on Las Vegas Recovery
Regulated utilities, like Nevada-regulated NVE Energy, are typically guaranteed a pre-determined return on equity by their state regulator as compensation for the high fixed costs inherent in building generation and transmission capacity. While the monopolistic nature of regulated utilities makes for a stable business profile, NV Energy operates in one of the most cyclical locales in the United States. Revenues dropped by 8.5% and 10.3% in 2010 and 2011 respectively as economic growth slowed in Nevada and unemployment peaked at 14%. Despite these negative top-line trends, EBITDA hit new records as margins expanded on lower production fuel costs, a testament to the strength of the management team as operators. With the potential for a cyclical recovery in Nevada, Berkshire will likely see improved free cash flow from this business over the next several years.
Able Abel and the Next Generation
Buffett has touted the fact that he is "hunting elephants," or large scale, transformative transactions, and that his belief in the United States recovery was strong enough to ensure that his collective operating companies would set another record for capital expenditures in 2013. While NV Energy may not be the target market pundits had in mind for the next Berkshire transaction, the deal does make MidAmerican the largest utility owner by number of customer accounts (>8 million) in the country. Greg Abel, MidAmerican's CEO, has essentially "raised an elephant" through bolt-on acquisitions during his tenure at the company, and Buffett must have great faith in both Abel's ability to operate a company of this scale as well as Abel's ability to determine if appropriate management is in place at the acquired utility. For Berkshire shareholders concerned about the future of the company after the eventual succession of the 82-year old CEO, leaders like 50-year old Abel appear ready to continue in the company's winning ways.
Please share your own thoughts on this interesting transaction in the comments section below.
Disclosure: I am long SPLV. I wrote this article myself, and it expresses my own opinions. I am not receiving compensation for it (other than from Seeking Alpha). I have no business relationship with any company whose stock is mentioned in this article.