No one can ever claim Ryanair (NASDAQ:RYAAY) isn't creative. The European low cost airline (which has the largest international passenger volume in the world) is famous for its innovative approach to getting passengers from Point A to Point B … for very little money. For example in 2008, it offered 1 million seats for £0.01 each. The promotion was so successful, it crashed the company's website. And despite public outcries, it has yet to abandon the possibility of charging passengers for mid-flight visits to the bathroom.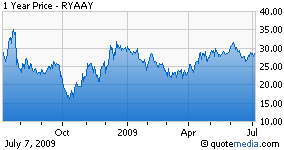 In its latest move, it was reported yesterday that Ryanair's "plans to cut costs by making fliers perch on stools with seatbelts around their waists. Chief executive Michael O'Leary has already held talks with US plane manufacturer Boeing about designing an aircraft with standing room." The motives for the move are clear, since "Ryanair estimates it would be able to pack in 30 per cent more passengers while slashing costs by 20 per cent."
It's a bold move, to say the least. And the proposal (which of course requires approval from the proper safety administrations) has a couple different "spend management" angles that will play out as the plans move forward.
First, there's the supplier collaboration that was mentioned briefly in the coverage. If Ryanair is going to build or modify its planes to accommodate the stools and additional passengers, it'll need major help on the design from its suppliers. Ryanair and Boeing must collaborate to truly rethink the internal layout of the passenger airplane. Doing so will be an engineering major innovation success story. After all, the typical "innovation" for cramming more paying customers on a plane is to tighten up legroom even further. This standing/stool idea is thinking WAY outside the box … and will be a massive competitive advantage if it can fill these seats.
But all that great innovation is for naught if the public doesn't buy into the new designs. After all, we're in a time when passengers are used to paying a la carte for an ever increasing list of airline options (checked bags, legroom, drinks, movies, WiFi, etc.). This is the first time a previously available "luxury" - if a seat can be considered an optional luxury - will be taken off the menu. When anyone who travels coach imagines squeezing 30% MORE people into the main cabin, he or she will likely recoil in horror. No doubt the engineering minds at Boeing can likely meet the expectations and requirements of the Ryanair team, but they'll also have to woo a skeptical public with some truly innovative, and more importantly comfortable, design modifications. I've scoured the internet looking for previews of the Ryanair stools (or those of Chinese carrier Spring, who actually beat Ryanair to the punch on the standing room only announcement), but without any luck. But I am very anxious to see preliminary designs.
It's also worth pointing out that many travelers - particularly business travelers who don't pay their own way and often like to get some work done in flight - are looking at the total cost of their travel. For example, if a business traveler were to pay a bit more, yet have WiFi and a comfortable seat to get some work done on a 2 hour flight, is that better use of money for a company than insisting on the lowest cost fare? Or will T&E "spend management" for some companies take the extreme measure of forcing their employees to fly on a stool with little ability to work simply to save some money on the ticket?
It will certainly be interesting to see how this Ryanair proposal pans out. At the very least, you have to give the company credit for confronting the recession head-on and collaborating with its suppliers on an innovative redesign of its product, which can potentially become a game changing competitive edge…if customers will go for it. Perhaps, if nothing else, Ryanair will have more passengers paying for cocktails to go along with their barstools.
Disclosure: No positions