Over the past century plus, there have been hundreds of mergers between electric utilities. And amazingly, not one has failed to create a more efficient and profitable company.
The keys are scale advantages and business similarity that makes it easy to realize savings once deals are done. The key challenge is always winning the needed regulatory approvals, an easier task some years than others.
The all-cash takeover of NV Energy (NYSE:NVE) by MidAmerican Energy announced this week will have to pass muster with Nevada officials, as well as federal agencies including the Federal Energy Regulatory Commission. None should be a barrier to completing the deal on schedule by first quarter 2014.
Rather, the real question is if the $23.75 per share all-cash offer from MidAmerican -- a unit of Warren Buffett's Berkshire Hathaway (NYSE:BRK.A), (NYSE:BRK.B) -- is a fair price for NV Energy. If the answer is yes, investors should vote for this deal, or alternatively, sell their stock now that it's within a few cents of the takeover offer price. If it's no, investors should vote to reject the deal, and wait for Berkshire to either offer more or go away.
Investor lawsuits following friendly takeover offers are fairly commonplace. In this case, several firms have already announced "investigations" of this deal on the grounds that directors and officers may not have negotiated the best deal. Let's see if their arguments have merit.
The Pros and Cons
From a shareholders' perspective, the primary attraction of Berkshire's offer is the premium offered to NV's pre-announcement market price of roughly $19 and change. The offer is also all-cash, and therefore, not subject to stock market volatility.
Bondholders arguably get an even bigger boost. Standard & Poor's and Fitch have already put NV's credit rating on watch for a possible upgrade. That's because of Berkshire/MidAmerican's higher credit rating and cash position, as well as expectations for balance sheet strengthening due to added scale advantages.
One reason this deal should skate through the regulatory approval process without a serious challenge is that it will also benefit consumers. That's because Nevada regulators will be able to extract rate concessions as the price of signing off. Even environmentalists have something to cheer about, as MidAmerican plans massive investment in renewable energy the next few years, with NV's territory a prime target.
The primary negative is price. Mainly, it's taken a decade of financial and operating discipline and a lot of hard work to bring NV's stock price back within shouting distance of where it traded in the late 1990s.
A high flyer then, NV by early 2003 was one of roughly two-dozen electric utilities one false move from bankruptcy. Enron locked the company into extremely pricey power purchase contracts during the California power crisis of 2000-01, and Nevada regulators were balking at the bills. Soaring debt to cover the shortfall plunged the credit rating to deep junk. And the stock fell all the way from the upper $20s to less than $3 a share.
Then began NV's hard road to redemption. New management forged a new regulatory compact with the state to allow consistent recovery of construction costs, and the company slowly but surely built its own plants and weaned itself off of out-of-state power purchases. NV became a leader in renewable energy, tapping into the state's bountiful sources of solar, wind and geothermal. And rising cash flows little by little paid off debt.
The result is the company is now investment grade once more. Common stock dividends were restored in September 2007 at 8 cents per quarter, and have since surged to 19 cents.
The common stock has returned nearly 700 percent from the lows, counting a bounce this week following the merger announcement. Nonetheless, it's still well below its late 1990s level, even as earnings growth and free cash flow are funding accelerating dividend growth.
Berkshire's offer is only about 10 percent higher than where NV traded at the end of April. And NV at the takeout price is still trading for just 1.58 times book value. That's very much on the low end for similarly sized utilities such as OGE (NYSE:OGE) (2.47 times book) or MDU Resources (NYSE:MDU) (1.84 times).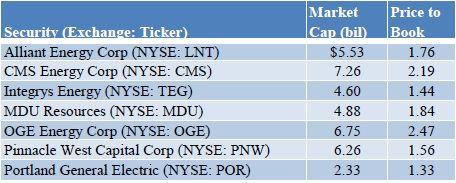 To Berkshire's Benefit
Since Mr. Buffett entered the power business in the 1990s, he's consistently purchased great assets for rock-bottom prices. PacifiCorp, for example, was reeling in 2005, allowing MidAmerican to add 1.8 million homes in six states to what was to then an all-Midwest utility. The ultimate hardball move was the purchase of Williams Companies' (NYSE:WMB) pipelines a couple of years earlier, part of a $1 billion rescue loan (at 30 percent interest).
The bottom line is Berkshire didn't get where it is today by being a charity organization. And when MidAmerican's CEO Greg Abel strikes, he's not going to be paying top dollar for any target.
As my graph below shows, utility sector merger volume is well below what it was in the late 1990s, as well as during the last decade prior to the 2008 crash. In fact, activity has also tapered off the past couple of years, as regulatory hurdles have ruined economics despite rock-bottom interest rates.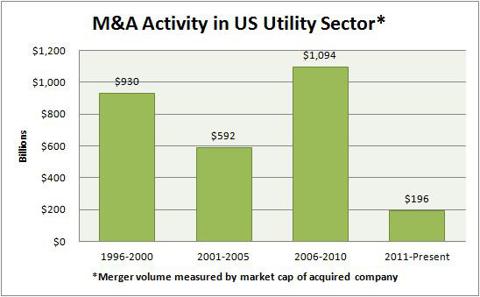 Despite that, Berkshire is certain to keep making deals. The $5.6 billion takeover of NV will extend MidAmerican Energy's reach to approximately 8.4 million electric and gas customers in 11 Rocky Mountain and Midwestern states, and it will be then be the U.S.' largest utility owner with $66 billion in assets. The deal also provides numerous opportunities to expand investment in renewable energy, as well as a ready market for that power in Nevada.
Electric power is just one of several profit centers for Berkshire, insurance being the largest. But with a market capitalization now approaching $300 billion and $230 billion in current assets -- including $47 billion in cash -- the company could easily inhale any of the companies in my second table "Bite Sized for Berkshire".
That's not to say any of these companies will wind up being taken over in the next 12 months. And my policy is never to buy a stock I wouldn't want to hold if no deal occurred.
As for NV Energy, I've been a fan since its comeback from disaster began in 2003. With the Dow Jones Utility Average off about 10 percent from its late April high, there's no doubt MidAmerican picked a very good time to strike. Less clear is why NV Energy chose this week to accept an offer so far below its late 1990s trading range, when it had been steadily clawing its way back there for more than a decade.
Speculation on motives is better suited for spy novels than stock analysis. It is interesting, however, that NV Energy's generally low level of insider ownership rose 26 percent over the past six months.
Institutions will be pivotal if resistance to Berkshire's bid does emerge. NV's shares were 93.7 percent held by funds and other big pools of money at last count, with JPMorgan (NYSE:JPM) and Blackrock (NYSE:BLK) the largest owners.
If none of the big boys mounts a campaign in coming weeks, the best course will be to sell NV shares as close to the takeout price of $23.75 as possible. Doing the math, NV's current share price is just half a percentage point below the offer. Coupled with three more quarterly dividend payments of 19 cents a share between now and the close of the deal, that adds up to a total return of less than 3 percent to hold on for nine months.
Until institutions' intentions do become clear, however, it makes sense to keep holding on. The best case would be Berkshire comes in with a higher offer, which would make a tidy profit grow larger still, with an additional 5 to 10 percent a reasonable expectation.
Even if Berkshire were to walk away or the deal fail for regulatory reasons, however, it would still make sense to hold though through what would likely be a 15 to 20 percent near-term share price retreat. That's because NV Energy continues to gain strength as an independent business, and would swiftly resume its now decade-long uptrend.
For disclosure purposes, I've owned shares for Berkshire for many years. I currently own no NV Energy shares.
Disclosure: I am long BRK.B. I wrote this article myself, and it expresses my own opinions. I am not receiving compensation for it (other than from Seeking Alpha). I have no business relationship with any company whose stock is mentioned in this article.