May was a very tough month for investors holding units of Linn Energy LLC (LINE) and its sister shares of LinnCo LLC (LNCO). A negative news articles in Barron's early in the month focusing on the Linn companies' accounting practices took about 10% out of the share prices, and now this last week, a general sell-off of the higher yield MLP stocks knocked another 5% off the share values. Here is a 3-month chart comparing LINE to the Alerian MLP index, where you can clearly see the damage from the Barron's write-up and the last week's drop for MLPs as a group: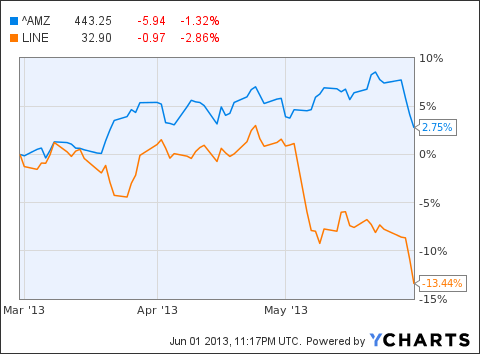 Note: limited partnership companies such as Linn Energy have units and pay distributions. The words stock, shares and dividends may be used here with the understanding that the rules of LP units apply including the tax consequences of investing in LP units.
Understanding the Business Model
The exploration and production master limited partner -- E&P MLP -- companies all follow the same basic business model including Linn Energy, which was the first to use the limited partnership business structure in the E&P space.
Linn Energy produces a growing revenue and EBITDA stream through an almost continuous process of acquiring existing producing oil and or gas properties. The company then uses a limited amount of drilling to manage and maintain the production of the assets. It is important to understand that the oil and gas assets Linn buys are depleting asset properties and if the company did not regularly purchase new properties, the revenues and cash flows would steadily decrease and distributable cash flow would disappear.
Linn Energy has been working this business model since going public in early 2006, and the company has grown from a small cap to one of the larger publicly traded E&P companies. Along the way, Linn has paid a steady and growing dividend and has never reduced the payout to investors.
Unless something has fundamentally changed concerning the energy industry, there is no good reason for the model to not continue to work. Recent indications that natural gas may move out of its slump would be a tremendous benefit. In my opinion, the Barron's article completely missed how Linn and the other E&P MLPs function.
Shifting to Monthly Dividends
Starting in July, Linn Energy and LinnCo will change to a monthly dividend payment from the current quarterly distributions. This change actually spreads the second quarter dividend over three months, but once the program is underway, monthly payouts should provide a little more price stability and make it more difficult for short sellers to pile into LINE and LNCO.
Monthly dividend paying E&P MLP Vanguard Natural Resources, LLC (NYSE:VNR) has not suffered quite the price swings as bigger competitor Linn Energy.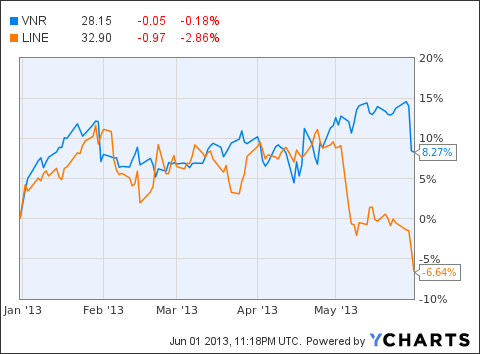 The Berry Petroleum Deal
My main worry is that the recent price drop will in some way prevent the announced acquisition of Berry Petroleum (BRY). Linn Energy significantly changed how the MLP energy game is played by making a play to purchase a corporate E&P company using the LNCO shares as currency. I covered the Berry deal in detail at: Linn Energy Sticks A Dagger In The Vocal Short Seller Crowd.
If for some reason the deal unwinds, it will not be a killer for Linn Energy, but will definitely set back the company's long-term plans. Much of the share price drop from this unlikely event may already be priced into LINE and LNCO.
On Friday, Linn Energy issued an update to the merger process with Berry Petroleum. There was not much new there except that an amendment to the S-4 would be filed this week. Shareholder and unit holder votes on the merger are scheduled for early in the third quarter, with the merger/acquisition taking place soon after a positive vote.
Conclusions
An approval by Berry shareholders of the merger with Linn would immediately push LINE and LNCO share prices back to the $40 range. Unfortunately, we have to wait for more than a month before learning the outcome of that vote.
After the recent price decline, Linn Energy and LinnCo appear to be even more of a value, with LINE yielding close to 9% compared to the typical 7% to 7.5%. This does not make existing unit holders feel any better after seeing their investments drop by 15% plus. However, if events do work out as planned and the Berry Petroleum merger is approved, anyone selling at this point will be kicking themselves in mid-July and anyone who buys shares in the low $30s will be a very happy investor.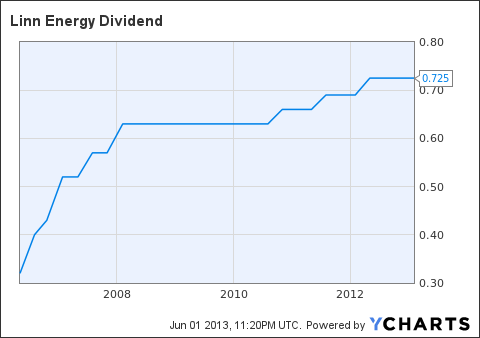 LINE Dividend data by YCharts
Disclosure: I have no positions in any stocks mentioned, and no plans to initiate any positions within the next 72 hours. I wrote this article myself, and it expresses my own opinions. I am not receiving compensation for it (other than from Seeking Alpha). I have no business relationship with any company whose stock is mentioned in this article.