Background
Five years ago, on June 1, 2008, I established a demonstration and teaching device: The Dividend Growth Portfolio [DGP]. Last Friday, it celebrated its 5th birthday.
In 2008, I wanted to have a real-life, real-time, real-money portfolio to demonstrate what could be accomplished with a dividend growth strategy-without trickery, cherry picking, back-testing, or hindsight. So I converted an existing portfolio at E-Trade into the DGP. I emptied the old portfolio of stuff that did not fit and bought stocks that did fit the dividend growth strategy.
The DGP has been running, with me managing it, since its creation. The starting value of the portfolio on June 1, 2008, was $46,783. No money has been removed from nor added to the portfolio since its inception, except of course for dividends flowing in.
I have written about the DGP many times, and the articles usually attract a good deal of interest. The most recent two articles are:
In addition to articles such as those, I publish a monthly report card about the DGP on my Web site. It can be found here.
Raison D'etre
The Dividend Growth Portfolio exists to demonstrate the results that can be achieved by following sound dividend growth investing principles. Soundness, of course, is in the eye of the beholder. But I do try to use what I consider to be best practices. I don't want to make a fool of myself, plus the money is part of my wife's and my retirement funding. It is important to us.
I strongly believe that the good investing starts with goals. The main goal of the DGP is to generate a steadily increasing stream of dividends paid by excellent, low-risk companies. That goal is being accomplished. The dividend stream has increased each year since the portfolio was created in 2008. At the current time, it appears that 2013's dividends will exceed 2012's by about 14%.
A secondary goal of the DGP is to generate acceptable total returns. The Portfolio is up 45% in total value since inception, which is more than acceptable to me.
More details on results will come later.
Good Governance: The Constitution
The Dividend Growth Portfolio is governed by a "constitution" that lays out its goals and strategies. I wrote and annually amend the constitution. The complete document can be found here.
Highlights of the DGP's constitution include:
Goal Statement. The goal of the Dividend Growth Portfolio is to generate a steadily increasing stream of dividends paid by excellent, low-risk companies. Numerically, the target is for the portfolio to deliver 10 percent yield on cost within 10 years (that is, $4678 by 2018).
The metric yield on cost gets a lot of criticism as a backwards-looking "feel good" number. But as you can see here, I used it from the beginning as way to look forward, to create an aspiration. I found it exciting to think that I could create a dividend stream that, by itself, would match the historical total return of the stock market. I still do.
Strategies. The constitution lays out the strategies by which I try to achieve the goal. Here are a few of the most important ones.
Use the current Top 40 Dividend Growth Stocks as my shopping list.
Buy only stocks with "Fair" or better valuations.
Reinvest dividends without dripping them. Reinvest when the incoming cash accumulates to $1000. Select stocks for reinvestment with as much care as when the portfolio was created.
Shoot for an eventual total of 20 to 25 stocks. Aim for well-roundedness. Hold no more than 15 percent of the portfolio's value in a single stock.
Make opportunistic switches from one stock to another if such a swap will upgrade the
portfolio. The expected frequency of such exchanges is low.
Don't "sit out" bear markets. I applied this strategy right away, as the DGP was started during a bear market.
Seriously consider selling any stock if:
(1) It cuts, freezes, or suspends its dividend.
(2) It bubbles or becomes seriously overvalued.
(3) Significant fundamental changes impact the company.
(4) It is going to be acquired.
(5) It announces plans to split or to spin off a separate company.
(6) Its current yield rises above 9 percent or drops below 2.7 percent.
(7) Its size increases beyond 15 percent of the portfolio.
Strategies and Practices Not Used. I have decided not to do the following.
Use margin.
Short stocks.
Use options, futures, or other derivative investments.
Invest in mutual funds or ETFs.
Performance: Steadily Rising Dividends
The DGP's goal of steadily rising dividends has been met splendidly so far.
| | | | |
| --- | --- | --- | --- |
| Year | Dividends Received | Yield on Cost | Increase from Prior Year |
| 2008 (7 Months) | $998 | 2.1% |   |
| 2009 | 1568 | 3.4 | 57% |
| 2010 | 1799 | 3.8 | 15 |
| 2011 | 1960 | 4.2 | 9 |
| 2012 | 2179 | 4.7 | 11 |
| 2013 (Est.) | 2491 | 5.3 | 14 |
| Next 12 Months (Est.) | 2677 | 5.7 |   |
Let's look at that in graphical form.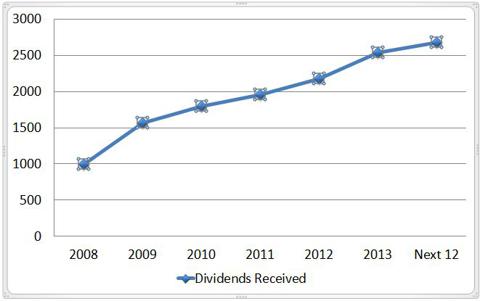 The estimates for 2013 (full year) and for the next 12 months come from E-Trade's Income Estimator. It works as you would expect: It annualizes the most recent dividend for each stock and projects that forward. Thus it understates dividends that will come from dividend increases that have not been announced yet, shares that I will purchase with accumulating dividends, and any positive changes that I might make to the portfolio.
Obviously, it overstates dividends if any of my stocks cut or suspends its dividend.
The DGP has a current yield of 3.9%. That figure has held pretty steadily for most of the portfolio's life. (It varies up and down a little as company dividend payouts change and as the total value of the portfolio changes every day.) By comparison, the S&P 500's current yield is a hair under 2.0%, according to multipl.com.
Performance: Total Return
As stated earlier, total return is not the main goal of the DGP. Its main goal is to accumulate shares of stocks that will pay dividends for years to come.
Nevertheless, the portfolio has provided what I think are good total returns.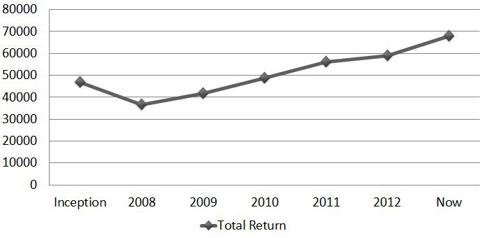 Starting from its initial value of $46,783, the portfolio has increased in total value by 45%, to $67,864. That gives it an average annual growth rate of 9.0% per year and a CAGR (compound annual growth rate) of 7.7% per year.
For comparison, the S&P 500, with dividends reinvested, has increased 34.1% in total value over the same time frame. That would be an annual average growth rate of 6.8% and a CAGR of 6.1%. (Source: dqydj.net.)
Portfolio Holdings
At the moment, the portfolio holds 15 stocks. Here is the portfolio as it exists today, with each stock's date of entry into the portfolio and the percentage it comprises of the whole portfolio.
| | | |
| --- | --- | --- |
| Company | Entered Portfolio | % of Portfolio |
| Alliant Energy (NYSE:LNT) | 2010 | 10 |
| AT&T (NYSE:T) | 2009 | 3 |
| BHP Billiton (NYSE:BBL) | 2012 | 3% |
| Chevron | 2008 | 5 |
| Darden Restaurants (NYSE:DRI) | 2013 | 5 |
| Hasbro (NASDAQ:HAS) | 2012 | 3 |
| Intel | 2012 | 6 |
| Johnson & Johnson (NYSE:JNJ) | 2010 | 12 |
| Kinder Morgan Energy Partners (NYSE:KMP) | 2008 | 7 |
| Lorillard (NYSE:LO) | 2013 | 2 |
| McDonald's | 2008 | 11 |
| Omega Healthcare (NYSE:OHI) | 2013 | 6 |
| PepsiCo | 2008 | 13 |
| Realty Income | 2008 | 11 |
| Shaw Communications (NYSE:SJR) | 2012 | 3 |
The DGP also has $528 in cash (less than 1% of the portfolio). That represents accumulating dividends. When the sum reaches $1000, I will reinvest it, either to start a new position or add to an existing one. I have already made one reinvestment in 2013, using accumulated dividends to start the position in Lorillard.
Turnover
Not counting the purchases made to establish this portfolio in 2008, there have been 29 transactions in the 5 years of the DGP's existence. Nine have been sells and 20 have been purchases.
The sells illustrate the application of the guidelines in the constitution. Here are a few examples:
Many of the purchases have been made by reinvestment of dividends. I used dividends to start positions AT&T (2009), Alliant Energy (2010), and Intel (NASDAQ:INTC) (2012). All of those stocks remain in the portfolio to this day.
Of the 11 stocks in the portfolio originally, 4 are still in it: PepsiCo (NYSE:PEP), Chevron (NYSE:CVX), Realty Income (NYSE:O), and McDonald's (NYSE:MCD). Original stocks that were eliminated were Bank of America, Emerson Electric (NYSE:EMR), Royal Bank of Canada, GE, Telefonica (NYSE:TEF), Barclays (NYSE:BCS), and Sherwin Williams. That is a little more turnover than I would have expected from a portfolio of this type. Obviously some of it was caused by the banking and financial crisis in 2008-09.
Principles Reinforced and Lessons Learned
Most of the original concepts behind this portfolio have remained in place since the beginning.
Income Focus. From the beginning, the emphasis on dividends and dividend growth has served me well. For one thing, I intend eventually to live off the dividends and other sources of income. My hope is to do this without liquidating or "de-cumulating" assets if possible. So a strategy of accumulating what I call the "dividend rights" that come along with each share makes sense from that standpoint.
I reinvest dividends now. At some point in the future I will start taking them as a cash paycheck.
Perhaps more important, the income focus seems to help lead to more intelligent long-range investment decisions. As my stocks continue to churn out and increase their dividends, focusing on the growing dividend stream becomes more interesting than focusing on price, which is what I used to do. Upturns and downturns in the market have become of little more than passing interest.
Behavioral Finance. More to the point, when I am focused on the income stream, I am insulated from at least some of the behavioral finance mistakes that have become a dominant topic of investment conversation over the last few years.
I don't anchor on recent prices and base decisions on where current prices are in relation to those. Instead of focusing on price and price movements, I focus on company fundamentals (business models and financial performance), dividend characteristics, and value.
According to Investopedia, "Investors that employ a herd-mentality investment strategy constantly buy and sell their investment assets in pursuit of the newest and hottest investment trends." Dividend growth investing is about as opposite from that as you can get. (Some critics of dividend growth investing have stated that dividend growth investors are themselves a herd. There may be some truth to that, but my own interpretation of what I read from dividend growth investors is that there are a lot of independent thinkers. That's why most of us do not react favorably to a lot of common Wall Street "wisdom.")
Per Investopedia: "In terms of investing, overconfidence can be detrimental to your stock-picking ability in the long run. In a 1998 study entitled 'Volume, Volatility, Price, and Profit When All Traders Are Above Average,' researcher Terrence Odean found that overconfident investors generally conduct more trades than their less-confident counterparts….Keep in mind that there's a fine line between confidence and overconfidence. Confidence implies realistically trusting in one's abilities, while overconfidence usually implies an overly optimistic assessment of one's knowledge or control over a situation." I like to think I am in the confident, but not overconfident, state. For one thing, I am not a trader-I buy businesses so that I can participate in their long-term success, not so that I can flip the shares. Investing for dividend growth certainly has not led to excessive trading. One of the hallmarks of not being overconfident is staying within the bounds of one's own circle of competence. I try to stay within my own. (That's why I don't use margin or options.)
I don't think that I overreact to market events, as I don't follow the market much any more. I do tote things up on a macro level at the end of each week. I write my monthly report card for my website which goes into a more detail on the income and total performance of this portfolio.
I don't believe that I suffer from loss aversion. As far as prices are concerned, I don't regret losses more than I appreciate gains. Those would be price-related emotions, and I hardly pay attention to price other than when looking for bargain prices at which to buy. Value-which takes into account earnings and earnings growth, plus a collection of other judgments about each company's business-has replaced price in almost all of my thinking about the cost of stocks.
Of course, if the loss or potential loss involves dividends, I take actions to correct, as described earlier.
While most of my initial principles and strategies have held up, I like to think that I have learned a few valuable lessons since 2008, and that I am therefore a better investor now than I was then.
Diversification. I think the biggest shift in my behavior has come in the area of diversification, a lesson that I learned both from studying Modern Portfolio Theory but more importantly from Seeking Alpha writers and commenters.
When I began the Dividend Growth Portfolio, my intent was to hold its size down to what I thought were my absolutely best ideas. The original portfolio held 11 companies, and its target was 10-15.
But I have become convinced that in the income realm, spreading your bets is the better course. Mainly, that is because there are many dividend growth companies with essentially similar characteristics. If one is going to blow up, but you don't know which one, you might as well have your bets spread around. You won't be able to anticipate all of them.
I am still feeling my way here. In the last year, I have amended my constitution to increase the target number of positions to 20-25, and to decrease the maximum allowable size of any one position from 20% of the portfolio to 15%. I have increased the number of positions from 10 to 15, and the maximum size of the largest has been reduced from about 19% of the portfolio to about 13%.
Many of my fellow dividend growth investors would argue that I should be more diversified than that, and I will continue (at a leisurely pace, staying within my circle of competence) to move in that direction.
Selling Guidelines. Since I wrote my first constitution in 2008, I have made my selling guidelines more comprehensive but also allow for situational flexibility. In the original guidelines, sells were to be made upon:
Dividend cut (selling was automatic).
Position exceeding 20 percent of the portfolio.
Opportunistic switches to significantly upgrade the portfolio.
Reacting to significant changes impacting the company.
Now, all selling guidelines are worded, "Investigate and seriously consider selling if…," and the situations have been expanded to include dividend freezes; serious overvaluation; mergers and split-ups; current yield moving outside the 2.7% to 9% range; and position size exceeding 15% of the portfolio.
Many of the selling guidelines interact. For example, if a stock becomes seriously overvalued, it is probably (but not always) because its price has shot up. And if that happens between dividend increases, its current yield has probably dropped. So whichever way you look at it, the stock becomes a candidate for investigation.
Disclosure: I am long CVX, HAS, LNT, OHI, SJR, DRI, INTC, LO, PEP, T, BBL, JNJ, MCD, KMP, O. I wrote this article myself, and it expresses my own opinions. I am not receiving compensation for it (other than from Seeking Alpha). I have no business relationship with any company whose stock is mentioned in this article.