Average, median, frequency, and context. These are all measures to take into consideration when assessing the odds of an event and its potential impact. It is something almost always lost in the discussion of "sell in May."
In "This Month Of May Is Not Likely To Hurt - Just In Case, Some Hedging Ideas", I noted how rare it is since 1950 for the S&P 500 (NYSEARCA:SPY) to finish May with a loss three years in a row. Only once since 1950 has the S&P 500 lost in May 4 years in a row. In 2013, the S&P 500 ended its May losing streak, as expected, at three years straight. Interestingly, using a context that caps the historical data at 1950 makes May seem relatively benign compared to the fear typically conjured up (I usually cap my historical analysis at 1950 because I consider the post World War II period to be extremely different than the years prior). Here are some more stats on the S&P 500 for May since 1950:
Average return: 0.14%
Median return: 0.51%
Best return: 9.2% (in 1990)
Worst return: -8.6% (in 1962)
Count of occurrences of positive May performance (>= 0%): 35
Count of occurrences of negative May performance: (< 0%): 28
Below, I post the timeline and the distribution of May performances for the S&P 500. Two things really stick out: May's performance is a bit streaky - 1985 to 2009 were relatively good to May and 1962 to 1984 were years of hard labor; and, overall, May has a positive skew with the most frequent performance printing in the 1 to 2% range.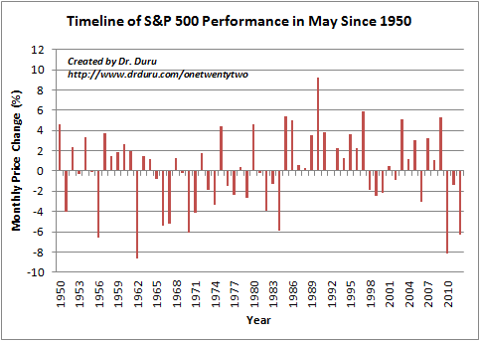 Timeline of S&P 500 Performance in May Since 1950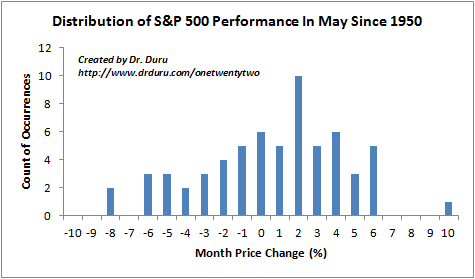 Distribution of S&P 500 Performance In May Since 1950
Source for price data: Yahoo!Finance
(The x-axis on the distribution chart represents a range. For example, the 10 occurrences that represent the S&P 500′s most frequent May performance is at the 1% to 2% range, where 1% is excluded from the range and 2% is included in the range).
Now that summer has begun, it is natural to think that the summer must then be the time to sell. I covered the odds for summer, including its relationship to May performance, in a 2011 piece called "Summer's Positive Gains Can Come With High Risks." Measured from June 1st to August 31st, the S&P 500 returns an average of 0.90% and a median of 1.57%. This strong skew includes big extremes in performance: from a maximum performance of 13.9% to a minimum performance of -17.3%. When the summer sells-off, it tends to get very ugly. If it does not sell-off, the summer tends to perform very well. Given that May was an up month, the odds strongly favor an up summer by an almost 2:1 margin. Since 1950, when the S&P 500 closed May in positive territory, the summer finished in positive territory 23 times and finished in negative territory 12 times. I like to interpret the overall results for summer as meaning that it makes sense to buy the dips in the summer, especially the big ones.
At its May peak, the S&P 500 returned 4.5%. Using my trading model, I flagged the peak in performance and turned bearish (see "Overbought Period Ends With Blow-Off Tops And Sell Signals"). The S&P 500 finished May with a more modest 2.1% gain, and I remain bearish for now with a focus on put options on ProShares Ultra S&P 500 (NYSEARCA:SSO). I expect to close out this position within the next week or so and then to prepare to buy the summer's dip(s).
Now that the context appears more bearish, it makes sense to review the hedges I recommended "just in case" May defied my expectations for a positive performance.
ProShares UltraShort MSCI Europe (NYSEARCA:EPV) and Rydex Currency Shares Euro Trust ETF (NYSEARCA:FXE)
Europe turned out not to be May's epicenter of angst this year. Instead, it was mostly about emerging markets, Australia, and commodities (I will cover some of these in another post). EPV ended May essentially flat. The euro gave way to strength in the U.S. dollar given surging fears that the Federal Reserve will prematurely start to tighten monetary policy. FXE fell 1.3%. If your sell in May focused again on Europe, you likely did OK. I think it makes sense to hold onto these bearish bets (long EPV, short FXE), especially with Europe printing yet another record level of unemployment. I continue to think the optimism for a second half recovery, encouraged by ECB President Mario Draghi earlier this year, is sorely misplaced. Particularly worrisome is the continued surge in unemployment amongst the youth; Germany is the notable exception. This year could deliver a long, hot summer in Europe.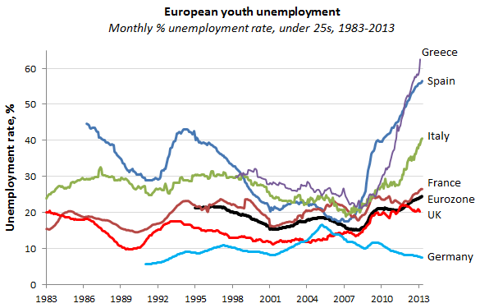 European youth unemployment
Source: The Atlantic
Caterpillar (NYSE:CAT)
As a multi-national, industrial company in a cyclical business, CAT has a lot to lose with a strengthening dollar and weakening commodity prices. The pick-up in residential construction is not likely to make up for weakness in the other cyclical and international businesses. CAT finished May in positive territory: up 1.3%. All its gains came within the first week or so of May as a sharp bounce from what looked like poor earnings news came to an end. At the time, I flagged the peaking in this run as a notable failure to break above resistance from 2011′s closing price level. I proceeded to load up on put options and plan to continue holding them through the current corrective phase for the S&P 500.
Ranger Equity Bear ETF (NYSEARCA:HDGE)
HDGE continued its tradition of performing very poorly when the S&P 500 performs well (like a leveraged ETF). It ended May with a 5.2% loss that was as bad as an 8.3% loss at its May low. When I noted the peak in the S&P 500, I also noted that stocks with heavy short interest were getting heavily targeted in May. Indeed, Marketwatch published a timely article around that time called "The most-shorted stocks are outperforming the S&P 500." HDGE happens to short several heavily shorted stocks so no surprise that it performed particularly poorly in May. The performance of these heavily shorted stocks may hold the key going forward for gauging the remaining speculative and bullish juices left in the stock market. I am holding HDGE for now.
Be careful out there!
Disclosure: I have no positions in any stocks mentioned, but may initiate a long position in EPV, CAT, HDGE over the next 72 hours. I wrote this article myself, and it expresses my own opinions. I am not receiving compensation for it (other than from Seeking Alpha). I have no business relationship with any company whose stock is mentioned in this article.
Additional disclosure: I am also long SSO puts, net short euro in forex, and long CAT puts.