When taking a close look at Alamos Gold (NYSE:AGI), there is very little to complain about, and a lot to like. The only real negative concerning the company is the asset class itself, and the fact it sells for a premium against its junior gold peers; although there is a number of good reasons it sells at a premium, many of which we'll look at in this article.
Some consider the properties in Turkey as somewhat of a risk, or at least a potential drag on the company, but I don't see it that way, and later on we'll look at how CEO John McCluskey looks at it.
Since gold is no doubt the most hated asset class at this time, it suggests that it's time to look at the overall sector, as well as the miners within it to see where the best place to allocate capital will be. Again, other than selling at a little more of a premium to its peers, Alamos Gold is one of the more compelling among gold miners to consider.
That is confirmed by its latest quarterly results, which revealed the company boosted production to 55,000 ounces of gold, up from the 40,500 ounces produced in the same quarter of 2012.
It sold 53,000 ounces of gold on average for $1,628 an ounce, producing revenue of $86.3 million. Realized quarterly earnings were $26.0 million, or $0.21 per basic share.
With no debt and a war chest of almost $500 million, Alamos is positioned to do just about whatever it needs or want to going forward. That's an extraordinary competitive edge if management remains disciplined, as its past actions have proven it can and will.
Mulatos Mine
Alamos Gold's flagship project is the Mulatos mine in Mexico, and is where it produces all its gold. It also has two projects in Turkey which are at the advanced stage - Agi Dagi and Kirazli. A third project named Camyurt could be added, and would probably be considered a part of or extension of Agi Dagi.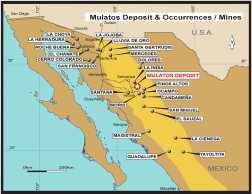 Proven and probable mineral reserves at the mine are 2.37 million ounces of gold, as of December 31, 2012. Measured and indicated mineral resources were up by 2 percent to 5.08 million ounces of gold at a mix of cut-off grades. Inferred mineral resources were 1.52 million ounces of gold at a mix of cut-off grades.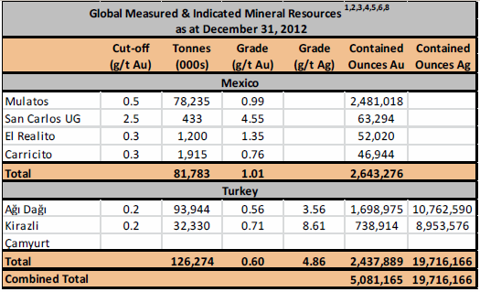 What may be the most important thing for investors about Mulatos, at least as far as the future of Alamos Gold goes, is the way it has perfected or matured its operations - not only at the location, but incorporating it across the entire business, including financials, etc.
In other words, it didn't just work out the operational kinks at the mine, but in every division of the company.
That's important for the future, because I believe the leadership of the company have positioned Alamos to be able to recreate those attributes in their future projects, albeit taking into consideration different challenges in other regions of the world. Nonetheless, the foundation has been solidly laid, and if the company remains patient, it will be able to reproduce the Mulatos experience and success in its future production efforts.
Are the Turkey Projects a Risk to Alamos?
Responding to concerns from investors over the coming exposure to Turkey, McCluskey said the risk has been mitigated to a large degree, and the country is committed to developing a strong mining industry.
"Turkey is giving a full-court push. They really genuinely want to build a mining industry," he said, adding that the country has the desire to become more prosperous.
McCluskey said also noted that the account deficit of Turkey is 9.9 percent of its GDP, one of the worst ratios in the world. "The only way they're going to be able to address that is by bringing foreign investment into the country and producing products they can export," he said.
As for the properties themselves, since Alamos acquired them in 2010, the inferred resources have jumped from 1 million ounces to 3 million ounces.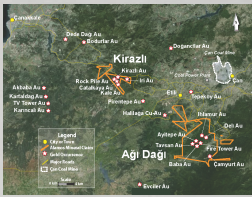 Foundation Already Laid in Turkey
What's particular compelling about Turkey, and probably the major reason I mentioned risks have been mitigated to a significant degree, is the fact there are already some miners operating there, and they've done an amazing job, which has opened the doors wider to new projects.
McCluskey specifically pointed out Eldorado Gold (NYSE:EGO) and Alastair for the great job they're doing in the country, which has helped pave the way for Alamos.
He said this in an interview about them:
"There has never been a serious environmental impact from any of these operations. They've all been well designed, extremely well operated. Eldorado operates two of them, probably one of the best operators in the world as far as that's concerned. And you've got in that, with operations in Turkey, another first class Canadian operator that has really paved the way for companies like Alastair who now has operations in Turkey and Alamos who envisions three operations in Turkey - they have laid a very solid foundation for us by virtue of the fact that they operated there with their mines so well. They're just so well-designed, so well run, Turkey can clearly see the benefits are very significant and the risks are relatively small."
Understanding the opportunity before Alamos, McCluskey said:
"... we're going in, designing very, very strong projects here. We're not skimping in any direction at all. We're building Cadillac operations, we've designed them to be absolutely fool proof, and the whole objective is to keep the potential for an environmental impact down to a minute, minute possibility."
The first mine in Turkey scheduled to begin production is at Kirazli, which should have its first gold pour in the latter part of 2014. Production at Agi Dagi should begin in 2016. There is no specific timeframe yet for Camyurt.
Goodwill Opportunities in Turkey
We're talking about Turkey so much because that's where the organic growth of the company is in the years ahead. Other growth could come in the near term, but that would have to be from acquisitions that have existing projects already operational.
Having said that, the final reason I see for risk in Turkey being relatively low, is an existing problem in the country that is perfect for Alamos to solve, resulting in some terrific good will for them.
The region of Turkey where Alamos is operating has 28 local communities, all of which have to drink water from springs that are fed from asset salted rocks. What that means is acidic water is flowing down over acidic rocks, which is toxic to people. That's what these people are now drinking.
One of the first things the company will do once it is given permission to begin construction, is to build a water reservoir away from the rocks, approximately 6km away. That means for the first time these communities will have clean water to drink. At the same time, the reservoir will provide the company with all the water it needs to mine the area. It's a win/win for everyone.
All of this combined, in my opinion, makes Turkey a very solid place to do business for Alamos.
The risk is if for some reason the permitting side of the equation gets stalled. Alamos appears to be doing everything it can at this time to make it a non-issue.
Why the Future Looks Bright for Alamos
Not only does Alamos have a good flagship property, which, depending upon how much they decide to produce annually at the mine going forward, will last for well over a decade. When the Turkey projects come on line, the company will be even then, close to its production goals, which appears to be at least 400,000 ounces of gold produced a year.
All of that is already baked into the company, and it's still a good, although not great future for Alamos. What makes the future very bright for Alamos is the way it has positioned itself today, based upon the way it positioned itself years ago ahead of its acquisition of Mulatos. Add to that a similar economic environment in the gold sector today, and this is a tremendous opportunity for the company to acquire a company or project for future growth, while getting it at a reasonable price.
McCluskey has pointed to the period of time between 1996 and 2001, where hundreds of companies were delisted, with very few able to survive; Alamos being one of them. Having done so, he adds that it placed the company it a good position to go after the assets coming on the market after the market hit bottom. It was at that time they landed the Mulatos deal.
That deal has been the foundation of what Alamos is today, and according to McCluskey, even after a correction in gold, the company has a market cap of $1.6 billion (larger now), $500 million in cash, and 200,000 ounces of gold produced annually at a low cost.
The point is the company was in a strong place that allowed it to survive, and ultimately thrive, in a market that had been temporarily devastated. He goes on to say that it was because they were in the right place at the right time, and it was no accident that the company was there.
It appears that McCluskey is saying the company is ready to do that again, and from its failed attempt to acquire Aurizon, it proves he's not just talking but willing to take action.
Taking all this into consideration, if Alamos lands another great deal, it puts them in an awesome position as one of the leading gold miners in the world. I have no doubt that's going to happen.
I even believe the company hopes the price of gold will fall even further to provide even more opportunities to buy up great companies or projects and good prices.
The Aurizon Deal
Some may think of the Aurizon (AZK) deal as a negative for Alamos, but I see it as a confirmation this management team is a good one and can be counted on to expand the company while watching out for shareholders.
I'm not interested in going into the terms of the deal, as it's more important to see that Alamos was willing to walk away from the deal rather than expose itself to a difficult future. The company simply wasn't willing to grow at any cost, like many companies have, which locks them into debt loads and challenges that cause problems for years.
Instead, they walked away, still have about $500 million in cash, and are ready to spend it under the right circumstances.
What Alamos has an advantage on many companies is time. They are able to withstand the current weakness in the gold sector easily, and while other miners struggle, can swoop in to make another deal of a lifetime.
The risk here is if the price of gold starts to shoot up again, making it more expensive to get good projects or companies. It wouldn't surprise me to see the company make another move sometime soon for that reason.
It's the discipline of the management of Alamos, as seen in the Aurizon deal, as well as other areas, that impresses me and gives me confidence in their leadership and where they're taking the company and how they're doing it.
Production Goals of Company
At this time the goal of Alamos is to continue producing about 200,000 ounces of gold a year from its Mulatos mine.
Recently McCluskey was talking about the gold mining sector specifically under the existing tough economic conditions, saying there are 78 companies at this time that produce under 200,000 ounces of gold, with the majority of the producing under 100,000 ounces. He said that has to change because they don't attract enough interest to justify their existence.
He sees the industry as needing to consolidate, resulting in the creation of companies that produce around 400,000 ounces of gold annually. At this time there are only 24 of them out there.
Consequently, McCluskey sees the market pressing for more consolidation, which will provide excellent buying opportunities, as mentioned earlier.
What that suggests is Alamos is looking to move to the 400,000 an ounce stage, while looking to grow as opportunities arise.
McCluskey has stated that the goal for the company is to become one of the top 25 gold mining companies in the world, which seems to confirm the 400,000 an ounce goal, while at the same time continuing to be among the 10 lowest-cost mining companies.
The purpose isn't to grow for the sake of growth, but to build a more predictable industry which will result in less volatility in production, which will also bring the same to the share prices of miners.
Production Costs
Alamos is one of the leaders in production costs, with the 200,000 ounces produced in 2012 done at a cash operating cost of $355 an ounce. All in, McCluskey says it's about $750 an ounce.
This allows the company to enjoy margins the majority of its competitors weren't even getting when things were great. The company is making more per ounce than most of its competitors, where all-in costs are at about $1,300 an ounce. With gold prices hovering around $1,400 an ounce, it doesn't leave a lot of room for margins for those companies.
Why this is important beyond short-term success, it how it makes the well-managed gold miners stand out.
If the market trend is one that is soaring up, almost all the companies will be pulled up with it. So many investors don't do the research required to be able to differentiate between mining companies. In tough times that's exactly what happens, as people pick through the reports in a more thorough way to see what is really under the hood. That's where Alamos really stands out, as shown in this article.
It's important to see this because if people like gold miners, looking for one that has a long-term, predictable future is far better than simply throwing darts at a dartboard and hitting something when the overall sector is moving up and differentiation almost impossible to identify.
For now Alamos, because of its production levels, will remain volatile, but once it grows organically and via acquisitions, I believe it'll start moving in a tighter range, and provide solid value to shareholders over time.
As for production costs in 2013, it appears they are headed a little higher, with cash operating costs in a range of $415 and $435 an ounce. That still positions the company in a superior position to most of its competitors. The above numbers don't include a 5 percent royalty the company pays out.
Risks Going Forward
When going over the company as it currently stands, there really aren't many risks I see of any significance. It's the future where risks lie, and that's mostly related to potential acquisitions and where the jurisdictions are they will operate in.
Alamos knows how to measure risk well, but even the best can make a mistake or miss something. So even though I have confidence in this leadership, when you enter into volatile countries, there is always more risk than is probably seen, although the rewards can be extraordinary as well. Turkey looks that way to me, in that they are probably a far less risk than it is thought to be at this time. I have some personal knowledge of the country, and am convinced that's true.
That's not to say the next country will be the same though. Having said that, the attitude and outlook of the management team at Alamos is a good one, and if they continue to focus on building the quality mines they say they are going to, they will have a solid reputation going ahead of them wherever they end up.
Management has said they look for undermined countries with the right geography for new projects, so if they do buy up some properties, in the beginning there will be more risk than usual until it works itself through the system.
As for management itself, that could be a risk, depending on if the current team stays together for some time, especially its CEO. Even more important is if it maintains its management philosophy, which is top notch and would ensure continuity at the company if key personal should leave.
Conclusion
As mentioned in my opening comments, there is very little to not like about Alamos Gold. It has done most things right to not only endure difficult times in the industry, but to build up a nice $500 million war chest to grab a good deal as it presents itself.
The fact that the company has a $1.84 billion market cap and has that much cash is an amazing feat. Not too many companies of that size can boast the same. With that type of performance there's no doubt in my mind it won't be too long before they break into the top 25 in gold mining companies.
This also allows them to return money to shareholders in different forms, the latest being a stock repurchase of 10 percent of its float over the next year. The company also has no debt, and pays a dividend of $0.20, paid out semi-annually.
The company is also looking to grow, and can do that organically and via acquisitions. It sees potential for more discoveries at its Mulatos project, which would add to its provable reserves if that's the reality. The projects in Turkey will both be on line by 2016, with the possibility of a third. Even if no acquisitions are made, which is doubtful, Alamos would still move away from the middle of the pack by organic growth alone.
Future risk would be jurisdictional concerning acquisitions. The short-term risk is the gold sector itself, which will recover, although will probably do so at an incremental, rather than quick pace. The share price of Alamos will likely follow that pattern, assuming no new deals are made. Lack of liquidity in the system is the reasoning behind the slow recovery in gold.
Alamos is positioned to fund its own deals, has low production costs, and generates solid cash flow. All of that in a depressed gold market. That has helped it to stand out among its peers, and if it keeps its discipline, has an extraordinary future.
Disclosure: I have no positions in any stocks mentioned, and no plans to initiate any positions within the next 72 hours. I wrote this article myself, and it expresses my own opinions. I am not receiving compensation for it (other than from Seeking Alpha). I have no business relationship with any company whose stock is mentioned in this article.