Editors' Note: This article covers a micro-cap stock. Please be aware of the risks associated with these stocks.
Asian and European markets are lower this morning after US markets saw a sell-off during Friday's session. There are worries now and many of the media outlets have done complete 180s and now are running bearish stories galore. Only a week or so ago the stories were bullish, so we think that this is a minor pullback and not a full-blown end to the rally.
Why do we say this? Simply because markets never turn on a dime unless there is some type of news to justify it, and at this point there is no news to justify what has happened recently and what some talking heads are now saying shall happen. History is always a great guide to the markets and keeping this in mind can serve one well.
Chart of the Day:
Initially the worry was that Japanese stocks were rising and pushing bond prices lower, however now the stocks are falling and bond prices are rising. There is a middle ground, and we shall have to find it to end the recent volatility in the Japanese market.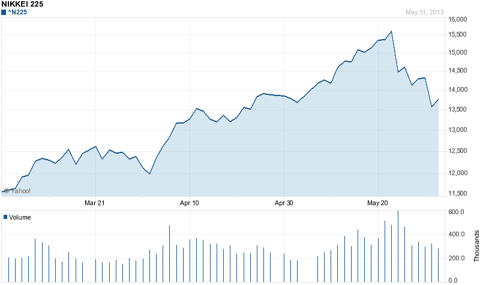 Chart courtesy of Yahoo Finance.
We have economic news due out today, and it is as follows:
ISM Index (10:00 a.m. ET): 50.9
Construction Spending (10:00 a.m. ET): 1.1%
Auto Sales (2:00 p.m. ET): N/A
Truck Sales (2:00 p.m. ET): N/A
Asian markets finished lower today:
All Ordinaries -- down 0.82%
Shanghai Composite -- down 0.06%
Nikkei 225 -- down 3.72%
NZSE 50 -- CLOSED
Seoul Composite -- down 0.57%
In Europe, markets are lower this morning:
CAC 40 -- down 0.44%
DAX -- down 0.74%
FTSE 100 -- down 1.50%
OSE -- down 0.48%
Restaurants
Undergoing the same transformation that peers have undergone, Krispy Kreme (KKD) shares rose smartly on Friday as investors saw that the menu changes are paying off. Shares rose $3.06 (21.46%) to close at $17.32/share on above average volume after the company raised its full year outlook on the back of strong sales of its new drinks, including higher quality coffee and iced drinks. The company's investors have been richly rewarded after the company reemphasized product quality and closed many stores to repair the brand, and that trend has continued this year as the shares are one of the best performers in the S&P. If the operating results continue to outperform, investors can count on the shares to as well.
Krispy Kreme shares are really 'stepping' up, quite literally. The company is reporting solid quarter after solid quarter and this is something we believe will continue.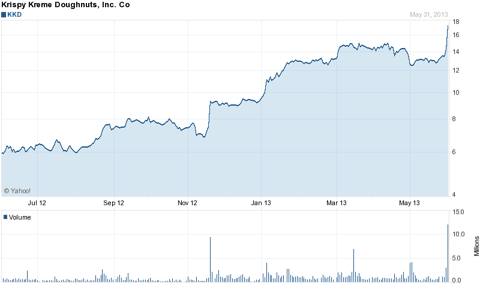 Chart courtesy of Yahoo Finance.
Consumer Goods
We recently discussed Proctor & Gamble (NYSE:PG) and the recent CEO shuffle that resulted in the shares going parabolic for a day. It was our opinion that the rally would be short lived and that investors could buy shares on a dip, which has already begun. For those readers who took our advice and sold on that pop, buying on this drop would be advised. If entire positions were sold, we think that one should buy half of their desired position here and wait for the other half. For those without a prior position looking to enter here we would recommend buying in quarters as there are no previous profits to fall back on. New CEOs, even if they are old CEOs returning, never turn the ship around overnight and this is no exception. It will take some time to return growth to the top line but for long-term holders we believe that a turnaround will materialize.
Telecommunications
One of the names which got away from us for our retirement accounts was Vodafone PLC (NASDAQ:VOD) which saw shares rally from 52-week lows to 52-week highs as rumors of Verizon's interest began circulating and became confirmed as various news agencies were able to confirm talks and a desire to get a deal done under certain provisions. The talks have progressed for some time now and have moved at a snail's pace with little progress seeming to have been made for those looking from the outside in. The shares have pulled back a bit, however we are not yet buyers at these levels. We want to see shares back in the $26-27/share range before we become interested.
If we are going to see high-yielding stocks pullback, we want to be buyers of those with decent growth prospects and Vodafone fits that bill. Shares are attractive here, but we are looking at prices a bit lower before personally making a move.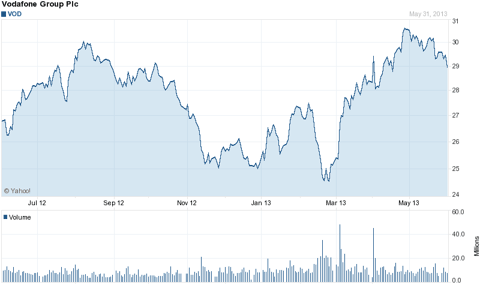 Chart courtesy of Yahoo Finance.
Biotechnology
We would look to see the smaller biotech names see a drop in interest over the next few weeks now that their latest conference is over. Chicago is always big, and expectations rise as many like to announce big news around or during the time of the conference. Affymax (NASDAQ:AFFY), along with other names, saw shares rally but we would be on the lookout here. See shares rose $0.51 (32.48%) on Friday to close at $2.08/share on volume of 35.01 million shares and this morning in pre-market trading we see that the shares are back down to $1.41/share as shares are trading lower by over 32%. The drop in other names will not be as dramatic, however we do believe there will be a tapering off as investor interest wanes after the recent anticipation of news for the sector.
Technology
OmniVision Holdings (NASDAQ:OVTI) shares rose strongly to close Friday's session at $18.47/share on volume of 11.5 million shares. The nearly 20% pop was caused by investor enthusiasm over the company's most recent results which were buoyed by smartphone sales in China. The outlook given by management was a bit lower than analysts had expected, but it could end up being an under promise over deliver type of situation. Why would someone not try to pull an Apple move when they have the good news to provide the goodwill to blunt any short-term blowback? This might turn out to be a brilliant move by management.
Big move lately but we are interested in seeing whether management has set the table for bigger moves in the future by not setting a high bar.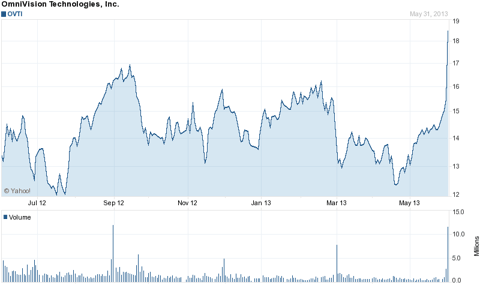 Chart courtesy of Yahoo Finance.
Disclosure: I have no positions in any stocks mentioned, and no plans to initiate any positions within the next 72 hours. I wrote this article myself, and it expresses my own opinions. I am not receiving compensation for it (other than from Seeking Alpha). I have no business relationship with any company whose stock is mentioned in this article.