General Electric (NYSE:GE) is a conglomerate involved with just about everything consumers come into contact with. The company develops and manufactures everything from consumer and commercial appliances to aviation systems and engines, commercial financing, power supply and electrical infrastructure, healthcare software and services, commercial and consumer lighting, mining equipment and infrastructure, oil and gas solutions, transportation infrastructure, and many more. GE plays a role in almost everything we do, from providing electrical boxes, light bulbs, and appliances for our homes to providing the infrastructure to capture oil and gas, the conversion to electrical energy, and the infrastructure to support that delivery.
The company and the stock have been much maligned by investors who were burned by the hit GE took during the financial crisis. The company was hit particularly hard as the GE Capital unit suffered much of the same pain felt by the big banks such as Bank of America (NYSE:BAC) and Citigroup (NYSE:C). Between 2008 and 2009, GE stock fell from roughly $40/share to less than $10/share, and the company slashed the dividend from $1.24 for the year down to $0.40. Investors who held shares of GE through this period have directed much of their anger and disdain toward GE CEO Jeffrey Immelt, who happens to be the same person who executed the turnaround that has made GE a trusted and valued investment once again.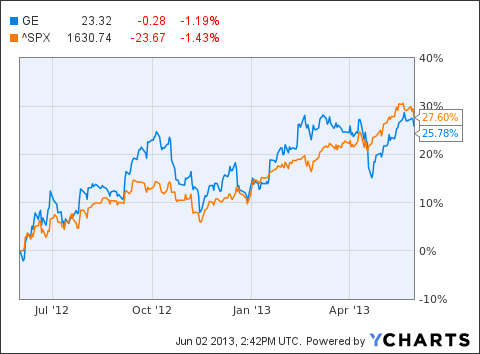 Over the past year, GE has seen the stock rise roughly 25% just under the overall market performance of 27%. Over this same period, GE has returned $0.72/share to investors through dividends, and investors have benefited from a 12% increase in the dividend announced in December. Despite the performance of GE over the past 12 months, the opportunity to invest in the turnaround story that is GE and obtain market beating returns remains.
A More Focused GE
Since being hit hard during the financial crisis, Immelt has made focusing the company on a return to its roots, higher margin industrials, and a lessened reliance on returns from the GE Capital unit a priority. The goal has been to have the operations and industrials lead the performance of the company, and have the GE Capital unit support the performance. At the time when GE cut its dividend, GE Capital was contributing nearly 70% of the company's earnings. However, as of the most recent earnings report, GE Capital contributes roughly 33% of revenue and 40% of earnings.
In support of focusing the company on what it does best, GE has made a number of acquisitions and divestitures to support this business focus. Over the past year, GE acquired a number of public and private companies to support the efforts of the company to grow the industrial business. GE has acquired companies in the machinery, aerospace and defense, oil and gas, and building construction and engineering industries (estimated total value of $466 million). In addition, it made the largest and most publicized acquisition of Lufkin Industries (NASDAQ:LUFK), which is currently in the works.
The company has pursued complementary bolt-on deals that will help grow its business, and those like Lufkin will lead to additional synergies and efficiencies for units of the business. As a result of the focus on industrials, GE has grown the company's backlog of orders to $216 billion, including $160 billion for services and $56 billion for equipment. In addition to the acquisitions, GE has divested some businesses that do not fall in line with the overall goals and strategy of the larger organization. For example, GE divested the company's stake in NBCUniversal to Comcast (NASDAQ:CMCSA) for $18.1 billion.
Financials and Growth Opportunities
At the end of Q1 2013, GE had $90 billion in cash on the balance sheet and is focused on restructuring internally to reduce costs, with a goal of reducing costs within the industrial unit by $200 million per year. Over the past 12 months GE has earned $1.53 per share, and at Friday's closing price of $23.32 shares trade with a TTM P/E of 15.2. Through the end of 2013, analysts anticipate GE earning $1.66/share, which would put shares at a forward P/E of 14. In addition, GE is expected to grow earnings by 11% over the next five years, but I think these estimates could be too low if GE is able to execute the strategy as planned and the global economy continues to strengthen.
A key goal for GE has been to grow the company's presence in emerging and growth markets. With that in mind, GE has grown revenue from growth markets like the MENA region, China, and Asia in double digits year over year, with orders from these regions increasing by 17% year over year. In addition, while GE has seen significant challenges in Europe, a strengthening European economy would support enhanced revenue growth for GE's industrial businesses. In addition, the company continues to expand margins in the industrial businesses, increasing the profitability of the service lines. With fracking for natural gas being an industrial growth platform, GE is now investing billions of dollars to research improved methods for fracking to extract natural gas. The potential for GE to unlock value for oil and gas companies through better yield from fracking and reduced environmental impacts could return billions and billions of dollars to GE and GE shareholders.
In addition, GE Capital has continued to become more and more of a strength for the company. Net income for the unit rose 9% year over year. The unit continues to institute new originations at higher return levels and continues to rebalance the portfolio. GE Capital has seen delinquencies decline across mortgage, consumer, and real estate units. GE anticipates the GECC unit growing earnings despite a shrinking balance sheet.
Shareholder-Friendly Policies
In addition to the growth seen in the share price over the past 12 months, GE appears to be taking on a number of shareholder-friendly policies unlocking value for investors. In Q1 2013, GE returned $3.9 billion dollars to investors through dividends ($2.0 billion) and share buybacks ($1.9 billion). This is part of GE's overall strategy to return $18 billion to shareholders this year, with $10 billion anticipated to be allocated to share buybacks and the rest allocated for dividend payouts. With the execution of this buyback program, GE could potentially reduce the outstanding share count to fewer than 10 billion, unlocking more value for shareholders, supportive of the company's strategy to reduce share count to between 9 billion and 9.5 billion by the end of 2015.
GE currently pays a quarterly dividend of $0.19/share ($0.76 annually), which at this point yields 3.2%. Since 2010, following the dividend cut, GE has aggressively increased the dividend with five dividend increases bringing the dividend up 90% from $0.10 per quarter to where it stands now. At this point the company is paying out roughly half of earnings as dividends, but as the share count shrinks and GE maintains growth of EPS, the dividend should be able to grow in line with earnings.
In addition to these specific actions, Immelt announced that GE is considering an IPO for the consumer finance unit to further fall in line with the corporate strategy to reduce the size of the company's finance arm. Immelt suggested that capital markets have been receptive to IPOs lately, and that an IPO of this nature would generate excess cash in the capital unit to fund buybacks supporting the goal of reducing share count.
Conclusion
A weak European economy has held GE back from truly achieving the highest levels of growth anticipated, and the company has issued guidance that growth for the full year could come in at the lower end of estimates. While revenue may hit that lower end, I believe the activities executed by GE so far this year lend themselves to success in increasing profitability and EPS in favor of investors. In addition, as the global economy strengthens and European markets recover, GE should experience a significant uptick in orders for both infrastructure and services.
GE has had a solid year along with the broader market, and long-term growth opportunities look bright for GE. I believe GE is a stock to watch for the long-term investor, and investors should watch closely for a pullback to $23 or below to enter into a position with GE. I believe before the end of 2013 GE shares could rise 15%, and those willing to hold on for the long term can anticipate annual growth of their invested capital in the neighborhood of 10%, along with 10% dividend growth in the years ahead.
Disclosure: I am long GE, BAC. I wrote this article myself, and it expresses my own opinions. I am not receiving compensation for it (other than from Seeking Alpha). I have no business relationship with any company whose stock is mentioned in this article.