Introduction:
When "The Portfolio For Do It Yourselfers" was created, my children and I began an exercise in stock market investing. Having received an inheritance from my sister, the kids wanted to know how they could make the money grow into something larger and what kind of investments should they be making with the money.
This investigation led us to a discussion of Dividend Growth investing, how it works, some rules that I use in my own investment strategy, and an individual search by my three kids to discover worthy companies that we could buy stock in.
I have been reporting regular updates for this portfolio and at the end of this article, I will provide a link to each of the articles so that if you have any interest, you can go and follow along with our story.
As we all know, the stock market has been in rally mode, beginning in 2009 and continuing right on through the present time. On Friday this week, we had a 200 point decline in the market and while some people may see that as "the beginning of the end," we see it more as an opportunity to assess where you are, how well you are doing, and to make some well thought out steps toward having a more complete management game plan for your own portfolio.
What You Should Know:
Through the market close of Friday, May 31st, "The Portfolio For Do It Yourselfers" looked like this:
In 2006 we began the portfolio with 10 stocks. We eliminated ABT when the company split into two parts, ABT and ABBV. At the end of 2011, we trimmed out original 10 positions back to as close to $10k for each as we could. The oldest purchases are in the top section of this table.
We took that money and purchased additional holdings, Aflac (NYSE:AFL), Emerson Electric (NYSE:EMR), Harris Corp (NYSE:HRS), Intel (NASDAQ:INTC), and Illinois Tool Works (NYSE:ITW). The five new positions were purchased 1/4/12. At that time we kept around $16k in cash. So these are the stocks listed in the middle part of the table above.
At the end of 2012, we found 5 companies that were of interest to us. They were CA Technology (NASDAQ:CA), CSX Corp (NYSE:CSX), Staples (NASDAQ:SPLS), Safeway (NYSE:SWY), and Western Union (NYSE:WU). We initiated purchases of those 5 companies in November of 2012.
In January of 2013, we added Norfolk Southern (NYSE:NSC) to complete the portfolio and we are reporting it as it stands through the close of market, May 31, 2013. Our original $100k investment made in 2006 has grown to $224k as of that date.
When we look at the current dividends for this portfolio: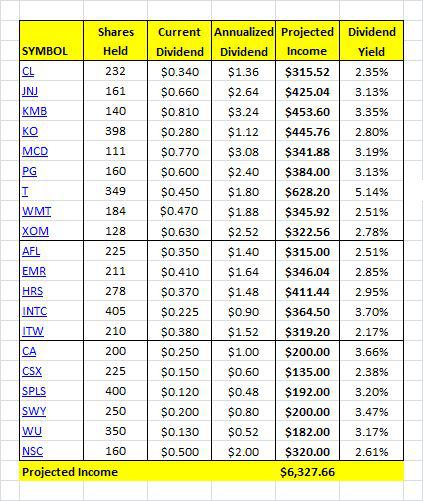 If we leave things the way they are, we can expect $6327 in dividends over the next 12 months. This does not account for any of our holdings announcing a dividend increase during this period moving forward, but there will be companies within our portfolio that will raise their dividends. This compares to last year's dividend income of $5438, so a nice increase in our projection.
What I Know:
I'm one of those "nut jobs" who has been advising my kids to prepare for their own retirement as it is my opinion that Social Security as we know it, will not be there when they get to retirement age.
That being the case (at least in my mind), they, like their dad have decided that this portfolio along with their work retirement vehicles will need to be part of their future retirement. Growing this portfolio to an amount of money that will allow them to have a funded retirement, then is part of the new objective.
With an assumed growth rate of 7% annually, this portfolio would double in value every 10 years. That would mean that the oldest child, who is 25, would have 4 potential "doubling" events before turning age 65.
That being the case, the $224k portfolio would grow to $488k in 10 years; $896k in 20 years; $1792k in 30 years; and $3584k in 40 years.
Strategy Moving Forward:
Using our own metrics for stock selection:
1. We want to purchase stock in companies that are priced at a value relative to intrinsic worth. We are bargain hunters and believe that entry point is important with every new position
2. With the limited funds that we have available to us for investing in this portfolio and with our goal of doubling the value of the portfolio in 10 years (or less), we might very well purchase stocks in companies with the intention of holding those positions for a limited period of time vs. long term holds of our dividend core group.
3. We use fundamental analysis to determine our stock picks. No matter what we are looking at, increasing revenues and increasing earnings are important to us. We do not favor companies that are "saving" their way to earnings growth. That's ok for a short term fix, but it is not something that a company can do indefinitely.
4. We will publicize our stock transactions so that you can see them as they happen. For example. If we chose to lighten our position in MCD, we will tell you that we will be selling "this amount of MCD shares with a limit price of 'X'." We will be writing the limit order to do that. Same with purchases. We will share our stock selections and the entry point we have in mind. That way you can see the portfolio in action.
5. Since trades will be occurring at any time, it will be more timely to list activity in the portfolio at the Seeking Alpha InstaBlog. However, on a quarterly basis, we will attempt to provide an update article for your review.
The first thing we will be doing is to balance the portfolio, so that each holding represents the same or as close to the same amount of value relative to one another.
Summary and Conclusion:
One of the first things that we are going to be doing is to take a look at our current holdings, the relative strength and weakness of our holding at this point in time and adjust those holdings to maximize our potential growth moving forward. First step is to rebalance the portfolio.
As a result of that balancing, we will increase our positions in our newer holdings, CA, CSX, SPLS, SWY, and WU. We feel that the thought process behind purchasing the stocks in the first place is still in play and that each has room for upside moving forward.
The objective is to get our 20 holdings in a relative relationship to one another at around 5% for each individual holding. To do that we will be taking some of the gain off of our existing positions and moving money around.
At some point in the future, we will need to address potential new holdings as they become evident. At this point in time, we are beginning to look at a number of companies.
Some of the stocks on our watchlist are: Deere & Company (NYSE:DE), Holly Frontier (NYSE:HFC), Capital One Financial (NYSE:COF), Joy Global (NYSE:JOY), Questcor Pharmaceuticals (QCOR), Qualcomm (NASDAQ:QCOM), F5 Networks (NASDAQ:FFIV), Caterpillar (NYSE:CAT), Cognizant Technical Solutions (NASDAQ:CTSH), Oracle (NYSE:ORCL), and Schlumberger (NYSE:SLB).
While I believe that dividend growth stocks will remain the core of our portfolio, that does not rule out taking advantage of buying opportunities wherever they might present themselves. That is exactly what we saw in the additions that we made in November of last year and exactly what we will be doing in the future.
Addendum:
Here is a link to all of the articles in this series.
Disclosure: I am long AFL, CA, CL, CSX, EMR, HRS, INTC, ITW, HRS, JNJ, KMB, MCD, NSC, PF, SPLS, SWY, T, WMT, WU, XOM. I wrote this article myself, and it expresses my own opinions. I am not receiving compensation for it (other than from Seeking Alpha). I have no business relationship with any company whose stock is mentioned in this article.