In April, I wrote an article on Pfizer (NYSE:PFE) suggesting the stock valuations were somewhat stretched and investors should wait for a pullback. Since then, the share price has fallen by almost 11%. At $27.23, I believe investors should reconsider buying the shares as there are some indicators signaling that the stock is trading within the buy range.
1. Back in April, Pfizer's P/E multiple was trading at a slight premium (4.4%) over that of Merck (NYSE:MRK). After the pullback, the figure is currently at a 7.8% discount to Merck's (see chart below).

I believe this relative valuation level to be somewhat attractive based on the following rationales (based on the chart above):
1) Although Pfizer's 2-year consensus revenue, EBITDA and EPS growth rates are considerably below Merck's figures (Pfizer's recent spin-off is one of the contributors), the company's 5-year earnings growth estimate is slightly above that of Merck.
2) On the profit side, Pfizer's various margins and capital return metrics are notably above Merck's.
3) In terms of leverage and liquidity, Pfizer carries a heavier debt load as suggested by its higher leverage ratios. The company's free cash flow margin is above Merck's, and both of its current and quick ratios are above Merck's, reflecting a healthy balance sheet condition.
As such, Pfizer's valuation should trade closely to Merck's given the company's relative financial performance, and thus the valuation discount should signal a buy.
2. Pfizer's forward P/E multiple has been tracking closely with the same multiple of the S&P 500 Index over the past 12 months except for April, where the stock was somewhat overvalued. The multiple discount to the market is currently at 19%, which is below the average of 16% for the 12-month period (see chart below).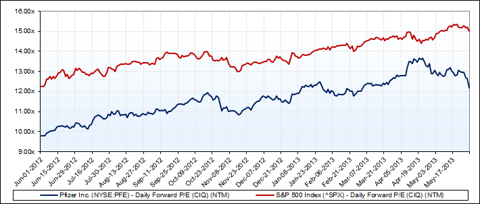 Given that Pfizer has an above-market margin performance and the stock's dividend yield (3.4%) is significantly above the S&P 500 average (2.1%), the current market discount implies a good buying opportunity.
3. Pfizer continues to be favored by sell-side analysts. Of the total 17 stock ratings compiled by Thomson One, there are 6 strong buy and 6 buy ratings. The current share price ($27.23) is 14.6% away from the 1-year price target at $31.21. Given that Pfizer should command a cost of equity of no more than 10% based on the capital asset pricing model (see chart below), the sell side's average price target actually implies an attractive risk-reward potential.

4. In terms of the company's growth prospect, which is primarily determined by its product pipeline, Morningstar's Damien Conover commented on his view in a research note dated May 20 (sourced from Thomson One, Equity Research):
"The company is through the worst of its patent cliff and is emerging with one of the best pipelines in years. Likely blockbuster drugs Eliquis and Xeljanz are leading Pfizer's next generation of drugs. Further, the company's decision to cut research and development spending by approximately 20% in 2011 without significantly damaging the productivity of the pipeline supports stronger returns on invested capital."
However, there is one indicator suggesting the stock's valuation remains somewhat rich relative to its historical level. Despite the recent decline, Pfizer's trailing P/E multiple is still 13% above its 5-year historical average (see chart below). As the company's consensus revenue, EBITDA and EPS estimates for the current and next 4 fiscal years are not showing any significant improvements (see chart below), the 13% premium looks a little high.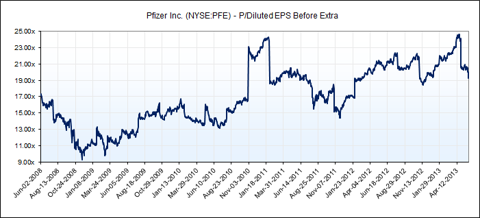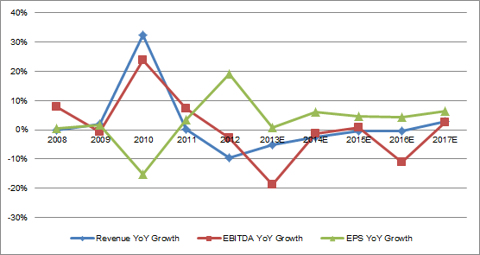 Bottom line, given the recent correction and the fact that Pfizer is well positioned for a healthy long-term growth, investors may start loading up on some shares. But considering the valuation remains a bit high relative to the historical level, I would recommend using a cost-average strategy by acquiring more shares in a further pullback (everything else being equal).
All charts are created by the author and all financial data used in the charts and the article are sourced from S&P Capital IQ unless otherwise specified.
Disclosure: I am long PFE. I wrote this article myself, and it expresses my own opinions. I am not receiving compensation for it (other than from Seeking Alpha). I have no business relationship with any company whose stock is mentioned in this article.