Ouch! Municipal bond closed-end fund (CEF) holders are feeling a whole lot of pain this year and last week was just another slap across the face. So is this the time to be stepping up to buy municipal bond funds? I don't generally follow fixed-income CEFs but I have been including warnings to investors in leveraged muni bond CEFs in my articles on equity CEFs since the fall of 2012 and I can certainly make some general observations regarding CEFs as a whole.
The Slingshot Effect
One thing if you haven't noticed about CEFs (both equity and fixed-income) is that they tend to lag the broader market moves but once they get going, they tend to overshoot to the upside or to the downside dependent on which way the market trend is going. I wrote about this last November when CEFs (equity and fixed-income) went through a two day mini-crash that shocked many income investors. Though this slingshot effect usually plays out over a longer period of time, say 6 months to a year, the two days last November are a good example of how you have to be prepared for the market moves these funds can make when their smaller size and lack of liquidity can dramatically increase their volatility. I argued that last November's mini crash was probably the result of institutional investors taking off their carry-trade in anticipation of higher interest rates in 2013 and that income investors should step up to the plate and take advantage of the buying opportunity in equity CEFs. You can read that article here, What To Do After Bottom Falls Out.
It could be argued that municipal bond CEFs were at that upside slingshot level during the second half of last year as many funds were not only trading at ALL-time highs but many were at lofty premium market prices compared to their Net Asset Values (NAVs) as well. I tried to warn investors in several articles, the first in October with this article, Demystifying ROC Distributions, that when securities hit a euphoric state, which can often be more easily identified with CEFs due to their premium/discount feature, then you need to start asking yourself if those valuations are not only justified but are they sustainable? Most of the time, they are not. I wrote several more articles, which indirectly warned investors on the dangers of leverage in municipal bond CEFs and finished up with this article in March of this year, Muni Bonds Take A Beating Again.
One of the most important things I wrote in that article was as follows:
This latest sell-off in municipal bond CEFs has pushed their tax-free yields to well over 5% to even 6%+ and many investors might be inclined to buy here. I would be cautious, however, about jumping into these funds even at these levels where many are now at discounted market prices. Though my focus is on equity funds, I did spend many years at Citigroup Smith Barney (C) and Morgan Stanley (MS) dealing in fixed-income and municipal bond securities and if there is one thing I learned, it's that in the world of fixed-income, trends are like moving a battleship. They may take awhile to get started, but once they get going, they are hard to stop.
Timing, like so many things in life, is always the hard part to get right. You can be right on target with your analysis but wrong in your timing. So do I think the sell-off in municipal bond CEFs is a buying opportunity now? Yes, I do. Though I thought the bottom for these funds would be seen later this year, and we may continue to see a rotation from fixed-income to equities until then, I believe the accelerated drop in municipal bond CEF market prices recently has been so dramatic and so fast that income investors can start accumulating shares here.
Reasons To Buy Muni Bond CEFs
There are several reasons why I feel this way. First, and most important, the drop in muni bond CEF market prices this past week is not at all reflective of the drop in the fund's NAVs. Now, bond valuations may take more time to reflect the rise in interest rates but I believe a worst case scenario is already being played out in the fund's market prices. This is one of the most important concepts to understand about CEFs. NAV prices are dictated only by the performance of their underlying holdings whereas market prices are dictated by market sentiment and investor emotions. Market prices can also be dramatically impacted by investors who hold these funds on margin and as I mentioned above, when carry-trade institutional investors unwind their positions. But this only affects the market prices and has no impact on the fund's NAVs.
Second, that accelerated drop in market prices over NAV prices has pushed many muni bond CEF valuations to double digit discounts as opposed to premiums just six months ago. Once funds start reflecting -10% discounts, then I believe a lot of the bad news is already built into the price no matter where we are in the interest rate cycle. Take a look at a couple of 1-year municipal bond CEF premium/discount graphs as examples to see the dramatic increase in the discount levels since the beginning of the year. Here is the Nuveen Select Quality Municipal fund (NQS)...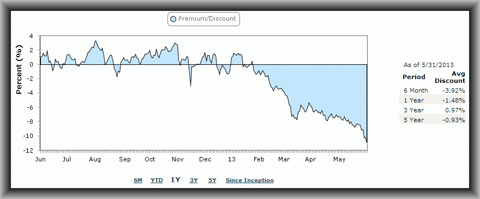 Or how about the Nuveen AMT-Free Municipal Income fund (NYSE:NEA)...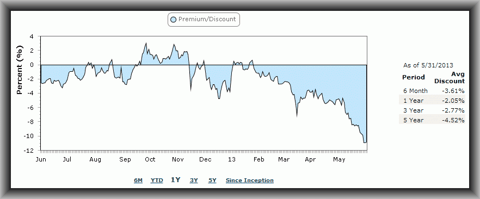 And finally, the BlackRock Municipal Target Term fund (NYSE:BTT)...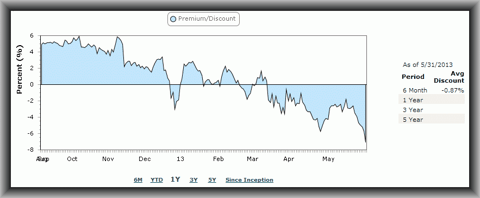 A third reason why I believe the sell-off in municipal bond CEFs is now over done is that I am reading more and more doomsday articles on municipal bonds and their tax-free status, which is more consistent with a market bottom than a reason to sell. These articles are reminiscent of the articles that came out last year, which focused on Congressional proposals to limit or eliminate the tax-free status of municipal bond payments as part of the fiscal crisis negotiations. Though I don't have any firsthand knowledge as to where this currently stands, it would seem to me that the negative effect on state governments that rely heavily on municipal bond issuances (mostly Democratic states like California, New York and Illinois) would be so onerous, resulting in significantly higher debt service payments on any future municipal bond issuances, and that Congress and the Obama administration would be foolhardy to pursue this just when state governments are starting to come out from under their own budgetary deficits.
And finally, the real concern to municipal bonds, and any bonds for that matter, is higher interest rates. This is the unknown factor that I believe is weighing most heavily on municipal bond CEFs. Though I have no crystal ball as to where interest rates go from here, my gut feeling is that they will not rise as much as the market's fear due to only marginal improvements in the US and global economies in the future. Of course, the impact of any tapering off of Quantitative Easing by the Federal Reserve is going to increase the volatility of both the equity and bond markets over the near term so we should expect more opportunities in these funds to buy.
Which Muni Bond CEFs To Buy?
So which municipal bond CEFs should an investor buy? Again, fixed-income is not my area of expertise but I can again make some general comments. Muni bond CEFs are almost all heavily leveraged up to 30% to 40% and that will exacerbate their moves up and down. But one thing you will notice among muni bond CEFs that you don't always see with equity CEFs is that they all tend to go up and down relatively equally. In other words, I'm not so sure it makes a huge difference which funds you buy since timing is the key factor here. I also would not jump in with both feet at this point since we are still probably in the early stages of a rise in interest rates even if these fund's market prices have dropped so dramatically. Of course, if you reside in a state that issues municipal bonds, then you may want to focus on those state specific funds rather than national muni bond funds.
That being said, I would stick with the larger and more liquid funds from well-known fund sponsors such as Nuveen. I would also look for funds that have already cut their distributions beyond just a token amount and are already at wide discounts. Many of the Nuveen muni bond funds reflect this already and sometimes it's good to have a fund sponsor who is getting ahead of the curve and is already cutting distributions even if it means funds are getting hit harder. And finally, I would look for funds that have lower called bond exposure over the next few years. This information can typically be found at CEFconnect.com.
What I would NOT be basing my selections on, however, is the market price yield where the higher the better, since there will still probably be distribution cuts in the future from some of these fund sponsors though I believe the impact to a fund's market price will be less and less for future distribution cuts. Other factors that I am NOT taking into consideration and are beyond the scope of my analysis are in regards to credit quality and sector exposure of a fund's municipal bond portfolio. These factors could also affect the prices for these funds.
Disclosure: I have no positions in any stocks mentioned, and no plans to initiate any positions within the next 72 hours. I wrote this article myself, and it expresses my own opinions. I am not receiving compensation for it (other than from Seeking Alpha). I have no business relationship with any company whose stock is mentioned in this article.