Garmin (NASDAQ:GRMN) is a company that many investors have soured on over the last few years. Admittedly, it is not hard to see why investors may be concerned about owning Garmin, due to the rise in popularity of navigational applications on smartphones. At the same time, the company has weathered the onslaught of competition and still maintained a pristine balance sheet. Earnings have been under pressure, with net income showing a steady march lower each year from 2008 to 2011. However, in 2012, net income rose on a year over year basis in what should be considered a sign of stability. Just as importantly, gross margin % moved back above 50% in 2012, providing another key data point showing that the company is continuing to innovate and adapt with the changing marketplace in which it operates. From an investment standpoint, there are a number of reasons why Garmin should receive a closer look. The reasons range from a dividend yield of over 5%, the ability to generate significant cash flow from operations in the future, a continued commitment to research and development, and finally a balance sheet loaded with cash. These same reasons that investors should consider Garmin today would also make the company an attractive takeover candidate. Investors can feel confident owning the shares today and collecting the 5% dividend yield while waiting for a catalyst that could include either an activist shareholder or a potential acquisition of the company.
Garmin Background, Outlook, and Competition
It was not long ago that Garmin was known as a leading company in the consumer market for personal navigation devices (PNDs). This was not the sole product the company made, but the device many consumers had mounted to the dashboards of their cars was a revolution in terms of turn by turn navigation while traveling in a vehicle. In the middle of the last decade, Garmin and Tomtom (OTCPK:TMOAF) had a virtual monopoly on the PND market and took advantage of an explosion in consumer adoption of these products. The advent of the smartphone and specifically applications providing turn by turn navigation has been a significant detriment to the PND market and Garmin in particular. The negative sentiment around this market, has weighed heavily on the outlook and stock price of Garmin as seen by the chart below: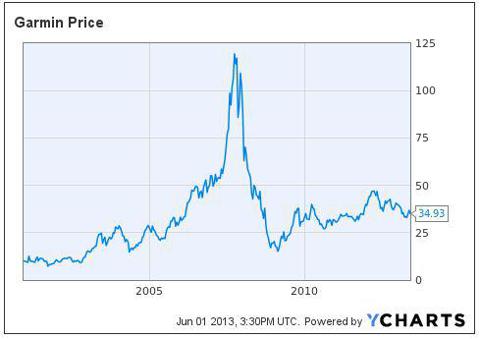 The stock peaked at close to $120 a share in 2007, and as of June 2013 trades more than 70% from its peak, at a share price of just about $35 a share.
An interesting factoid for investors to chew on is that the demise of Garmin has been a discussion topic for many years. Articles such as this one from 2009, discussed how cloudy the future was for Garmin, with an emphasis on how gross margin %s had been on a steady downward march. Based on the negative outlook for the company you probably would not guess that, in 2012, gross margins reached levels not seen since 2004. While this fact in and of itself is not a reason to rush out and own Garmin, it is an important part of the puzzle.
Garmin does operate in a highly competitive, evolving market. Yet Garmin is not sitting on its laurels and is evolving and innovating to stay relevant with the changing market. The company spending on research and development continues to increase. At the same time, the pace of introducing products outside of the PND market is also accelerating.
Reasons To Own Garmin
Dividend / Yield
With an annual dividend at $1.80 per year, the yield that Garmin investors receive at the closing price of roughly $35 per share as of 5/31/13, is over 5%. This is one of the highest yields that can be found of any stock in the S&P 500. Many investors may not even realize Garmin is a component of the S&P 500 as it was just added to the index as of December 2012.
Immediately, the bearish argument is that the Garmin dividend is unsustainable as the business will deteriorate to a point where the company will be forced to cut it or altogether stop paying it to preserve cash flow. I think this argument is unfounded for a number of reasons. Reviewing the Garmin 2012 annual report, investors can see that the company has increased the dividend each year from 2009 to 2012. The amount of the increases can be seen below in the image from the 2012 annual report:

Reading from right to left on the above image you will see that, at the end of 2009, the annual dividend was $.75 per share. At the end of 2012, just three years later, the dividend had increased to $1.80 per share.
Naysayers can argue again that this is unsustainable, or that management is simply doing what it can in the short run to support the stock. The counterpoint to this argument would be that Garmin insiders and related parties own over 40% of all common stock outstanding. This creates a significant, and long-term incentive for company management to continue paying a hefty dividend. As for the other bearish argument against the sustainability of the dividend, that cash flows will decline forcing the dividend to be reduced, this is a tired argument that has been made for at least the last few years in the face of annual dividend increases from Garmin. More importantly, the analysis of operating cash flows below will show that the dividend should be completely safe for the foreseeable future.
Cash Flow From Operations / Free Cash Flow
Critical to the investment thesis for Garmin is its ability to continue to generate substantial cash flow from operations "OCF," which leads to the sustainability of its dividend. The image below from the 2012 annual report shows operating cash flow generated over the last three years:

You will quickly notice that cash flow from operations declined materially YoY from 2011 to 2012. In 2012, the decline in OCF to ~$685M represented a 17% YoY decrease. There is no sugarcoating that a decline in OCF is never a data point investors want to see. Yet for Garmin, the question from an investment standpoint, surrounds whether the company will continue to generate enough cash flow to sustain the dividend. In this vein, it is important to consider free cash flow "FCF" in addition to OCF. FCF represents cash from operations, less capital expenditures. The Garmin business model is one that is relatively light on annual capital expenditures, when compared to the size of the overall business. Here, we turn to 2013, and what Garmin is currently guiding to for its FCF for the year. On the Q1 2013 earnings call, Garmin CFO Kevin Rauckman had this to say when asked about FCF guidance for the year:
Yes. The earlier expectation on free cash flow is somewhere around $525 million for the year, which is lower than 2012. But as you pointed out, our CapEx is still expected to be in the range of about $40 million for the year, and that's in line with what we saw in Q1 as a seasonal rate.
The company is essentially saying that they expect to generate $525M in cash flow during 2013, after paying for necessary capital expenses. Another way to view this $525M, is that this represents the pool of money available to the company to fund the dividend payment and repurchase stock, without having to tap the cash already accumulated on the balance sheet.
This is a critical component of the Garmin investment thesis. At the end of Q1 2013, outstanding shares for Garmin totaled roughly 195M. With a dividend rate of $1.80 per share, the cash required to fund this dividend on an annual basis amounts to roughly $350M annually. Garmin is in essence going to pay out about 70% of the FCF generated in 2013, in the form of dividend payments. FCF would have to decline at an annual rate of 20%, from the estimated level for 2013, in both 2014 and 2015 before the level of annual FCF would equal that of the required cash to fund the annual dividend. Is this a possibility? I will not argue that it is not a possibility. I would argue, however, that this fear presents the very reason an investor can capitalize on this investment to generate significant dividend yield over the next few years before the thought of a dividend cut is even a possibility. Consider, as an example that Garmin continues to generate enough FCF to cover its annual dividend through 2015. Over this time period, investors would collect $4.50 per share in dividend payments. Excluding the effect of taxes this would generate a cumulative yield of close to 13% over the next 2.5 years. The risk of the stock price declining, offsetting the dividend yield, is a legitimate risk. However, if the stock price declined, the dividend yield would increase attracting more investors as the dividend yield pushes higher. This factor, along with the stability provided by cash on the balance sheet, should provide a floor in the price of Garmin's stock not far below where it trades today in a bearish case.
Research and Development Spending "R&D"
Analyzing the overhead spending by a company, on items such as wages, advertising, and R&D, provides an insight into the financial stewardship employed by the company management. Additionally, these overhead expenses and how they trend on an annual basis, provide investors guidance on the strategy being employed by management. With distressed companies, you often see wholesale cutbacks, involving headcount reductions, cuts to advertising, and most importantly reductions in R&D. With Garmin, the company is actually increasing its headcount, with the company noting specific growth in engineering employees. The company employed a total of 9,780 employees at the end of 2012, an increase of 6% from the prior year. Generally, companies that see a permanent structural change to their business outlook are not in the business of increasing headcount.
Just as importantly, Garmin has continued to ramp its investment in R&D, which ultimately leads to the introduction of new products and expanding its addressable markets. The image below, from the Garmin 2012 annual report, shows R&D spending over the last five years:

The table shows that R&D spending has significantly increased over the last 5 years. During 2012, R&D expenses reached $325M, growing almost 10% of the prior year. This is a result of the company continuing to innovate, and to take advantage of market segments still experiencing growth, such as the aviation, fitness, and outdoor markets.
Balance Sheet / Cash Fortress
Garmin currently trades with a market capitalization of about $6.8B. This equates to a price to book value ratio of about 1.9x. As seen in the chart below, the current price to book valuation is just about an all-time low for Garmin: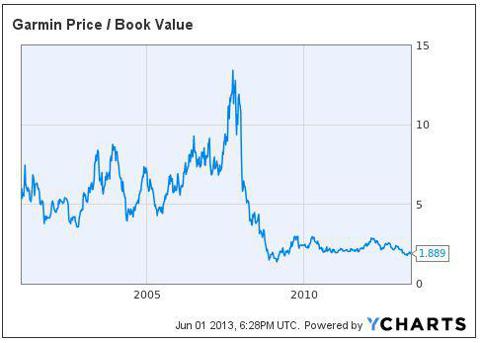 Further, the balance sheet for Garmin is not filled with significant goodwill or intangible assets, the type whose ability to monetize or value are uncertain. The image below, from the Q1 2013 earnings report, shows the asset side of the balance sheet:

The most important figures come from the cash and cash equivalent line items. The balance sheet of Garmin is fortified by almost $2.8B in cash and cash equivalents. This equates to 41% of the total market capitalization that the company is valued at today. Total assets are almost $4.6B as shown in the above image. Even if, you disallow certain assets that could not be directly monetized such as intangible assets and deferred taxes, the company would still have close to $4B of assets that are already cash or could readily be converted to cash.
Turning to the liabilities side of the balance sheet, the outlook is almost just as pristine. The company has no long-term debt, which is another red flag often seen by companies issuing debt to support a dividend or repurchase stock. The image below, from the Q1 2013 earnings report, shows the liability side of the balance sheet:

Here, you see that Garmin has slightly less than $1B in total liabilities as of the end of Q1 2013. Again, no red flags, with the majority of these liabilities representing current payables or deferred revenue associated with cash received in advance for products whose revenue is earned over a period of time.
The key takeaway for Garmin, when considering the health of the balance sheet, is that this should provide a hard floor for the stock price because the risk of the company going away in the short term is negligible. This leads to the last, and potentially most lucrative reason for investors to own Garmin.
Garmin As An Acquisition Target Or Shareholder Activist Target
Garmin is a name that has been bandied about before as an acquisition target, either by a company looking to acquire it as a bolt on business, or via a leveraged buyout "LBO." I think either of these scenarios are entirely plausible, for a number of different reasons.
It was recently reported that Facebook (NASDAQ:FB), and potentially other companies such as Google (NASDAQ:GOOG), were in talks to acquire a privately held mapping and navigation company called Waze. The reported price tag was over $1B. Waze is night and day different than Garmin. The main product for Waze is an application-based product, such as one found on a smartphone. Waze has pioneered a form of social integration into its mapping, allowing users to provide real time updates that feed into the application. Waze is reportedly generating less than $20M a year in revenue currently. While Waze is night and day different than Garmin, the willingness of companies to discuss a buyout with a reported $1B price tag for a company with immaterial sales, speaks to the overall interest in mapping and navigational products. Garmin is known for its hardware, but it is also instrumental in developing a large part of the software that powers its products.
Just as importantly, the valuation and financial metrics of Garmin should be appealing to potential acquirers. As an example, assume that Garmin was acquired at a 40% premium to its current market capitalization today. This would put the acquisition price tag at $9.5B. You can immediately reduce that price tag by $2.8B, or the amount of cash that Garmin currently has on its balance sheet. Now at a 40% premium to its current levels, Garmin could be acquired for $6.8B net of the cash on its balance sheet. This is conveniently the same market capitalization the company trades for today.
Is it entirely unrealistic to think a company might want to acquire Garmin? Not at all. Consider that at the $6.8B adjusted buyout target, Garmin would be purchased for 13x the FCF of $525M the company expects to generate this year. If you refer to the earlier table showing the income statement for 2012, you will see that Garmin generated $625M in income before taxes last year. The company also had about $90M in depreciation and amortization expense. This gives Garmin total EBITDA of about $735M for 2012. On this metric, Garmin would be purchased at only slightly above 9x EBITDA on a trailing basis.
These valuation metrics show, assuming Garmin is acquired at a price 40% higher than it currently trades, are completely reasonable. Just as importantly, any company that would potentially acquire Garmin, would do so with the intent to achieve significant cost savings. This would be either through leveraging overhead expenses, or cutting back significantly on the expense level Garmin operates at today. This is the reality of an acquisition analysis, and makes the valuation metrics presented above, look even better.
In the same vein that a company might outright decide to acquire Garmin, an activist shareholder could emerge and pressure Garmin to put itself up for sale. The company clearly has a strong balance sheet, and will continue to generate steady cash flows for the foreseeable future. The market is valuing Garmin as if it will decline at a steady rate for many years to come. An activist shareholder would see this situation, and make a concerted effort for Garmin to realize its potential value now, before any further potential deterioration in its outlook might occur. This is a very real possibility, one which plays out daily on the market with other cash rich companies experiencing business trends that lead to the market undervaluing the stock.
Investment Opportunity
I believe the reason for investing in Garmin at these levels is pretty well documented throughout the article. If you're investing in the company today, you look at the bearish scenario and realize that it would take another two years of material declines to the business before the dividend should ever be in jeopardy. In the same vein, your analysis should tell you that during that time you would earn $4.50 in dividend payments. There is another way that I would suggest augmenting this dividend yield. In addition to purchasing the common stock, investors could sell the January 2015 $25 puts, collecting $2.30 in premium. This would equate to a roughly 9% return over the next 18 months. This would allow investors to generate additional income, while having exposure to the upside that would be seen in an improving business environment or from an acquisition. Again, this entire investment thesis centers around the strength of the balance sheet and the continuing ability for Garmin to generate ample cash flow.
The market outlook for Garmin assumes that the business continues to deteriorate in the near future. The problem with this analysis is that the biggest threat, smartphones and their competing navigational apps, are already mainstream. The decline in the PND market should continue but at a slow steady pace. This decline, however, could be offset by design wins for in car navigational systems such as one Garmin announced earlier this year with Mercedes. Also, there is a very real threat that phone usage while driving continues to see legislation to restrict this activity. Quite frankly, it is dangerous for someone to be using a smartphone to look up directions while driving. While this is not an investment thesis of why you should own Garmin, it is a point of information which should drive further adoption of in dash navigational devices, a market where Garmin can continue to compete.
In summary, Garmin is not an investment without risks. In reality, those investments that offer significant reward do not exist unless they are accompanied by risk. Purchasing Garmin at today's valuation is an investment made assuming that you can continue to earn a hefty 5% dividend yield and that the ultimate pay-off would come from the business stabilizing at these levels or an acquisition of the company materializing. As Garmin has weathered the onslaught of competition for many years now, I am betting they will continue to weather it for many more, making this an attractive entry point to own this company.
Disclosure: I have no positions in any stocks mentioned, but may initiate a long position in GRMN over the next 72 hours. I wrote this article myself, and it expresses my own opinions. I am not receiving compensation for it (other than from Seeking Alpha). I have no business relationship with any company whose stock is mentioned in this article.