For the last 100 years the non-alcoholic beverage industry has been dominated by two giants: PepsiCo (NYSE:PEP) and Coca-Cola (NYSE:KO). However, the leader of the industry has always been Coca-Cola in terms of its market share and revenues earned. The carbonated drinks market is currently being saturated with products, and consumers are now more aware of health issues, leading the carbonated drinks industry to show a decline in the American market.
Therefore, seeing a need for change, both companies have diversified their businesses, with an emphasis on energy drinks, breakfast cereals, snacks and pure drinking water. From investors' point of view, both companies have remained in fierce competition. Here we will be analyzing the position of PepsiCo and whether or not it's a good option to invest your money in.
Liquidity Position
Click to enlarge images.


Source: Yahoo Finance.
In the last five years, Pepsi's current ratio has remained almost the same, with its little variation ranging from 1-1.4, meaning that they always have current assets available to meet their current liabilities. However, the quick ratio in last five years is on average 0.8, which makes us believe that Pepsi has tied up their capital in the form of inventory. That's why both statistics represent contradictory points. It could be stated that if Pepsi solves their inventory problem, they would have no liquidity concerns.
Profitability Position

Source: Stock.net.
When it comes to the profitability of PepsiCo, its gross profit margin in last five years has been around 53.044%, which is quite encouraging. Its net profit margins are around 11.13%, which means that Pepsi is making good money. However, the sizable difference in their net profit margin and gross margin is due to swollen operating expenses. If they could cut down on those expenses, they could perform even better with respect to their profitability position. Their operating profit margin in the last five years stands at of 15.5% on average, which is reasonable.
But a decline has been observed since 2009, when it stood at 18.61%, and then in 2012 it reached13.91%. The company's return on equity has been continuously falling throughout the last five years, but it's still quite healthy at around 27%, which means they are still earning a handsome return on the investors' capital. Return on assets has been continuously falling: from 14.29% in 2008, to a current 8.28%, which could be alarming for Pepsi as assets are currently producing less return as they were previously.
Divisional Analysis
Fiscal Year 2009

Source: Annual report 2009.
As for the revenue generated from the various divisions of PepsiCo in 2009, PepsiCo America Foods was the highest contributor at 48%. The second-highest was PepsiCo America Beverages at 23%. Revenues from the European division amounted to16%, while the Asian Middle East African division accounted for the remaining13%.
Fiscal Year 2012

Source: Annual report 2012.
Among the four divisions of Pepsi in 2012, PepsiCo America Foods contributed the largest share in terms of revenue, and PepsiCo America Beverages was second-highest in terms of revenue. It means that both these divisions are doing fairly well, but the ones that need to be nurtured are the European and Asian Middle East African divisions. The European division is the second to last and the Asian Middle East African division is the last among the divisions based on the revenues generated and operating profit earned.
By observing the divisional performance in FY 2009 and FY 2012, it is suggested that Pepsi should increase their marketing efforts in the regions of Europe and AMEA, and a thorough marketing study has to be conducted to identify what consumers want and expect from PepsiCo. It is necessary to generate more revenues and profits from these regions, as these regions are dense in population and encompass a large market with paying capabilities. A notable factor is that Europe's revenues improved by 4% in 2012 as compared to 2009. While this is not remarkable, a concerning factor is the fall in revenue by 3% in AMEA, as it is one of the most densely populated regions and includes one of the fastest-growing economies of the world.
Common Stock Position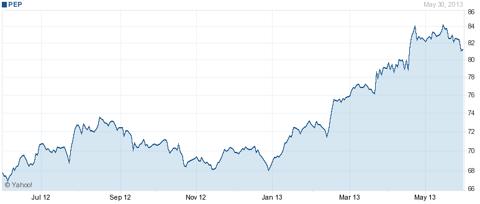 In the last nine months Pepsi stock has performed really well; it has shown a reasonable growth of 11.13% in price. This increase could be credited to the investors' confidence in Pepsi due to its reasonable per-share dividend payout in every quarter and its good earnings-per-share value of $3.90 in the last 12 trading months, which played an integral role in creating investor confidence.
Pepsi Vs. the Industry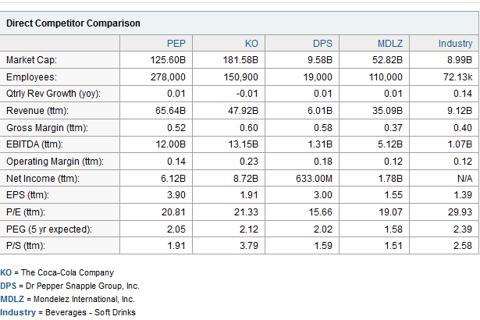 Pepsi is performing soundly as compared to the industry in every dimension. The price/earnings ratio of PepsiCo is around $20, which is quite a bit lower than that of the industry. This encourages investors, who are able to earn more with investing less money. PepsiCo has outperformed the industry in earning revenues, with an industry average around $9.12 billion. On the other hand, Pepsi has earned revenue totaling $65.46 billion. Pepsi has also outperformed the industry in terms of earnings per share, as they are currently at $3.90 per share, while the industry average is around $1.39 per share. When it comes to gross profit margin, Pepsi's is close to 52% while the industry on has a gross profit margin of 40%. In terms of operating profit margin, Pepsi is ahead of the industry as it is currently at 14% and the industry average is around 12%.
Conclusion
PepsiCo is a consumer product and is operating in a highly competitive industry, but it has passed the test of time and has adapted to the changing needs of the industry. As for the liquidity of the company, no problems are evident. When it comes to profitability, they are doing quite well. The most encouraging part is that they are not holding on to all the money for themselves -- they are paying out dividends to their investors. When we look at the industry as a whole, Pepsi has outperformed it in some dimensions, and there is space for improvement with respect to others. However, they are not underperforming. Hence, it could be concluded that Pepsi is an attractive and profitable option for investors to buy both in the long and the short term.
Disclosure: I have no positions in any stocks mentioned, and no plans to initiate any positions within the next 72 hours. I wrote this article myself, and it expresses my own opinions. I am not receiving compensation for it (other than from Seeking Alpha). I have no business relationship with any company whose stock is mentioned in this article.