Make a list of the top-ten problems faced by the Electric Vehicle (E.V.) space and you're most certainly going to stick "range anxiety" somewhere on that list (although, it'd appear on my own top-one list of EV industry challenges). And this is one of the things that have been holding the EV market back a great deal. Better Place is quite the number one victim of range anxiety at the moment, having failed to achieve its vision of boosting sales of EV by providing feasible power supply plan for EVs. The company has now filed to liquidate. The truth is if the "range anxiety" problem can be solved completely, then, the world would go all-electric-car in the nearest future, in my opinion. The good thing now is that it seems the almighty "range anxiety" problem is becoming less of an obstacle to the adoption of EVs. I'm saying that with respect to the recent upsurge in sales in the EV world.
Earlier in May 2013, Tesla Motors, Inc (NASDAQ:TSLA) announced its financial result for the three-month period ended March 31, 2013. The company reported record sales of about $562 million, representing about 83% increase compared to the sales during the fourth quarter of 2012. In the first few sentences in a letter to shareholders, the company said that it exceeded its own target for deliveries, which is good news to the EV world. Tesla had earlier issued a Q1 Model S vehicle delivery guidance of 4,500, but it actually delivered 4,900 Model S vehicles.
Elsewhere, Nissan (OTCPK:NSANY) reported a 21.4% increase in its overall production in the month of March in the US. The company explained that the increase in demand for Nissan LEAF, the company's EV product is one of the reasons for the increase in production. And if you skim the report, you'd find that US is about the only place of all its major markets where it witnessed increased production in March. This further confirms my thesis that range anxiety is becoming less of an obstacle en route to global adoption of EVs.
General Motors (NYSE:GM) is another EV maker whose sales figures show that the EV world is beginning to gain traction. The company has Chevy Volt (actually a hybrid) in the market. GM sold over 23,000 Chevy Volt in 2012, a 206% increase compared to the sales of the auto in its first year in the market. Critics might want to point at the decrease in sales of Chevy Volt in March and April as a sign that EV is not reliable. Even at that, however, there is still a positive; sales of Chevy Volt are up about 3.2% so far in 2013 compared to the same period in 2013. So I'm still quite correct to say range anxiety is reducing.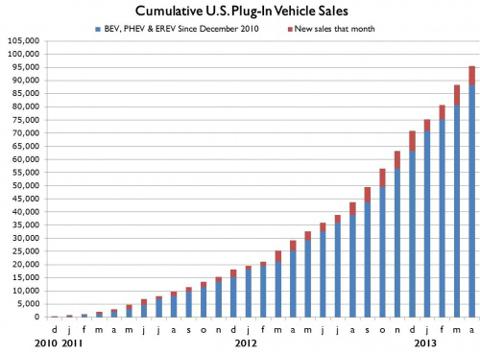 Source: electricdrive.org
Let's consider the EV market in a region other than US/North America, probably Europe so we can see if the said reducing range anxiety is happening everywhere. It's quite difficult to get accurate numbers of EV sales for the whole of Europe since not all countries post figures of EV sales. However, we will make do with figures reported by the European Environment Agency (E.E.A). While EEA's figures may not be exactly accurate, they give us insight as to how the EV market is doing in Europe. EEA reported that the number of EV in Europe increased from 700 vehicles in 2010 to about 14,000 in 2012. The report also noted that the increase is attributable to significant increase of EV in France and Germany. The fact that Renault Twizy is consistently improving in France confirms that EEA's figures are within the correct figures. In addition, a report by Navigant research suggests that EVs in Europe are just less than 37,000. Perhaps that includes the figures EEA were unable to get together with sales in 2013 to date. Whatever it is, the figure confirms that the EV market is gaining traction in Europe, too. If the report from Navigant Research is anything to take serious, EV sales in Europe should be around 670,000 per year by 2020. And my thesis of reduced range anxiety is again confirmed.
Reduced Range Anxiety Is Good News for the Car Charging Space
Having realized that the EV world is growing beyond range anxiety, it would be insightful of investors to look beyond investing in only the makers of EVs and consider companies that directly benefit from the success EVs, companies providing EV charging infrastructure. They are mostly small/microcap companies and some of them include ECOtality (ECTY), Car Charging Group (OTCPK:CCGI) and AeroVironment (NASDAQ:AVAV). ECTY is quite the most popular of them all probably because the company enjoys public funds.
ECOtality, Inc.
ECOtality deals in developing and commercializing eco-friendly energy solutions to tackle the global energy challenge. ECTY goes about its business through its subsidiaries, which include Blink, Minit Charger and ETEC LABS. ECTY's success to date is largely attributable to the success of its Blink Network, which contributed about 72% to ECTY's total revenue in 2012. it is also worthy to mention that one of the company's greatest strength is in The EV Project, which was reported to have contributed about 77% of the company's first quarter revenue. Many people seem to believe that ECTY would suffer if it weren't enjoying from the partnership with the US Department of Energy. On the contrary, I believe ECTY would be doing well even without the partnership, considering that the project actually revolves round Blink Network, which is doing great on its own. What I see as a problem instead is the company's balance sheet. ECTY has been posting net income losses, meaning that the company is not profitable at the moment. I see this as a big reason ECTY stock price hasn't risen beyond its present stage even though revenue is increasing. The reason is simple; nobody wants to invest in an unprofitable company. On the positive side, however, the loss has been quite on the decline. The chart below shows the movement of the company's net income over last few quarters.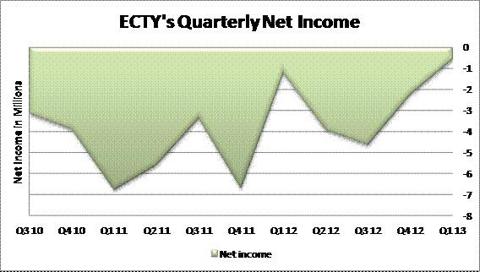 Net Income Figures sourced From YCHARTS and Yahoo Finance
From the above chart, it's obvious that ECTY is closer than ever to breaking even. Investors should keep tabs on this to see if it does break even, as it could be a turning point for ECTY stock.
Car Charging Group, Inc.
Car Charging Group is a development stage company that provides electric charging service for EVs in North America. CCGI's partners own or manage about 6.5 million parking lots. The company's revenues from installation of EV charging stations were up 306% to $10,576 for the three months ended March 31, 2013 compared to the same period in 2012, showing that the company is also getting its share of growing EV market. The company also recently announced that it has completed the acquisition of 350Green. 350Green owned and operated EV charging stations throughout the US. The acquisition of 350Green makes CCGI the owner and operator of the world's largest independent EV charging network. This shows just how much this company is committed to the EV vision. The company also announced partnership with Nissan to make EV charging more readily available. However, as attractive and CCGI is, there is one thing that poses issue; it's traded over the counter (OTC). If you're well conversant with OTC stocks, you'll know that they are volatile and could be unreliable. This is obvious in its stock price history. If you check CCGI's share price at the close of market on the day the acquisition of 350Green was announced, May 2, 2013, (Note that most stocks do rise after such announcements)you'd find that it was 1.5% less than its previous closing price. This shows just how unreliable OTC stocks could be. In addition, just like ECTY, CCGI's balance sheet also has the net loss issue. In fact, in CCGI's case net loss is increasing on both year-over-year and sequential basis.
Perhaps the net loss issue, which spread across the industry, is because of the fact that the industry is still trying to gain foothold and as such, much money goes into establishing the industry. But just as I've shown with the sales of EV makers, car-charging infrastructures are also posting figures that bring a valid thought that the industry is taking off. On a lighter note, though, if the EV market keeps growing, which it most likely would, CCGI would soon break even and grow stronger, especially considering the manner it goes about making acquisitions and expanding its reach.
Challenges of the EV World Going Forward
One red light so far this year is that total EV sales have been fluctuating from month to month, which attempts to nail the entire good news of reduced range anxiety. General Motors in particular has seen its sales of EV decrease since February. However, you need to know and accept that EVs are not going to take the entire auto market at once. It's going to be a gradual process. So fluctuating sales, in my opinion, is not much of a red light but a reality call to EV marketers that they're yet to reach the end of the race. The cost of EV is one other great challenge to the growth of EVs. Perhaps one-third of the world would be on EVs if they were cheaper than they are. But since Nissan and General Motors already talked about reducing the cost of their EVs, it means that EV makers recognize this as an issue and they should be working real hard on that.
Conclusion
EV critics are pointing at Better Place's conundrum to tell the entire world that the EV vision is not feasible (they seriously have a point there, considering the way Better Place began). But the truth is EV has a future, as we have already seen. After all figures don't lie. Increased revenues of car charging infrastructures shows that there is expansion in the car charging space, which is a result of the increased adoption of EVs (again confirming my thesis of reduced range anxiety). However, investors need to take things a step at a time with the EV space. The truth is one can easily be over enthused at the prospect of EV. Instead, investors should go by the figures for this market rather than going with its prospect, at least for now. This is the only way one can get anything worthwhile off this industry. Otherwise, one would become a little Better Place that followed prospect more than figures.
Disclosure: I have no positions in any stocks mentioned, and no plans to initiate any positions within the next 72 hours. I wrote this article myself, and it expresses my own opinions. I am not receiving compensation for it (other than from Seeking Alpha). I have no business relationship with any company whose stock is mentioned in this article.