By Timothy Lutts
Intel (NASDAQ:INTC) was once a superb investment. If you had bought $10,000 of INTC at the end of 1974, the year Craig Barrett joined the company (three years after the IPO) you would have had about $18.5 million at the stock's peak in 2000 … or nearly $4 million today.
But Intel's glory days are gone; your job today is to find the next Intel.
Ideally, the next Intel is still small, but growing fast. It makes a product or provides a service that is easily scaled up, so that millions, even billions, can be sold. It comes to dominate its industry by erecting barriers, both intellectual and structural, to potential competitors. It has healthy profit margins. And it is unloved by both institutional and individual investors today.
I can think of a number of Chinese companies that meet these characteristics; some I've mentioned in the past and more I'll mention in the future.
But today, I'm sticking to the U.S., so my focus is a little-known company that's actually just a half-hour's drive from the Cabot offices.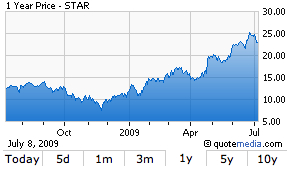 It's Starent Networks (STAR-OLD), a leading provider of the hardware and software that enable operators of mobile phones to deliver multimedia services to their subscribers.
In brief, these products act as gateways that connect the radio access network (RAN) of the telecommunications company to the Internet Protocol (IP) network that we refer to as the Internet.
In this regard, Starent is like Intel; in its early days, no one knew Intel, it was just a supplier of chips inside computers sold by IBM, Hewlett Packard (NYSE:HPQ) and others. The "Intel Inside" ad campaign that made the company a household word didn't come along until 1992.
Starent's products sit on the data center shelves of Verizon (NYSE:VZ), AT&T (NYSE:T) and Sprint (NYSE:S), as well as foreign providers (in 40 countries) like Bouygues Telecom and mobilkom austria. You'll probably never see one.
But if you've done anything on your phone beyond simple talk, you've probably used Starent's technology. And you'll probably use it in the future.
The company has a sterling record of revenue growth–from $34 million in 2004 to $254 million in 2008–and a golden record of earnings growth–from a penny in 2005 to $0.95 in 2008.
STAR has appeared in Cabot Top Ten Report four times this year. In its most recent appearance, on May 18, when the stock was trading at 19, here's what editor Michael Cintolo wrote:
Palm (PALM) will be rolling out the Pre in the next few weeks and Apple (NASDAQ:AAPL) is expected to raise the curtain on a new 3.0 version of the iPhone this summer. The various models of BlackBerrys also remain hot. What all of these phones have in common is the ability to deliver multimedia services like video, email, mobile TV and gaming to handheld devices. And Starent Networks is an industry leader in designing and manufacturing the infrastructure hardware and software that delivers the digital goods. Starent gets 90% of its revenue from the U.S. and Canada, but has operations in Japan, Korea and a few other spots. The company was founded the year the Tech Bubble burst, and has been consistently profitable since it came public in mid-2007. With 3G devices proliferating, the company looks to be in the right business at the right time. We like it.
Since then, the stock has climbed from 19 to 25. A correction from here to 23 is likely; lower is possible. But the main trend is up, so I recommend buying on any normal pullback.