The world of pharmaceutical companies is filled with many diverse product niches, scientific disciplines, and business models. Salix Pharmaceuticals (NASDAQ:SLXP) is a uniquely focused and profit-growing company that specializes in finding, developing, and marketing high-potential gastrointestinal disease products.
And the Salix growth story just got a boost recently when analysts raised estimates and price targets after the company reported solid first quarter results and reiterated its guidance of $920 million in revenues and non-GAAP EPS of $3.37 for 2013.
Digest These Gains
Below is a look at the price breakout to new all-time highs above $56 after their May 9 report. As analysts reacted, the stock became a Zacks #2 Rank (Buy) on May 14 and then a Zacks #1 Rank (Strong Buy) on May 15 before it powered through $60 and hit new highs last Friday at $62.10.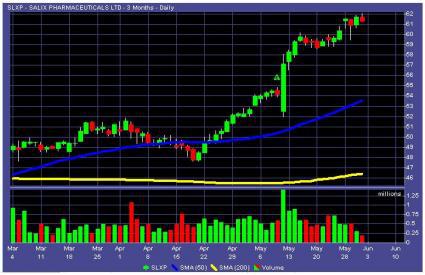 A Stomach for Fast Growth
Salix's strategy is to in-license late-stage or marketed proprietary therapeutic drugs, complete any required development and regulatory submission of these products, and market them through the company's gastroenterology specialty sales and marketing team.
Their flagship prescription drug Xifaxan brought in $153 million in sales vs. total revenues of $202 million for the quarter. While a handful of other gastrointestinal treatments are considered stable revenue sources, Xifaxan is seen as having strong double-digit growth for several years.
Given another quarter of gross profit margins solidly above 80%, it's no wonder analysts are raising price targets and revenue projections as you can see in this unique table from Zacks Research.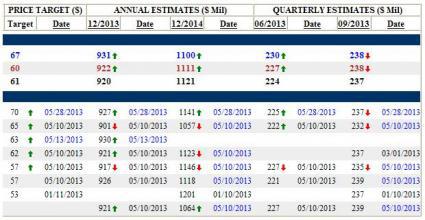 Also worth noting is the heavy institutional participation in SLXP. In Q1, big money was a net buyer of shares, with 115 funds adding or initiating positions in aggregate of 7.8 million shares. I track this "whale" component of the market for my Follow The Money trading service.
The Biopharma Opportunity
Two weeks ago, I wrote a special report for Zacks Confidential members where I profiled the diverse opportunities in biotech investing and explained why I told investors in late January to "buy biotech now." It was the best performing sub-industry of the best performing sector, Healthcare, for those four months.
With over 250 companies in the Zacks universe that fall under the "biopharma" umbrella, there's always a handful that end up with a high Zacks Rank. But this year, the two industries that hold these stocks have been on fire as analysts keep raising estimates for lots of biopharma companies.
Be sure to look at all the highly-ranked names in these two industries: BIOMED/GENE and DRUGS.
Biotech and pharmaceutical investing have their own unique risks with the ever-present FDA gauntlet. But if you can follow the trail of rising earnings estimates and spread your bets among a few solid companies, you can beat the market by a healthy margin.