ARM Holdings (NASDAQ:ARMH) shareholders are hitting the exits, with the stock down over $6/share from its recent high of $50, all the while Intel (NASDAQ:INTC) shares have been surprisingly resilient in several of the most recent trading sessions. While my readers have known that the "myth" that Intel could not do a credible low power chip was a complete lie, it took a real design win with the Samsung (OTC:SSNLF) Galaxy Tab 3 to finally convince people. It seems that the "hype" that ARM will have a monopoly in this space is over, and it further seems that Intel's credibility among investors has skyrocketed. This is only the beginning.
Samsung Is Getting Intel Inside
The Galaxy Tab 3, in my view, represents merely the beginning of an Intel/Samsung relationship outside of the traditional PC space. This is the first real "major" non-Windows design running on Intel that could not only gain sales velocity in the U.S., but also bring some real sell-side and even buy-side credibility to Intel's mobile strategy.
While many folks such as myself saw this coming from a mile away, believing that as soon as Intel had a good solution for the market that it would begin to win design traction, a large part of the investment community simply parrots the tired line that "ARM has 95% of mobile" and as a result, ARM has been bid up substantially over the last year or so while Intel has languished.
Well, that's about to change.
Intel Newsflow Positive, ARM Newsflow Neutral, Set To Go Negative
Look at the recent headlines surrounding Intel: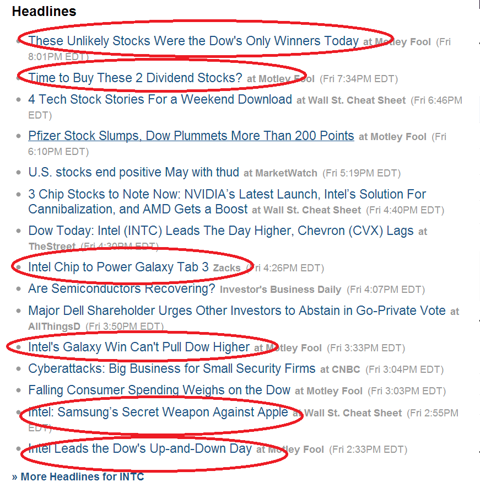 When Intel shares were on the downtrend, people couldn't stop making up rumors that it was going to lose the Apple (NASDAQ:AAPL) account since Apple was going to design its own chips (based on ARM, of course). Further, the nonsense about underutilization forevermore spread through the investment community like a shock wave. Intel was out of favor, and as a result, the pair trade that seemed to be in place was "short Intel, buy ARM." And that's the trade that has worked:

Of course, a corollary to the market getting excited about the Intel mobile momentum is that it is going to need to make money on something losing as well. What better equity to pick on than one that has been filled with plenty of hot air predicated on the basis of indefinite mobile domination and micro-server penetration that trades at ~50x forward earnings. Quite frankly, if one Samsung design win was enough to let out $6/share (or 12%) of hot air, then I would shudder to think what would happen to ARM's shares if any of the following were to happen:
Intel successfully launches a 4G LTE compatible platform, and as a result begins ramping non-trivial U.S.-based smartphone share
Intel's "Haswell" and "Baytrail" make significant inroads in the Android convertible and tablet markets
People realize that TSMC's (NYSE:TSM) claims that it will "close the process gap" against Intel soon are unlikely to come to pass
Ultrabook convertibles based on Windows 8.1 and "Haswell," and lower cost Windows 8.1 convertibles based on "Baytrail" help "reverse cannibalize" the "tablet" market
In my view, it would be very easy for the press and the financial community at large to start spinning negative news stories about ARM should Intel gain this momentum, and I believe that after a slow bleeding out, coupled with a "gap-down" that serves as an exclamation point to the whole fiasco, the sell-side will come out and downgrade ARM shares, probably on "potential market share loss warranting a significantly lower multiple." You want to be out well before this occurs (if you believe the thesis).
Computex May Cause ARM Shareholders A Headache
As I warned in a previous article, the upcoming Computex in Taipei is bad news bears for ARM bulls. Not only is Intel likely to show off Baytrail sipping power and performing like a banshee, but a number of design wins will probably be shown off as well. I'd expect mostly Windows based designs, although at CES, Intel did show off a "Baytrail" prototype running Google's (NASDAQ:GOOG) Android.
Not only does Intel have Windows on lock-down, but it is also gunning to get into as many Android devices as possible. Since Windows 8's history of legacy applications gives Intel a home-field advantage, Google's Android is pretty instruction set agnostic. In fact, given the huge software developer relations teams at Intel, I would not be surprised if Intel tried to get as many high quality native X86 applications written for Android as possible to turn the tables on the ARM guys (or force them to pay a big performance penalty) in the really top end tablet/phone designs.
But it all begins with investors/analysts "seeing" Baytrail in action, and hopefully Intel will be letting sites like Anandtech benchmark a Baytrail prototype to get hard performance numbers. By the way, if performance doesn't matter, then Qualcomm (NASDAQ:QCOM), Nvidia (NASDAQ:NVDA), and TSMC are wasting their time trying to move to better, faster architectures and process nodes. It matters, and OEMs select components very much based on performance/watt.
Conclusion
If you really want to be in ARM, wait until Computex has happened and perhaps until the Intel buzz starts to die down. Going in now, on the cusp of the Baytrail and Haswell launches, may end up being an unpleasant experience. However, I think that it will be tough for anybody to justify multiple expansion on ARM in light of the estimates that the sell-side already has in place. The risk/reward is just not good for buying ARM, even after the 12% correction, and I would suggest that profit taking on every "bounce" (which seems to be what the big boys are doing based on the price action) may be a good idea.
Disclosure: I am long INTC, NVDA, QCOM, and I am short ARMH. I wrote this article myself, and it expresses my own opinions. I am not receiving compensation for it (other than from Seeking Alpha). I have no business relationship with any company whose stock is mentioned in this article.