In May 2012, we noticed the market - the S&P 500 - had some modest valuation upside. If you're interested in reading that article, please click here. We do a lot of extensive fair value estimation on underlying S&P 500 constituents (among others), and their respective fair values (weighted appropriately) inform our market valuation. Let's affirm how we arrive at our current 1678 fair value for the S&P 500, using the SPDR S&P 500 (NYSEARCA:SPY) as a proxy, in this article.
Our ETF Report on the SPDR S&P 500 (SPY)
First, the SPDR S&P 500 is one of the most common ways to mirror the performance of the S&P 500 Index. We peg the ETF's fair value as $167.80 per share, which translates to a valuation of the S&P 500 of 1678 (the ETF recently closed at $163.45). The lack of a compelling valuation proposition (only modest upside, if it can be considered as such) leads us to believe that we're at the beginning of a rather large market correction (lower). We strongly encourage readers to view the underlying price-to-fair value ratios of constituents later in this article for more information.

Key Considerations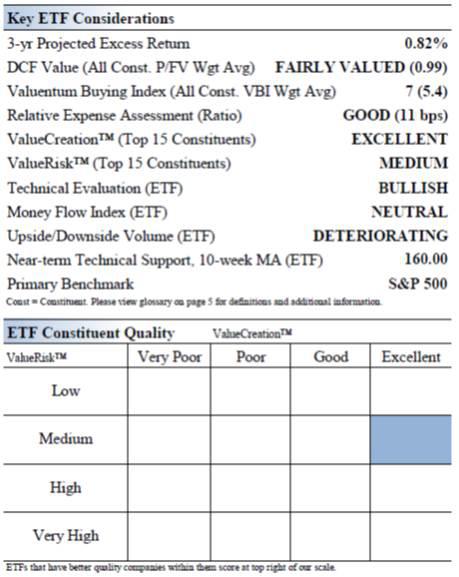 (Click to enlarge)
Expanded Portfolio Analytics
And now to the nitty-gritty. We show below the expanded portfolio analysis of the SPY's holdings. We've limited the image to the top holdings where we reveal our estimate of the price-fair value ratio of each holding based on our DCF valuation. You'll notice that we're actually bullish on quite a few names: Apple (NASDAQ:AAPL), Microsoft (MSFT) and Google (NASDAQ:GOOG) to name a few (please view the price/fair value column). However, rolling up and weighting all of the price-to-fair value ratios gets us to our 1678 valuation. We don't think this is enough for new investors (new money) to drive the market higher.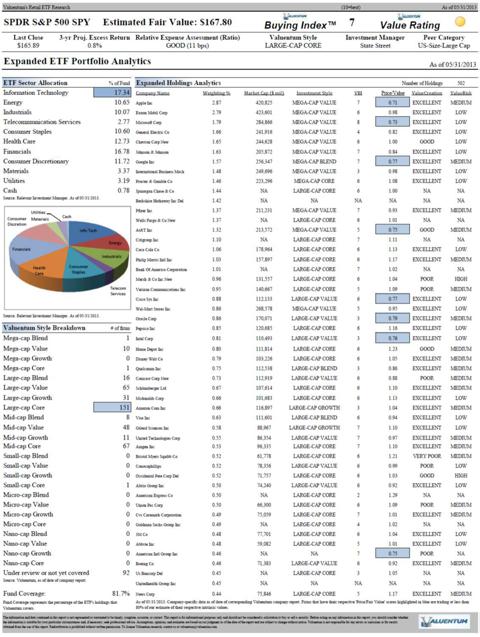 Disclosure: I have no positions in any stocks mentioned, and no plans to initiate any positions within the next 72 hours. I wrote this article myself, and it expresses my own opinions. I am not receiving compensation for it (other than from Seeking Alpha). I have no business relationship with any company whose stock is mentioned in this article.
Additional disclosure: AAPL, MSFT, and GOOG are included in our actively-managed portfolios.