Lexmark International (NYSE:LXK) is transforming its business model from a hardware-centric company to a solutions provider. Lexmark's history is rooted in providing printing solutions. However, in this digital world where content has been named "king," Lexmark's future is taking wing to solve information challenges by not just providing, but synergistically combining, output management, content management and process management.
The technological advancements in the printing industry changed business. In 1959, Xerox (NYSE:XRX) first produced photocopiers. In 1975, IBM (NYSE:IBM) introduced high-speed laser printers to business. By 1984, Hewlett-Packard (NYSE:HPQ) supplied households with a laser model. In 1989 and Canon (NYSE:CAJ) brought color laser printing.
When businesses adopted the Internet in the early '90s, it introduced the ability to exchange information electronically, dramatically impacting traditional printing and paper-based communication. Although the elapsed time to exchange information was greatly decreased, users were routinely frustrated with incompatible file formats. Factor in nothing short of an explosion of data as the floodgates opened. That explosion led businesses to grapple with the distinction between "data" and "information." Characteristics such as the quality, validity, legality or currency of data, information or content was, still can be, and often should be questioned. Significant investments are being made by 73% of CEOs to extract value from their companies' data.
In 1999, the Uniform Electronics Transactions Act (UETA) established the legal equivalence of electronic records as viable forms of agreement. During the '90s, businesses quickly found their workflow processes and storage systems were not effective or efficient for handling both paper and electronic records. Automation was necessary. The scanning, electronic storage, classification and retrieval of paper documents became a priority. Software known as Document Management Systems or Electronic Document Management met the needs while also providing automated workflow, change history tracking and secure access.
Electronic records worked fine when the user sat at a desk in the workplace. But, electronic records didn't fully eliminate the need for paper or printers. Businesses still found employees needed paper records and reports to carry out the door. Mobile computing was not yet the wave of the day. In this environment, Lexmark carved out a healthy livelihood providing printer hardware.
Before long, companies had multiple brands of printers, multiple models - both current and outdated, and nightmares regarding maintenance agreements, supply inventories and repair management. Lexmark began offering Managed Print Services (MPS) to clients. By analyzing printer usage, Lexmark put the right model in the right work environment. Supplies are provided on a just-in-time basis. Maintenance is performed in a timely manner minimizing breakage, costly repairs and downtime. Once the hardware is managed, Lexmark turns its attention to the printer output, the printed page. Wasteful and unnecessary printing is identified. Workflow and document management are analyzed to aid clients in cutting costs and increasing productivity.
Offering software solutions to capture, organize, manage and access documents, whether they are of electronic or paper origin, was the next logical step for Lexmark. In 2010, Lexmark began acquiring key software assets. The eight software companies purchased address content management and process management. Heading toward 2016, Lexmark projects output management (hardware, supplies, services) revenue to decrease slightly. In the same timeframe, it expects content and process management revenue to grow at least 10% per year from 2012 rates.
The Issue
Understanding the transition Lexmark is embracing is important to investors for one simple reason. When one merely views Lexmark's financial statements, revenue and earnings are declining. Revenue in 2011 slipped just over 0.5% from 2010. In 2012, revenue decreased 9% from 4.2 billion in 2011 to $3.8 billion. In 2013, revenue is expected to decrease 8 to 10% again. Earnings per share, however, decreased 3.8% and 73% in 2011 and 2012 respectively (inclusive of restructuring and acquisition charges). The reasons for the decline include exiting the inkjet business, currency exchange rates and income tax rate increases. In 2008, Lexmark sold its consumer inkjet-related technology and assets. In August of 2012, Lexmark announced the sale of its business inkjet-related development and manufacturing. The decline in revenue related to the inkjet business exit coincides with the ramp-up in software solutions revenue. But, Lexmark projects it will be 2014 before the imbalance levels out.
The question investors should be asking is whether this transformation is achievable. Lexmark is certainly not the first technology company to attempt the endeavor.
In the early '90s, IBM found its traditional mainframe computer business threatened by the shift to distributed client/server computing. IBM's annual net loss in 1993 reached a record $8 billion. New leadership at the helm of IBM embraced the fragmented, departmental world that distributed computing created knowing that a return to integrated business solutions would be necessary again. And, integrated business solutions was one of IBM's key strengths. Twenty years later, IBM continues to be a stalwart in the technology industry.
Cisco (NASDAQ:CSCO) is another technology stalwart embarking on reinventing itself. Cisco is the network hardware king providing some of the most innovative switches and routers in the industry. Cisco proceeded to define network service over a decade ago. By fiscal year-end 2012, service revenues made up over 21% of Cisco's total revenue. Recently, Cisco ascertained there is significant opportunity to transform from a box and service provider to an intelligent network technology provider. Businesses are demanding flexible and virtual and programmable networking. Cisco intends to meet the need.
There's a theory that technology and business trends are birthing the IoE - Internet of Everything. The IoE thrives on the premise of connecting the unconnected and unstructured - people, processes, data and things. Cisco estimates 99.4% of physical objects that could be part of the IoE are still unconnected. On Cisco's web page "Tomorrow Starts Here," it paints the breadth of the opportunity:
"The five main factors that fuel IoE Value at Stake are:

asset utilization (reduced costs) of $2.5 trillion;
employee productivity (greater labor efficiencies) of $2.5 trillion;
supply chain and logistics (eliminating waste) of $2.7 trillion;
customer experience (addition of more customers) of $3.7 trillion; and
innovation (reducing time to market) of $3.0 trillion.
The Opportunity
Lexmark's proposed transformation - "to take a leadership role in providing innovative printing, imaging, content and process solutions and services" - fits squarely into the IoE.
Print supplies have been the primary source of profit for Lexmark to date. A successful transition will result in a mix of recurring profits from print supplies, maintenance and support agreements, and software subscriptions. Lexmark estimated the worldwide spend for content and process management in 2012 exceeded $10 billion. It believes the market will be $15 billion by 2016 but also believes the total addressable market is significantly larger because the opportunity is so poorly defined. Its projection for software revenue increases from $162 million in 2012 to $500 million in 2016, just 3.33% of the identified market. By 2014, the combination of Managed Print Services and content and process management software is expected to account for about 30% of Lexmark's revenue.
The Competition
The software industry providing Enterprise Content Management (ECM) and Business Process Management (BPM) solutions is highly competitive. Not only are there many competitors, the field includes industry giants such as EMC (EMC), Oracle (NYSE:ORCL) and IBM. In 2011, IBM was the number one vendor in BPM solutions with 27.1% market share. According to Gartner, IBM is a leader in both the ECM Magic Quadrant and the BPM Magic Quadrant as depicted below: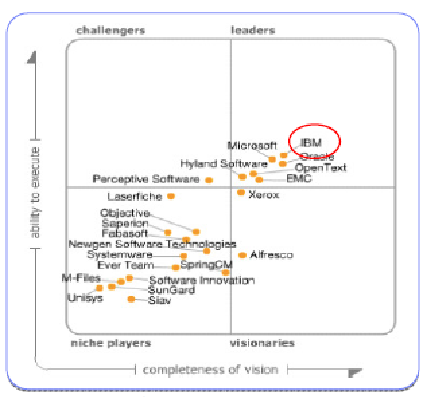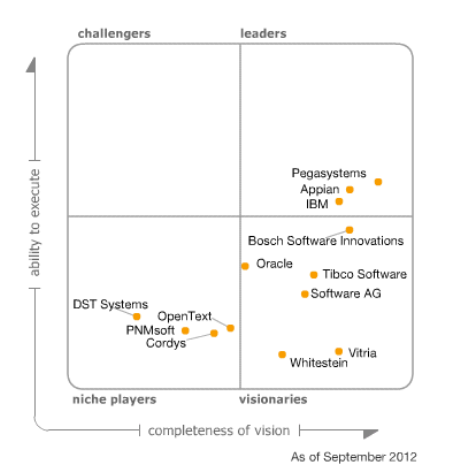 Notice that Perceptive Software is the only company in the Challenger quadrant. In 2010, Lexmark acquired Perceptive and is building the ability for customers to manage the lifecycle of their content based on it. Although Pallas Athena does not appear on the latest BPM diagram, it was included in the 2010 depiction.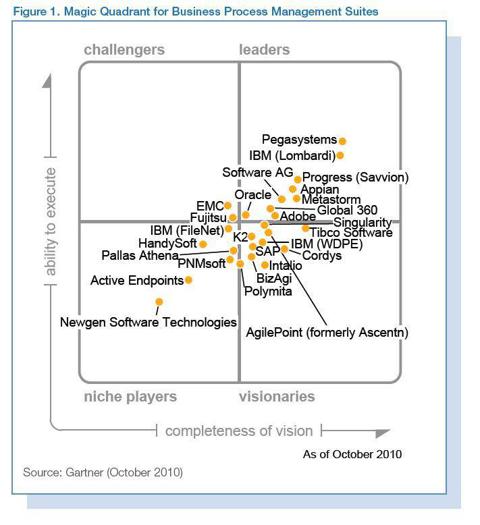 Gartner praised the company:
Pallas Athena is a European vendor that has been growing quietly, albeit largely, in the Netherlands. It has the best technology and visualization we've seen for automated process discovery, and also handles the case management process style exceptionally well.
The Progress
Lexmark's Smart A4 Laser Multi-Function Printer led the printer market in shipments in 2012. Multi-function printers perform document management functions besides printing such as copying, faxing and scanning. Such printers are the hardware piece in the puzzle of integrating hardware and software to achieve Enterprise Content Management (ECM) and Business Process Management (BPM). Revenue grew 62% from 2011 to 2012 for Lexmark's software solutions for ECM and BPM. Yet, revenue for "Software and Other" was less than 10% of total revenue in 2012. The software segment is still incurring loss and not yet contributing to profits. In the first quarter reporting for 2013, Lexmark revenues for ECM/BPM software grew 54% compared to the same quarter of 2012. Despite this effectual growth, profitability had yet to be achieved. Between 2009 and 2012, Lexmark outpaced the rest of the market by 100% in MPS revenue. Its retention rate in the period was 96%.
The recent software acquisitions provide the following capabilities:
Acuo Technologies - clinical content management of electronic medical records in the Healthcare industry

Nolij - web-based content management for the higher education industry

Isys - enterprise and federated search and universal information access

Brainware - intelligent data capture

Twistage - cloud platform of video, audio and image content

Accessvia - signage solutions for retail industry
The software from Brainware and Isys are complements in the Business Process Management segment to Pallas Athena with Brainware providing "capture" technology, Pallas Athena providing "process" technology and Isys providing "search" technology. The software from Nolij, Acuo and Twistage augment and deepen Perceptive Software's ECM capabilities. Finally, the software from Accessvia combines with MPS to allow customers to produce in-store signage.
The Potential
Lexmark's Imaging Solutions and Services, including its Managed Print Service, is the entryway to pitching ECM and BPM to its customers. Lexmark has customers in 170 countries deriving 55% of its revenue outside the U.S. in 2012. The customer list is long and impressive inclusive of nine of the top 10 worldwide banks, nine of the top 10 worldwide retailers, and eight of the top 10 U.S. federal agencies.
Being a trusted supplier, service provider and/or outsourcer for a company gives Lexmark a distinct advantage over competitors. Relationship is already established. And, established relationship with trust is not an advantage to be slighted. According to 1000ventures.com, trust is the core element of partnership between organizations in the world's rapidly changing knowledge economy. When organizations trust each other, one benefit is that fewer resources must be allocated to monitor the alliance. Another benefit of trust occurs when both partners face the unexpected together, adapt and achieve synergy in solutions. Trust creates confidence. Confidence, dependability and expectations of synergy enables organizations to get the best performance from everyone - employee and partner alike. Not only is trust a competitive advantage, it can be a moat to entry.
The Status
Lexmark's stock price has underperformed the market. A $10,000 investment five years ago would be worth $8,932 now. Revenue from 2010 through 2013 revenue projections form a distinct down trendline.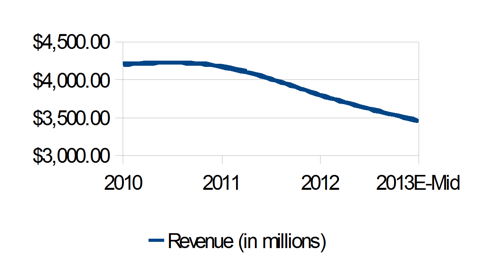 Lexmark has intensely eyed costs and expenses for several years. Restructuring has included consolidation of manufacturing facilities and exploitation of shared service centers as well as the exit of the inkjet technology. For 2013, restructuring activities are expected to generate approximately $113 million in savings. Between revenue declines, cost and expense wrangling, currency fluctuations, income tax rate variations, and one-time restructuring and acquisition costs, Lexmark's earnings per share amounts for 2010 through 2013 estimates don't display the same downward line.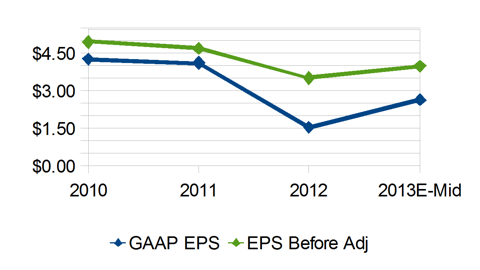 Lexmark has managed its debt levels well since the transformation began in 2010, even considering it acquired eight software companies in that timeframe. Its total debt to total capital ratio has been less than 36% consistently.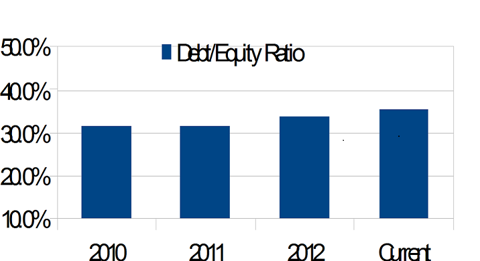 Cash flows since 2010 have sufficiently covered Lexmark's capital expenditures including acquisitions. Lexmark intends to return >50% of its cash flow to shareholders through share repurchases and dividends. In the fourth quarter of 2011, Lexmark initiated a dividend of $1.00 annually. In the second quarter of 2012, it raised the annual dividend to $1.20. Since 2011, share buybacks have totaled $461 million for a decrease of 15 million shares.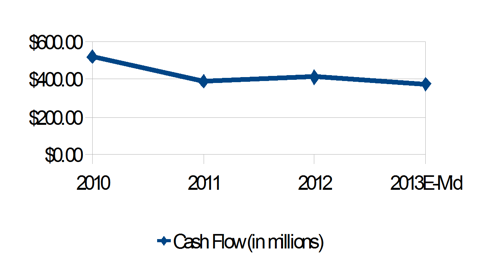 The Reward
As Lexmark transitions from a hardware-centric provider to a solutions provider, it will benefit from sales with higher profit margins. The software profit margin for the first quarter of 2013 was 68.8% as compared to 39.5% for the traditional hardware and supplies business. The appeal of software licenses is the recurring revenue generated from software subscriptions and maintenance agreements.
Building ECM and BPM platforms around Lexmark's multi-function printers will drive investment in hardware. On an ongoing basis, printer supplies have higher profit margins as compared to the initial hardware spend. The convergence of copiers, scanners, fax machines and printers will also drive hardware investment as will the expansion of color and graphics printing.
Lexmark is trading at a forward P/E of 7.33 based on its 50-day moving average and the midpoint of Lexmark management's 2013 non-adjusted EPS projection. A P/E ratio of 7.33 is a discount compared to industry peers. Using the midpoint of the 2013 adjusted EPS projection, the forward P/E is still only 11.14. As Lexmark accumulates more cash from sales with higher profit margins, lowers spend for the restructuring actions, saves on costs and expenses because of restructuring initiatives and continues its share repurchases, earnings per share will grow.
In 2010 and 2011, Lexmark traded at a P/E low of 6, which would equate to a value of $24.00 based on the midpoint of the 2013 non-adjusted EPS estimate. The 52-week low is currently $16.10 from July, 2012. The year-to-date low is $21.65, which would represent a 26% pullback from the current 50-day moving average. Considering Lexmark hit the high end of its 2013 first-quarter guidance, retracement to its 52-week low is unlikely. Rather, at a P/E of just 12 based on the midpoint of the 2013 non-adjusted EPS estimate, the share price could return to the 2010 high of $48.07.
Summary
Why would a printer company encourage its customers to reduce their printing? The answer is twofold: 1) because it is transitioning from a hardware-centric business to a solutions provider and 2) to drive its customers toward the value of improved content management and automated business processes.
Disclosure: I have no positions in any stocks mentioned, and no plans to initiate any positions within the next 72 hours. I wrote this article myself, and it expresses my own opinions. I am not receiving compensation for it (other than from Seeking Alpha). I have no business relationship with any company whose stock is mentioned in this article.