A few years ago, I wrote an article detailing why homebuilders would be the buy of the decade. While the article was ridiculed at the time, those who actually listened to my advice and sound logic were handsomely rewarded, as many of the stocks doubled and tripled (Pulte (NYSE:PHM), Lennar (NYSE:LEN), Hovanian (NYSE:HOV), and KB Homes (NYSE:KBH), to name a few). Now that the easy money has been made on the homebuilders, I'm focusing on what I believe is the next major growth area: the transition of real estate marketing to the web, specifically, Zillow (NASDAQ:Z) and Trulia (TRLA).
My thesis really comes down to one simple concept: Because of the bursting of the real estate bubble, the marketing of real estate was never successfully moved to the Internet. It just didn't make any sense. Why dump resources into modernizing a declining industry? Meanwhile, fortunes were made transitioning other traditional business models to the Internet -- think of Travel - Priceline (NASDAQ:PCLN), Human Resources - LinkedIn (LNKD), Movies - Netflix (NASDAQ:NFLX) and Retail - Amazon (NASDAQ:AMZN).
Real estate is next and the transition is just getting started. The opportunity is just too large. Think of it this way -- combined 2012 revenues for Trulia and Zillow were only $185 million. Meanwhile, real estate agent commissions were estimated at $59 billion, and real estate services GDP was nearly $1.7 trillion.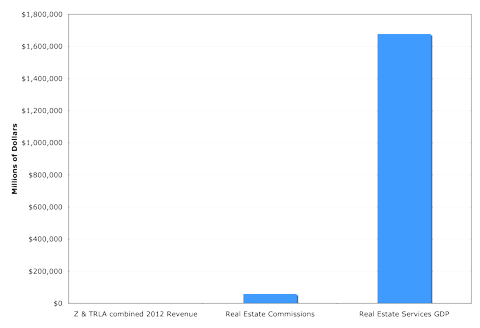 That's right -- online real estate marketing spend by real estate agents and brokers at the two largest players is basically nothing. We have an industry that essentially doesn't exist -- in a segment that will be growing substantially over the next few years as the real estate market recovers. While the naysayers and short-sellers continue to argue that valuations are rich with price to sales ratios greater than 5x and negative earnings, they are ignoring the most important metric -- the addressable market. The price to sales multiples simply don't 't matter much when the revenue and market capitalization of an industry are insignificant in relation to the size of the addressable market.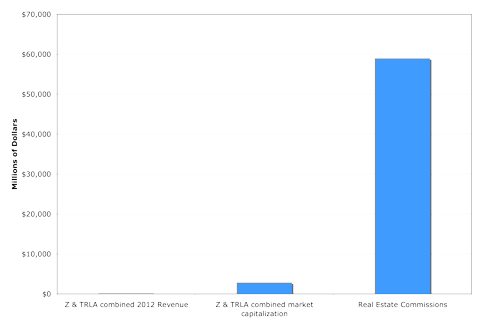 There is a counter argument to my thesis of massive growth in the online marketing of real estate. Some argue that these companies will never gain a substantial share of the commission kitty because of stale listing data and resistance from real estate brokers. I'd argue that thesis doesn't really hold water. Brokers want to sell houses. Buyers want to get information on the web and mobile devices. In the long run, a business does what the customers wants. As the market recovers, the smart brokers will be paying plenty of money out of their growing commission kitties to market their listings on the Internet (because smart phones and tablet computers didn't exist during the last cycle and customers now want to access information that way). Additionally, as more and more brokers start paying to market their properties online, you will have fewer and fewer stale listings -- a self-fulfilling prophecy of sorts.
The counter argument also ignores the amazing performance already exhibited by the underlying businesses. The traction and fundamentals have been nothing but amazing. The reality is that this seismic shift is happening already -- just look at the year over year growth of these two companies in the first quarter. Trulia's revenue are up 97%, Monthly Unique visitors up 62%, and Mobile Unique visitors up 122%. For Zillow, revenue was up 71%, Monthly Unique vistors were up 63%, and 55% of all visits took place on a Mobile device. Zillow also raised its full year revenue guidance for 2013 to $178-182 million, a 54% increase from 2012. Not to mention both companies were already cash flow positive in the last quarter. This is a huge and growing market, and it is only just getting started.
So which one do you buy?
I own both and I don't think you can go wrong holding Trulia or Zillow for the long haul. Just like the homebuilders were a few years ago, it is a "buy it and put it away" kind of trade. The current market is so small that although both companies are competing with each other, the reality is that they are both going to be taking share in a growing Industry over the next few years. Competitive position matters less in a new and rapidly changing Industry. I don't think it is an either/or situation -- it's more like a rising tide lifts all boats scenario.
That being said, I'm overweight Trulia relative to Zillow. Trulia is following a classic pattern that I've seen play out over and over again throughout my career (one of my first jobs on Wall Street was as a Risk Arbitrage Analyst): A company does a transformational acquisition that will be game changing in its rapidly growing industry, but the stock sells off because Wall Street and the investment community are too focused on the short term. And that is exactly what has happened to Trulia. It reported earnings recently and the stock spiked. Shortly after, it announced a transformational acquisition of Market Leader (NASDAQ:LEDR) that should have sent the stock running even more. Unfortunately Zillow reported weaker than expected numbers on the same day the acquisition was announced and Trulia sold off in sympathy.
I think the Trulia sellers are missing the forest for the trees by focusing on the lower than expected Zillow numbers. In addition to being well positioned in a huge addressable market, the Market Leader acquisition changes Trulia for the better. Market Leader provides CRM (Customer Relationship Management) software to the real estate industry -- and has big clients -- including six of the country's ten largest brokers. This deal truly allows Trulia to provide a comprehensive end-to-end solution to agents and brokers who market with the company. Rather than just market virtually, a broker can now track leads and manage the entire purchase and sale process. It is strategic and complementary. It gives Trulia a huge competitive advantage versus Zillow.
Given the weakness in Trulia after the announcement, I currently favor it over Zillow. But in a growing industry, where valuations matter less than the size of the addressable market, both should be winners. Buy a little now, buy a little more later if they go down. The discrepancy in the size of the addressable market relative to the market capitalizations of these two great companies is just too large to pass up.
Disclosure: I am long TRLA, Z, LEN, HOV, PHM. I wrote this article myself, and it expresses my own opinions. I am not receiving compensation for it (other than from Seeking Alpha). I have no business relationship with any company whose stock is mentioned in this article.