The bloodbath in Agency MREITs in May has many investors worried. Stocks like American Capital Agency (NASDAQ:AGNC) were down over 20% in the month. What if interest rates, specifically the 10-year Treasury, continue to rise? What if the Fed starts to raise interest rates ?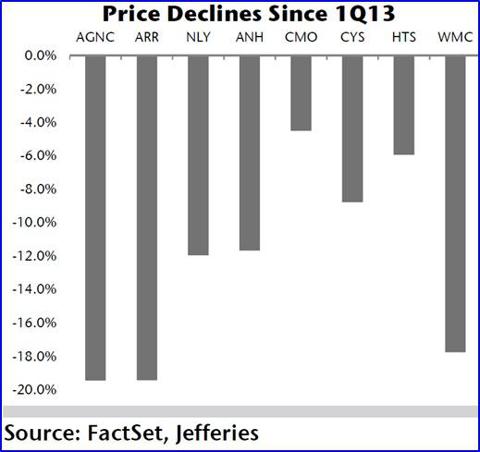 There is good news and bad news in the recent rate rise for MREIT investors. First, the bad news: rising rates pressure existing bond portfolios downward and especially long-duration MREITs. These include AGNC, Western Asset Mortgage Capital (NYSE:WMC), and retail favorite ARMOUR Residential REIT (NYSE:ARR). Hedging may offset some of the losses, but you can't change your spots overnight. These MREITs are what they say they are and if you are convinced rates are going higher and higher, these are the ones you do NOT want to own
The good news is that with the 10-year at 2.13% as of Monday it is up 50 bp. in a month, a move in relative and absolute magnitude that is not likely to be matched in size, let alone in speed. The 10-year Treasury traded at 2.28% in October 2011 after the risk-off trading of Summer 2011 (U.S. debt downgrade, Euro Crisis) was reversed. So despite much higher stock prices and much better conditions domestically and globally, the 10-year yield is actually lower. As for Fed Funds, the latest futures indicators show August 2014 and May 2015 for the first 25 and 50 bp. hikes, respectively. With short rates staying low and investment yields rising, spreads and dividends should be able to increase over time. This is not a repeat of 2004-06.
Of course, rising rates immediately impact book values downward. That same 10-year Treasury was 3.50% - 3.75% in early-2011 before falling to sub-2% levels. What do you do if rates are headed closer to that range, even if it takes a few quarters to get there ? What protection is there for MREIT investors ?
You have 2 alternatives to sticking with pure, long-duration concentrated agency MREITs or exiting the MREIT sector entirely. First, purchase some of the short duration agency MREITs that purchase adjustable-rate mortgages (ARMs). They yield less, but that is the tradeoff for share price and book value stability. Names to include here are Capstead Mortgage (NYSE:CMO) and Hatteras Financial (NYSE:HTS). CMO has been willing to buy back shares opportunistically, thus boosting Q1 2013 book value when buying back shares at a discount to book. Lately shares have been about 90% of Q1 book value. HTS has been at about 92% of Q1 2013 book value. Figure book value has been stable to down maybe 2-3% at most for both ARM-focused agency MREITs and you still are buying them at 95% or less of book value, not a bad deal considering the range most of the last decade has been 85-120% of book value, with a median of about 100% P/B.
You can see how short-duration ARM-focused MREITs like CMO and HTS have done in the last 5 days compared to the longer-duration fixed-MBS MREITs: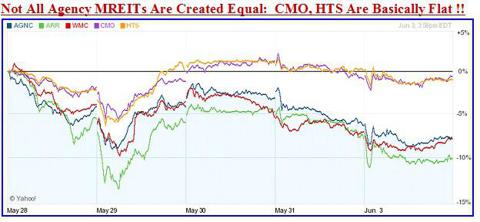 The pattern repeats when looking out over the last month: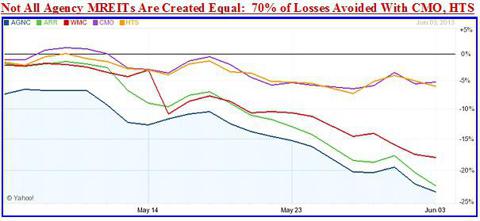 CMO yields 10.1% and HTS yields 10.8%. CMO is more focused on current-reset ARMs which could experience a bump in prepayments if rates move up (folks will want to lock-in low rates); HTS is about 90% adjustable mortgages with longer-reset 5/1 and 7/1 hybrid ARMs. CMO boosted its dividend by a penny in Q1 but HTS saw a shortfall in earnings relative to the dividend. The gap could pressure the quarterly dividend closer to $0.60 (still over a 9% yield), which if it is the trough yield would probably not hurt the stock price much from current levels.
Shortages of ARM production could be a problem as the MREITs may have to pay premium prices to replace current portfolio runoff. ARM production has been running at 5% or less in recent quarters because most borrowers or refinancers have preferred the low historical rates available on fixed-rate mortgages: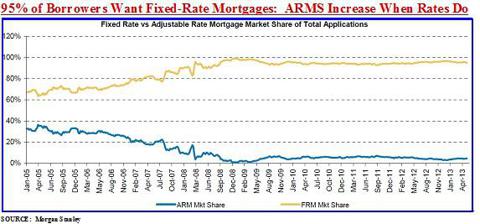 The second way to play the rise in rates is to invest in hybrid MREITs that have both agency and non-agency MBS. If rates are rising because of a stronger economy, that should be reflected in higher prices for credit-sensitive, non-agency bonds. Even if rates are rising simply because of the removal of abnormal forces - i.e., QE3 or the 2011 'risk-off' trade that knocked rates down by half - as opposed to a purely stronger economy, hybrid MREITs will still see non-agency MBS hold up better than agency MBS as they have higher coupons and shorter durations.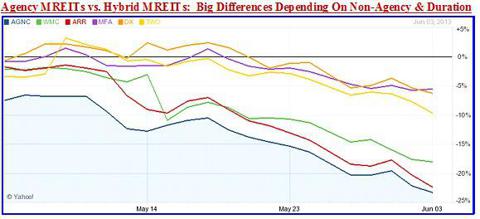 You can see that the hybrid MREITs - Two Harbors (NYSE:TWO), MFA Financial (NYSE:MFA), and Dynex Capital (NYSE:DX) - have all done much better than the agency MREITs like AGNC, WMC, and ARR. Their overall lower leverage - most hybrids are leveraged 3-6x compared to agency MREITs at 7-9x - and their holdings of non-agency MBS have helped insulate them from the rising rates. Certain non-agency MBS actually act like they have negative durations, which is what you want in a rising rate environment. Additionally, esoteric agency tranches like IOs can help mitigate rising rates, too.
Within the hybrid MREIT sector, if rates are rising you want a larger allocation to non-agency MBS and you want the agency MBS segment to be shorter maturities. Note that AG Mortgage Investment (NYSE:MITT) and Apollo Residential Mortgage (NYSE:AMTG) have both performed closer to agency MREITs recently because of their lower allocations to non-agency MBS and longer maturity agency MBS.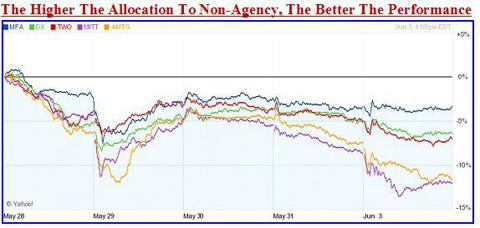 The 1-month performance is shown below: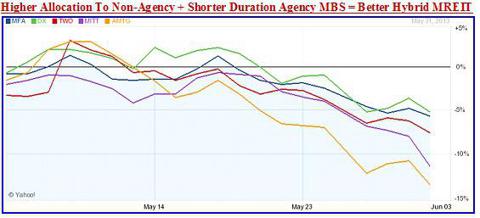 Hybrid ARMs - a type of agency MBS (not to be confused with hybrid MREITs) - are held by Anworth Asset Mortgage (NYSE:ANH), Capstead Mortgage, and Hatteras Financial. CYS Investments (NYSE:CYS) has been focusing more on 15-year paper, and having cut its dividend twice in consecutive quarters, is less exposed to dividend pressure. It also sells at close to 80% of Q1 stated book value (though actual BV is certainly less, meaning the current P/B is somewhere in the low-90's).
Actual Q1 stated book values for late-May can be seen below. Buying at 80% of stated Q1 book value probably means worst-case current book value is no worse than 90-92%: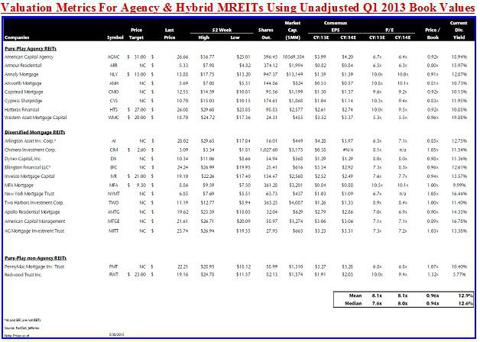 One sell-side firm's estimates for late-May book values for some agency and hybrid MREITs can be seen below:

Here are a few of my favorite hybrid MREITs:
Dynex Capital: Like CMO, Dynex Capital showed a modest book value increase in Q1 2013. CMBS and non-agency exposure help during rising rate periods. Management owns about 7% of the outstanding shares. About 65% of the portfolio is agency MBS, with the remainder in a smorgasbord of non-agency, agency and non-agency CMBS, IOs, and securitized loans. 70% of the agency allocation is in hybrid ARMs - another rising-rate plus. NOLs allow book value to increase without having to pay out all taxable income via dividends. Yield is still 11.4%, even with NOLs sheltering some income.
MFA Financial : 57% agency MBS and 43% non-agency. MFA has one of the longest-tenured managements dating back to the 1990's. Most of the non-agency MBS has already taken big write-downs; if credit conditions continue to improve, not only will these bonds be attractive yielders going forward, but they may have credit reversals that boost NAV. Of the non-agency, just under 2/3rds (63%) is hybrid ARMs, another plus. Yield is 10.0%.
Two Harbors Investment : The stock has come down below book value, a far cry from a few months ago when it was trading closer to 120% P/B. TWO distributed its shares of residential home owners Silver Bay Realty (NYSE:SBY) and a special dividend. No doubt this caused confusion in the trading and the largest hybrid MREIT by market cap is now on sale. In addition, TWO has just entered the potentially lucrative mortgage servicing rights (MSR) arena, and is looking to ramp this up in coming quarters. This quasi-mortgage business is another potential offset to rising interest rates besides TWO's non-agency MBS. As of March 31st, TWO was 80% agency MBS and 20% non-agency MBS with allocations to the latter increasing via recent capital raises.
If you are looking for history to assuage you, past rapid-rise moves have tended to fizzle out once they moved up, like the 1999-2000 Y2K rise in bond yields. Far more dangerous have been rate moves that have been modest in size, with the market under-reacting to fundamentals, and then correcting by overreaching to the upside later on. 1994 would be a good example of this as the market pooh-poohed a few 25 bp. Fed rate hikes and then panicked the rest of the year once the Fed kept hiking in larger increments. The bond market suffered its worst year ever in 1994.
With yields up almost 30% in about a month, the size of such a move and the speed are not likely to be replicated. MREITs can withstand slowly rising rates, but hedges and portfolios are not designed to insulate against volatility. Such a cushion is what the equity capital is for.
I don't think it makes sense to completely exit this sector, though my bullishness on agency MREITs specifically, and the MREIT sector in general, have waned in recent quarters. It is no longer 2008-11. But it is not 2004-06, when the Fed raised short rates and portfolio spreads and dividends got crushed. Valuations on a P/B basis are also quite reasonable relative to past history.
Depending on your overall portfolio construction of risk and non-risk assets, MREITs offer a decent risk-reward valuation at current levels. If you have avoided the sector or are underweight, you can start to nibble. If you are overweight the agency MREITs, shift some money to hybrids. Trouble in the stock market is likely to see bond yields fall, which would be a plus for MREITs. Finally, keep an eye on the iShares Barclays MBS Bond ETF (NYSEARCA:MBB). It is a good proxy for what many of the agency MREITs own. Declines in agency MREITs not confirmed by a decline in MBB are usually good buying opportunities, since the selling is not related to underlying asset problems.
Disclosure: I am long CYS, ARR. I wrote this article myself, and it expresses my own opinions. I am not receiving compensation for it (other than from Seeking Alpha). I have no business relationship with any company whose stock is mentioned in this article.
Additional disclosure: Online portfolios managed by the author are long all the stocks mentioned in the article.