Whenever the efficacy of using gold as a way to either "maintain" wealth or generate relatively superior real returns is questioned, those bullish on gold tend to respond with the following:
Since 1971 (when we went off the gold standard), gold is up 3,900% vs. a 1,626% gain for stocks (without dividends)
Since 2000, gold is up 366% vs. a mere 10% gain in stocks (NYSEARCA:SPY)
In regard to the first response, is it really fair to use $35 as a starting point? With gold fixed at that price for most of the century, gold prices were obviously artificially suppressed. Shortly after the Bretton-Woods Agreement, gold shot straight up to $186/oz, and then declined to $103. Monetary concerns swelled as the 70s came to a close, and gold rose to $873/oz. The difficulty here is in figuring out fair value for gold in 1971. Let's give gold bulls the benefit of the doubt and say it was only $100/oz, despite the immediate move to $183.
Gold spent the first half of the 80s declining to $290, and subsequently fluctuated between about $300 and $400 for the remainder of the 20th century: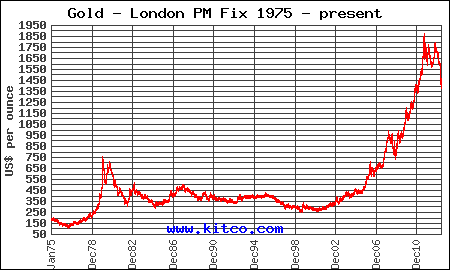 As for the second argument, using 2000 as the starting point for stocks is nothing short of ridiculous. The P/E ratio in 2000 was approximately 27.5 - 77.4% higher than the historical mean of 15.5. Of course, gold has also had the best twelve-year run in its history. Talk about data mining.
It's clear that 2000 is a silly point to start comparing returns, and it's apparent that gold wasn't fairly valued at $35 in 1971.
Using $100 as the starting point in 1971, gold is up 1,110%, vs. 1,626% for stocks (without dividends reinvested, which drastically alters the returns: 6,034%). If we use $183 as the starting point - reasonable considering the initial move - the return is 665%. Using the midpoint of about $140, we get a 900% return from gold. It's not even a contest.
This analysis is certainly not perfect, but it's better than using the $35 fix as a starting point. When I hear people moan about comparing stocks and gold from a date like 1900, saying "well, gold was fixed at $35 so it's not a fair comparison," I can't help but put my face in my hands. It doesn't matter that gold was fixed at $35, as gold theoretically found fair value once the fix was lifted. If you think it matters, you're implying that gold's current value would be higher today if not for the price fix. Yet, why would that be the case? Gold has had more than 40 years of free trade (I guess I forgot, gold is constantly being manipulated lower by those damn bankers).
If we compare the returns of some of America's best businesses vs. gold, the evidence is even stronger.
Coca-Cola (NYSE:KO) closed at $.91 (adjusted for splits) on the first trading day of 1971. Since then, KO is up 4,353% without dividends (either reinvested or simply earned). Boring old consumer-staples giant Procter & Gamble (NYSE:PG) was worth $1.83 in 1971, providing investors with a 4,111%, dividend-excluded return. Investors in Exxon-Mobil (NYSE:XOM) are up 4,036%.
The common response to the above figures is, "yeah, well how could you have known these stocks were going to do so well." The answer: you couldn't have known, but the far superior returns speak to the power of compounding returns for great businesses. The takeaway is that if you buy great businesses that have strong brands at prices that offer a solid margin of safety, you'll be paid handsomely for a long time.
Besides, the returns of these blue chips aren't necessary to prove the superiority of stocks over the long haul given the returns of stocks (without dividends) vs. a range of fair values for gold in 1971.
It's a lot more fun (and profitable) to buy businesses that provide you with a steady and growing stream of income and rising equity value than it is to hope that someone will pay more for your gold down the line.
Finally, though it's beyond the scope of this article, it's reasonably likely that gold is tremendously overvalued. Its historic rise can be largely attributed to the fear of currency collapse - a rather strange fear to those who have a decent understanding of the modern mechanism through which money is created and credit is extended. I too used to fall prey to the concern that "the fed is pumping money into stocks," and "the money supply is exploding, making the dollar less valuable." I'll outline these misguided concepts in another article.
Despite the 150% rise since the March '09 lows - compared to a mere 51% rise in gold over the same period, nonetheless - those buying shares of Wells Fargo (NYSE:WFC) or Coca-Cola will do substantially better than those investing in either physical gold or an ETF equivalent like (NYSEARCA:GLD).
Disclosure: I am short GLD. I wrote this article myself, and it expresses my own opinions. I am not receiving compensation for it (other than from Seeking Alpha). I have no business relationship with any company whose stock is mentioned in this article.
Additional disclosure: Long WFC