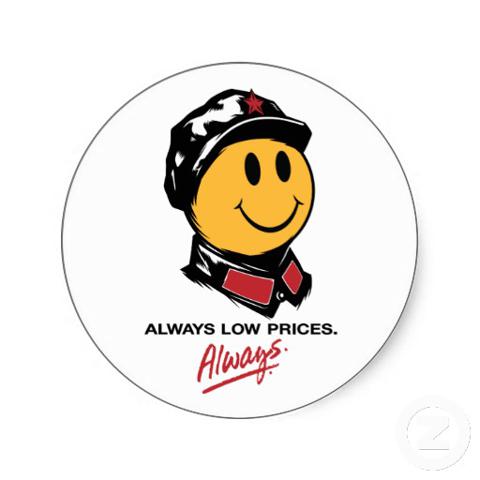 Wal-Mart (NYSE:WMT) is the giant retail company that is globally known for its slogan- "Low price, always." The said slogan has earned the company billions of dollars over the years as the management built its business model around the tagline. In this article, I will prove to you that Wal-Mart, as a company, is also an under-valued blue chip by the market - a mega-corporation selling at a discount.
Company Profile
Wal-Mart operates the largest chains of discount and retail store worldwide. It has an extensive network of branches and physical stores covering 90% of Americans geographically. The majority of Americans are only 15 minutes away from a Wal-Mart store and almost everyone in the world will purchase at least 1.1 times at a Wal-Mart store in their lifetime. The retail store empire has 8,500 discount stores in 15 countries with over 2 million employees. It has been an integral part of popular culture and arguably one of the most known companies in the history of capitalism. With the company's sheer size, it is considered one of the fundamental driving forces of the American economy.
The late Sam Walton founded the company in 1962 after quitting his job at J.C. Penney (NYSE:JCP). After that, he started transforming his first store into one of the most influential and popular mega-retail stores in the world. WMT has championed itself in providing quality goods and supply at a discount, which makes the company remain on the good side of the public. It is one of the first pioneering companies that perfected the higher-volume sales with lower profit margin business model.
Stock Analysis
Outstanding Returns for an Outstanding Company
The company has posted 17.61% year-to-date return and has performed in tandem with the market. Wal-Mart is probably one of the most stable blue-chip companies in the stock market scene. The company has a price-to-earnings multiple of 15.24x and is still expected to get lower down to 14.55x. It will be supported by the estimated earnings-per-share of 5.3 compared to this year's 5.07. As an investor, this is a good time to accumulate shares of WMT as it becomes cheap relative to its earning power.
Financial Performance

source: Bloomberg Businessweek
The company is as big as it sounds with a total market capitalization of $249 billion USD. Year-on-year, WMT has been able to grow its revenue numbers from $447B USD to $469B USD end of FY2012, which can be attributed to the decreased SG&A costs of the company. WMT generates income at a very efficient level with an ROE of 23.62% and ROA of 8.72%, while managing to keep the margins at an acceptable level. It is represented by the company's average gross profit margin of 24% in the last five years. Hence, the bottom line figure also grew by 8% last fiscal year 2012. According to the financials, Wal-Mart is still cheap relative to its potential upside and reliable growth potential.
Constant Capital Appreciation and Dividend Plays
source: Ycharts
Over the last five years, WMT has posted 46% return to the shareholders and a very impressive 97.89% increase in dividends. The company has been a consistent performer in the stock market as it delivers outstanding financial performances while also being generous in giving dividends back to the investors. The company's 5-year dividend growth is at an impressive rate of 13.65%. For investors and readers, it means that WMT can do more than just preserving your capital and beating inflation. It also has the attribute to give you a reliable fixed income yearly, which makes it a very unique and attractive stock. The company is now offering $1.88 per share with a dividend-yield of 2.29% year-on-year. In this perspective, we can look at WMT as both an income and growth stock. Though the growth may not be as outstanding as the new technology companies, WMT still delivered a steady increase in terms of price appreciation relative to its age as a company. Wal-Mart reliably snowballs the value of the shareholders for the long term.
Conclusion
Wal-Mart is an under-valued blue-chip stock that performs excellently in various market conditions. Its price is still low comparative to the value it is adding to the shareholders. I highly recommend adding some WMT stocks in your portfolio as a steady stream of income through dividends with reliable capital appreciation over time. Buy WMT as it is selling at a discount. As the slogan goes, "Low Prices, Always."
Disclosure: I have no positions in any stocks mentioned, and no plans to initiate any positions within the next 72 hours. I wrote this article myself, and it expresses my own opinions. I am not receiving compensation for it (other than from Seeking Alpha). I have no business relationship with any company whose stock is mentioned in this article.