Editors' Note: This article covers a micro-cap stock. Please be aware of the risks associated with these stocks.
Mutual funds, pension funds or other institutional investors are the major players in the share market. Decisions to buy or sell by these institutions can drive share price development and typically have a strong effect on other owners. Institutions tend to buy in large quantities and also tend to perform extensive due diligence before joining a share registry with resources and expertise at their disposal that retail investors can only dream of. Institutions also have a tendency to support stocks they own by stepping up their buying in times of share price weakness, which in turn might attract retail investors back to the stock. This mechanism often provides stability to the stock price.
While institutions typically take their time to build a position in a particular stock, they are not always as patient when it comes to selling. If one or more large owners rush to the exit then this can create undeserved downward pressure. We therefore like multiple institutions to be present with balanced holdings to minimize the impact of one of these institutions selling.
Small companies usually have relatively few shares outstanding, and their total worth is modest. Institutions don't tend to buy into micro- and small-cap stocks, but will do so once the stock grows and they have convinced themselves on the potential. Once a buy decision by an institution has been made, the position will be built continuously over time and in the process will drive the share price higher. This typically represents a great opportunity for speculators who had the foresight to buy a stock before institutions became interested, or investors who happen to observe the interest and buy early on during institutional buying.
For all these reasons it often pays to observe the moves of institutions when pondering buying into, or selling out of a particular stock or sector as a retail investor.
Using data published on Nasdaq.com we collated a data base detailing institutional holdings of silver mining equities. In this article we would like to share our data and offer some interpretations. The data we are presenting in the following was last updated at the end of the first quarter 2013. As such, these holding reports date back to a time before the recent severe drop in precious metal prices. We will update our data once it becomes available for the second quarter and we will be very curious as to what changes we will be able to observe. For the time being, here is the situation as of March 31 2013.
In alphabetical order, these are the 16 companies we have included in our research: Aurcana (AUNFD.PK), Avino Silver (NYSEMKT:ASM), Coeur Mining (NYSE:CDE), Endeavour Silver (NYSE:EXK), Excellon Resources (OTCPK:EXLLF), First Majestic Silver (NYSE:AG), Fortuna Silver (NYSE:FSM), Great Panther Silver (NYSEMKT:GPL), Hecla Minin (NYSE:HL), Impact Silver (OTCPK:ISVLF), PanAmerican Silver (NASDAQ:PAAS), Revett Minerals (NYSEMKT:RVM), Scorpio Mining (SMNPF.PK), Silver Standard (NASDAQ:SSRI), Silvercorp (NYSEMKT:SVM) and SilverCrest (NYSEMKT:SVLC).
For each of the listed companies we collated values for total institutional holdings (labeled inst. total), the holding of the largest single owner (labeled top 1) and accumulated holdings of the top five institutional owners (labeled top 5) and top ten institutional owners (labeled top 10). The results are shown in the diagram below. Three companies out of our list had no records of noteworthy institutional holdings and were therefore not included in this diagram. These companies are Aurcana, Excellon Resources and Impact Silver.
The second diagram illustrates changes in institutional holdings during the first quarter 2013 for the same companies.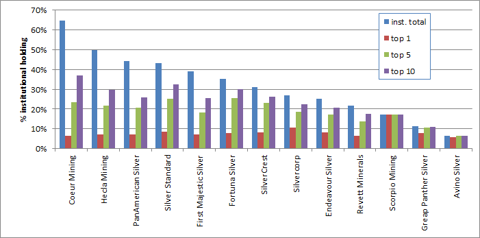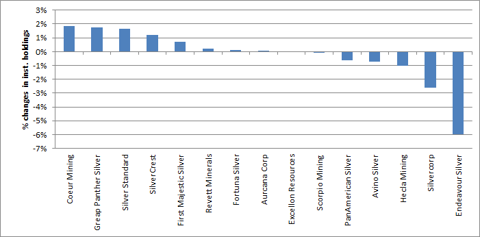 Observations
Correlation between market capitalization and institutional holding is high at 0.74.In other words: higher market captilization attracts higher institutional holdings. For silver mining companies with large portions of the share registry taken up by institutions the distribution is usually balanced between several institutions.
We noted that Van Eck Associates are the major shareholder in just about every single one of the larger silver mining companies in our list, with the notable exceptions being Fortuna Silver Mines, Silver Standards and SilverCrest. Van Eck is the largest provider of mutual funds in the precious metal mining space (among others) and their holdings deserve special attention. Silver miners are included in Van Eck's Market Vectors Gold Miners ETF (NYSEARCA:GDX), Market Vectors Junior Gold Miners ETF (NYSEARCA:GDXJ) among others. Changes in the weightings of these funds tend to move the share price of the affected companies.
In the case of Silver Standard the top holder is Royce Associates who have been selling heavily and Van Eck is recorded in close second place. Our data provides no indication of Van Eck buying more stock of this particular company.
SilverCrest and Fortuna Silver on the other hand have displayed strong growth and we would identify these two companies as possible candidates to pique Van Eck's interest in the not too distant future. Both these companies have strong fundamentals and have shown up on our radar (for example, see here, here or here).
Of the 4 companies with more than $1B market capitalization we noted First Majestic Silver with disproportionate low institutional holdings. First Majestic has been showing very strong growth and continues to outperform its peers. We would suggest that there is a strong possibility that institutional holdings for First Majestic Silver will catch up with peers which would provide upward momentum for the share price. On the other hand, institutional holdings of Coeur Mining are significantly higher compared to its peers, giving rise to the possibility of trimmings which could put some pressure on the share price.
Not unexpectedly, smaller companies tend to have single top holders with disproportionate weight. Scorpio is the most significant example here with Tocqueville Asset Fund holding 17% of the company and no other institutional owners present. Avino Silver is another junior miner with Sprott Asset Management as their single dominant institutional holder. Should other institutions decide to follow the lead of these funds then that could provide a perfect storm for the share price of these two companies.
Discounting shifts of less than 1% institutional holdings have been increasing in the first quarter for four companies: Coeur Mining, Great Panther Silver, Silver Standard and SilverCrest. On the downside we noted decreases in institutional holdings for Endeavour Silver, Silvercorp and Hecla Mining. Endeavour Silver is the standout in this context with almost 6% of the stock sold by institutions.
Disclosure: I am long AG, EXK, SVLC, HL, ASM. I wrote this article myself, and it expresses my own opinions. I am not receiving compensation for it (other than from Seeking Alpha). I have no business relationship with any company whose stock is mentioned in this article.