By Carla Fried
The 9.2% five-year annualized gain for the $5.5 billion BBH Core Select mutual fund thumps the S&P 500 by nearly four percentage points. The managers actually did even better; that 9.2% is net of the annual expense ratio, which runs a steep 1.25% for this fund. The fund also stands out over the past three and 10-year periods as well.
Parsing the portfolio of this large cap/mid cap concentrated value portfolio seems like a worthwhile exercise, especially given the fact that values today seem to always be couched as relative (to bonds), not as absolute deals. The fund's top five holdings (as of its March 31 disclosure) are Berkshire Hathaway A (NYSE:BRK.A), Comcast A (NASDAQ:CMCSA), U.S. Bancorp (NYSE:USB), Nestle and Novartis (NYSE:NVS) which account for about 24% of the 29-stock stock portfolio.
The only problem is that BBH takes a self-described "buy and own" approach that invests with a 3-5 year investment horizon. To be clear, that's years, not quarters. That translates into a portfolio that doesn't trade much. Annual turnover is 14%, according to Morningstar, compared to close to 100% for most actively managed mutual funds. Berkshire Hathaway was first added to the portfolio in 2006, Comcast in 2007 and Novartis in 2005. So just because the managers continue to own a stock that was initially purchased years ago doesn't mean the managers would necessarily consider the stock a buy at today's price.
Enter the spanking new BBH Global Core fund. It's a kissing cousin of the older fund, following the same investment process. The big difference is that, under normal conditions, it intends to keep at least 40% of assets in companies based outside the U.S. The older BBH Core Select fund current has 95% of assets invested in U.S.-based firms. Tim Hartch, a co-manager of the Core Select fund, is also co-manager of Global Core. Regina Lombardi is the other co-manager; she's been running the research team responsible for the consumer and media sectors of Core Select.
Given the fund launched at the start of this quarter, its portfolio is just-off-the-boat fresh. Interestingly, Berkshire Hathaway, the largest position in the older BBH Core Select portfolio, is not part of BBH Global Core Select. Berkshire Hathaway delivers on two key financial metrics BBH uses to estimate intrinsic value: return on invested capital and free cash flow. Perhaps the issue is that to get comfy with a new investment, BBH requires a "significant" margin of safety between the current price and the managers' estimate of intrinsic value.
A year ago Berkshire Hathaway traded at a price to book value of about one; today it's risen sharply to 1.4x book, making it less of a deal for the value seekers.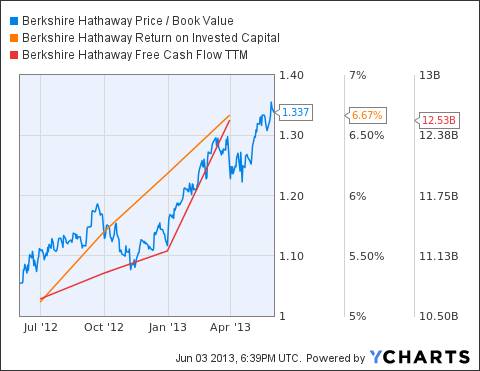 BRK.B Price / Book Value data by YCharts
That said, the top five holdings for the new portfolio are all part of the older fund: Google (NASDAQ:GOOG), Nestle, Novartis, Wells Fargo (NYSE:WFC) and Target (NYSE:TGT).
While tech stocks continue to stand out for low valuations, Google is the rare bird that hasn't spent the past few years fending off discussions that it's a has-been value trap; see Microsoft (NASDAQ:MSFT), Intel (NASDAQ:INTC), and most recently Apple (NASDAQ:AAPL). Over the past year, while Apple stock has given back 16% of its epic gains, Google is up more than 50%. But as this stock chart shows, for the valuation-minded BBH team, while Google's enterprise value has increased 50% over the past five years, price-to-book and price-to-cash flow have actually declined.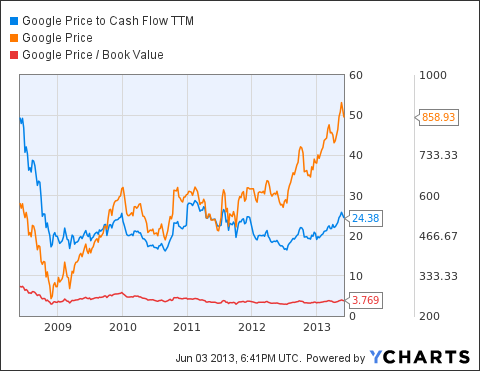 GOOG Price to Cash Flow TTM data by YCharts
All told, about 15% of the portfolio is riding on tech stocks; Qualcomm (NASDAQ:QCOM) and Microsoft joining Google. A sign of the managers' resolute insistence on value is the fact that not one penny of the fund is invested in utility stocks, telecom stocks or real estate stocks. Just something for the yield seekers -- you know who you are -- to chew on.
Carla Fried, a senior contributing editor at ycharts.com, has covered investing for more than 25 years. Her work appears in The New York Times, Bloomberg.com and Money Magazine. She can be reached at editor@ycharts.com.
Disclosure: I have no positions in any stocks mentioned, and no plans to initiate any positions within the next 72 hours. I wrote this article myself, and it expresses my own opinions. I am not receiving compensation for it. I have no business relationship with any company whose stock is mentioned in this article.