By David J. Phillips
Carl Icahn lost a proxy battle in 2011 to leverage his 10% ownership stake into four seats on Forest Lab's (NYSE:FRX) board. That said, news that chief executive officer Howard Solomon would retire after more than 35 years at the helm suggests the billionaire activist could renew his push for an outright sale of the struggling drug maker. Given Icahn's penchant for exploiting management missteps - and with no corporate succession plan in place - Forest Labs' days as a stand-alone company are likely numbered.
Despite Forest's industry-leading salesforce of approximately 3,000 reps, an earlier piece of investment analysis by YCharts showed that the company has demonstrated limited success in filling the earnings void created by the patent expiry for Lexapro, its erstwhile blockbuster antidepressant.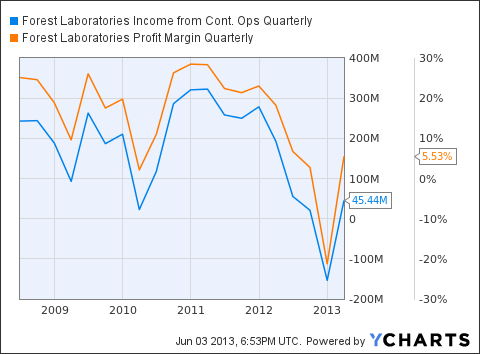 FRX Income from Cont. Ops Quarterly data by YCharts
If one doubts the dogged tenacity of Icahn, just look back on the expired independence of ImClone Systems, sold to Eli Lilly (NYSE:LLY) in 2008; MedImmune, bought by AstraZeneca (NYSE:AZN); or insider changes forced on Amylin and Biogen-Idec (NASDAQ:BIIB).
Potential bidders that could emerge are cash-rich, big pharma -- such as Lilly, Pfizer (NYSE:PFE), Merck (NYSE:MRK) and Johnson & Johnson (NYSE:JNJ) -- active in the same therapeutic disease spaces, and looking to complement their existing franchises with the drug maker's portfolio of cardiovascular, respiratory, central nervous system and respiratory treatments - and unafraid to cut duplicate overhead costs (such as Forest's bloated sales force, ineffective product marketing teams, redundant R&D programs).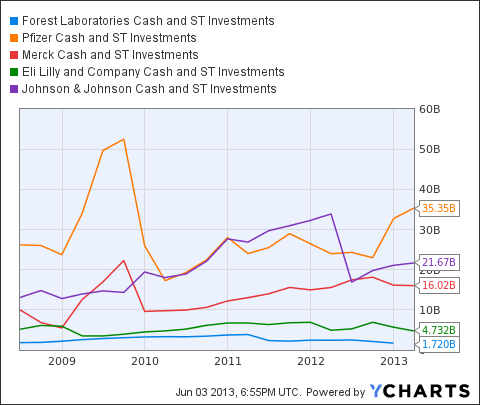 FRX Cash and ST Investments data by YCharts
Last month, Pfizer lowered its full-year outlook, as the drugmaker struggles to replace billions of dollars in eroded sales due to generic intrusion of key drugs in recent years: Lost marketing exclusivity includes the $2.7 billion psychotropic Effexor XR and $2 billion Alzheimer's drug Aricept in 2010; Lipitor, the $5.3 billion cholesterol drug, in 2011; and, multi-source generics introduced last year have decimated sales of the $1.35 billion schizophrenia blockbuster Geodon and the $600 million overactive bladder treatment Detrol LA.
Another company swaying on the patent precipice is Eli Lilly. The company witnessed sales for its flagship product, the anti-psychotic Zyprexa, plummet from $800 million in first-quarter 2011 to $195 million in first-quarter 2012 after losing patent protection in October 2011. The antidepressant Cymbalta (also used in the treatment of diabetic neuropathy and fibromyalgia), which accounted for 23.5% of the $5.6 billion in first-quarter 2013 revenue, will lose exclusivity in December.
Although the company recently let go about 30% of its U.S. sales reps to cut overhead, its plans to kick-start sales with new drugs has been littered with regulatory failures: On May 10, management said it ended development of enzastaurin after the experimental cancer drug failed in a late-stage trial to both extend survival and delay worsening of symptoms in patients with lymphoma; in January, the company discontinued a Phase-3 trial for tabalumab, a promising monoclonal antibody being studied for rheumatoid arthritis due to lack of efficacy; and, of particular interest - given Forest Lab's dominance in the Alzheimer disease [AD] treatment arena - Lilly's own AD drug solanezumab failed in a late-stage trial last year to either significantly improve the cognition or daily functioning of people with mild or moderate forms of the disease.
Johnson & Johnson posted solid first-quarter 2013 results, as sales and share-net increased 8.5% and 5.1% to $17.5 billion and $1.44, respectively. Investors should not, however, be cozened by the seeming strength of these numbers. Like its brethren, J&J will feel the hurt in the next few years as key products come off patent, including its autoimmune blockbuster Remicade (24% of total prescription drug sales), and best-sellers Velcade, a blood cancer drug, and the heartburn treatment Aciphex.
J&J has been beset with its share of clinical setbacks, too. Last August, the company announced the discontinuation of bapineuzumab, an investigation IV antibody being developed jointly with Pfizer that targeted beta-amyloid clumps in the brains of AD patients. Unfortunately, results showed that bapineuzumab failed to achieve the co-primary endpoints, namely change in cognitive and functional performance compared to placebo.
Another big pharma feeling the hurt from generic challenges to its intellectual property portfolio is Merck. Despite eliminating thousands of jobs, the New Jersey-based manufacturer recently lowered FY 2013 outlook by 15 cents to $3.45 to $3.55 a share, as revenue from its flagship diabetes Januvia franchise won't be enough to offset lost sales from multisource generics eating away at its $3.8 billion asthma and allergy blockbuster drug Singulair (patent expiry - August 2012).
Its migraine drug Maxalt, which generated $491 million in U.S. sales last year, lost patent protection in December. Additionally, the $1.3 billion nasal allergy-spray Nasonex and $1.0 billion brain tumor and melanoma treatment Temodar will face generic encroachment next year.
Echoing the pipeline shortfall of other big pharma companies, Merck is also dealing with R&D setbacks, including recent decisions to terminate development of a promising meds for cholesterol and Parkinson's disease.
Additionally, last June the FDA rejected its bone cancer drug ridaforolimus due to a lack of overall survival benefit.
Forest Labs is sitting on several drugs that could boost the fortunes of the aforementioned drug-starved manufacturers: Namenda XR, which is approved for the treatment of moderate and severe Alzheimer's disease; Bystolic, a beta-blocker for the treatment of hypertension, and which holds promise in varying hypertensive combination therapies; Savella, which is approved for the management of fibromyalgia; and, the novel chronic obstructive pulmonary disease [COPD] drug Daliresp (first-in-class med approved for "reduction in bronchospasm flareups"). Management excuses to the contrary, not one of these drugs is living up to peak sales potential.
In the U.S. alone, analytics firm Datamonitor estimates the commercial potential for fibromyalgia could exceed $2.5 billion by 2018. Forest Labs expects fiscal 2014 Savella sales of $106 million, barely above fiscal 2013 sales of $105 million.
Or, how about Tudorza Pressair, approved last July for the long-term maintenance treatment of bronchospasm (narrowing of the airways in the lung) associated with COPD, including chronic bronchitis and emphysema. In a market with commercial potential of more than $10 billion in sales by 2020, according to Datamonitor forecasts, a Bloomberg survey of analysts recently rang up consensus peak sales for this new drug at an anemic $267 million per annum.
With few game changers of their own on the pipeline horizon for these big pharma manufacturers, announced stock-share buybacks will do little to placate disgruntled stockholders. Given the overlap between these companies and the therapeutic areas covered by Forest Labs, a buyout makes logistical sense.
In an open letter to shareholder issued last August, Icahn presciently observed:
Forest today is an excellent takeover candidate for big pharma companies that I believe can pay a huge premium for a number of reasons, including the major synergies that a big pharma company could realize from an acquisition, as well as the ability of big pharma to better utilize and profit from the potential of the Forest pipeline that I believe Forest is unable to fully realize given its lack of scale and its inefficient sales and marketing structure and approach.
The potential acquirers each provide a dividend yield above 3%. Their PE ratios vary widely.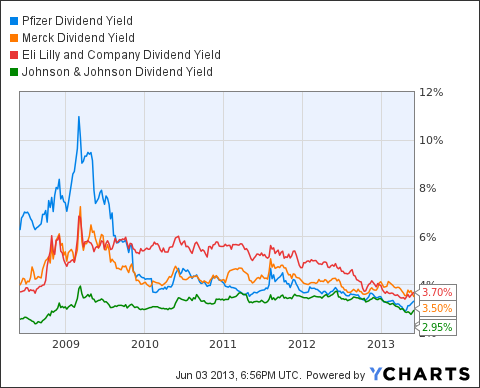 PFE Dividend Yield data by YCharts
Given poor performance, many analysts believe offers for Forest Labs could come in around $12.0 billion, or $45 a share, which represents about a 15% premium to the company's current market cap.
David J. Phillips, a contributing editor at YCharts, is a former equity analyst. His journalism has appeared in Bloomberg BusinessWeek, Forbes, and Kiplinger's Personal Finance. From 2008 to 2011, David was a reporter for CBS News Interactive. He can be reached at editor@ycharts.com.
Disclosure: I have no positions in any stocks mentioned, and no plans to initiate any positions within the next 72 hours. I wrote this article myself, and it expresses my own opinions. I am not receiving compensation for it. I have no business relationship with any company whose stock is mentioned in this article.