We were asked yesterday about adding uranium names here and now we would do it. Because of that request we decided to spend a bit of time today running over the names with US exposure and how best to create a portfolio (include Cameco!). So long as the general market remains strong we have no problem nibbling on these names, but we are not big buyers until we see our way through the summer and are just a few months away from what we believe will be Russia ending their supply agreement with the rest of the world.
Chart of the Day:
Wheat has been under pressure and the news now is that countries are looking to stop imports due to the modified crops found out in Oregon. We shall see how this impacts prices over the next few weeks.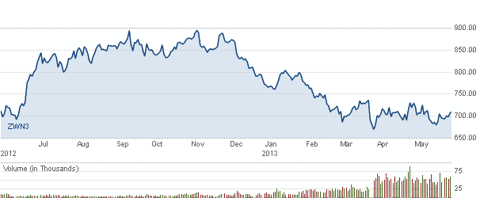 Chart courtesy of Yahoo Finance.
Commodity prices this morning are as follows:
Gold: $1399.90/ounce, down by $12.00/ounce
Silver: $22.455/ounce, down by $0.266/ounce
Oil: $92.96/barrel, down by $0.49/barrel
RBOB Gas: $2.7898/gallon, up by $0.0047/gallon
Natural Gas: $3.983/MMbtu, down by $0.008/MMbtu
Precious Metals
Yesterday the gold miners ETF, Direxion Daily Gold Miners Bull 3X Shares (NYSEARCA:NUGT), saw shares rise over 9% as many of the names rallied along with the price of gold. Volume was above the three month daily average and everything was rosy. Today we have the US dollar showing strength and flexing its muscle with gold prices falling as a result and we would expect to see another rotation out of the leveraged ETF name today. It might be worse in the morning than later in the session on account of the leverage and the buying/selling which will need to occur early in the session.
The past month has been a volatile one for the leveraged gold ETF.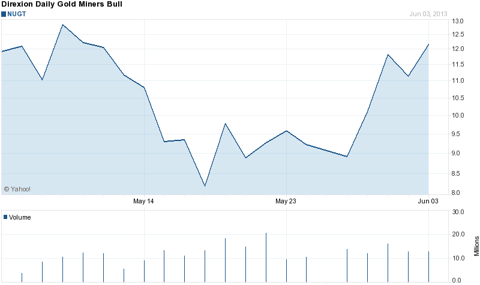 Chart courtesy of Yahoo Finance.
Uranium
We have seen some of our uranium names pull back from recent highs and others have even gone into the summer doldrums we have discussed before. One name which has bucked the trend however is UR-Energy (NYSEMKT:URG), which continues higher day after day it seems. We like the story here and the fact that they have the foundation in place to hit the ground running once mining commences, however on a valuation basis, when compared to peers, there are better names to be adding right now to the speculative uranium portfolio.
All of the uranium companies have rallied from recent lows, but one thing is for certain and that is right now UR-Energy is outperforming its peers over the past few weeks.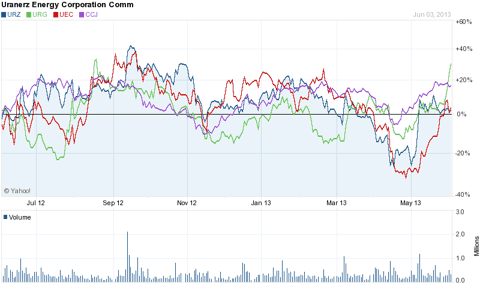 Chart courtesy of Yahoo Finance.
So we were asked yesterday where we thought the buys were and it should be obvious that Cameco (NYSE:CCJ) is a buy almost at all times for one trying to set up their uranium portfolio, as this reader was. It is the pure play, 800 lb gorilla in the industry (with Areva being the other 800 lb gorilla but far more diversified within the nuclear field) and has a wide array of experts who know how to mine via ISR, underground and traditional mining techniques. They have a wealth of knowledge and if anyone is going to open another underground mine in Canada's prolific Athabasca region, they will undoubtedly require either Cameco's expertise or their capital.
For exposure to American uranium production we like Uranium Energy Corporation (NYSEMKT:UEC), a name we have covered in detail in the past and really like due to their location in Texas. Texas was able to help the company beat their junior peers to production by years and UEC has taken full advantage of that putting their satellite mining program into effect. The company's deposits are smaller than others' and they have built a central processing facility which will then have the mined ore shipped to it and processed. It saves the company money by not requiring them to build numerous plants and makes these smaller deposits economical. We also like the entry point here and believe there is 10-20% upside in the next few months.
For those who wanted to buy UR-Energy shares, as you wait you might want to take a look at Uranerz Energy (NYSEMKT:URZ) a company with a similar situation in Wyoming. It is not UR-Energy in terms of properties, however the capital structure is more favorable for investors as there are fewer shares outstanding and the day traders are much more familiar with this name. The company will have to implement a strategy much like UEC does in Texas, where they use a centralized plant and we also believe that they may have to utilize others' facilities as they develop some of their smaller deposits. None of this has been mentioned and is merely an educated guess on our part, but when you look at the map and the cost of the necessary infrastructure it is the only thing that makes sense. If they must use others' facilities they will have lower margin production, but they will also require less upfront capital. So it is a muted drawback and a nonevent, so to speak, in our book.
We are going to continue to update readers on the happenings in the industry and will give our opinion as to where to look or some winners as we think this is an emerging play once again.
Disclosure: I have no positions in any stocks mentioned, and no plans to initiate any positions within the next 72 hours. I wrote this article myself, and it expresses my own opinions. I am not receiving compensation for it (other than from Seeking Alpha). I have no business relationship with any company whose stock is mentioned in this article.