European markets are higher this morning and Asian markets finished mixed, with Japan's Nikkei continuing to trade in a volatile manner. It appears that the US markets shall be the voice of reason with steady movements while Japan will continue to be the risk-on and risk-off trade. Right now Europe is lucky enough to have investors not really care about it, and the lack of attention is a good thing for markets over there. One would only hope they take this opportunity to fix their issues while not under the watchful eye of bond vigilantes and other elements which could make life once again difficult for European leaders.
Looking at US markets, much attention has been upon the biotechs and technology companies lately. The volatility is pretty amazing in both cases but we find ourselves in awe of how fast technology is altering the landscape and just how fast the next generation of that technology is able to come to market, either from the same company or one of its competitors.
Chart of the Day:
Gold is seeing weakness as the US dollar is seeing strength. It is rotation and this rotation is creating more and more volatility. One good thing for gold bulls is the fact that we are seeing gold find support right around the $1400/ounce level.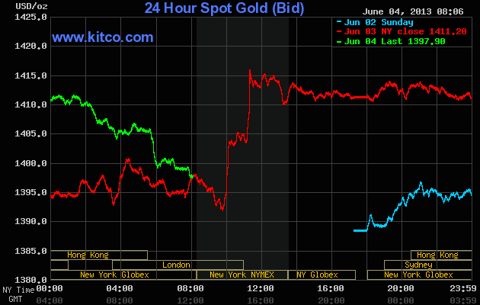 Chart courtesy of Kitco.com
We have economic news due out today, and it is as follows:
Trade Balance (8:30 a.m. ET): -$41.0 Billion
Asian markets finished mixed today:
All Ordinaries -- up 0.27%
Shanghai Composite -- down 1.17%
Nikkei 225 -- up 2.05%
NZSE 50 -- down 0.83%
Seoul Composite -- down 0.00%
In Europe, markets are higher this morning:
CAC 40 -- up 0.30%
DAX -- up 0.17%
FTSE 100 -- up 0.52%
OSE -- down 0.19%
Technology
Zynga (NASDAQ:ZNGA) bulls received a does or reality yesterday as the company announced that they were cutting the workforce by 520, or 20% of the overall headcount. The move is to bring the company's expenses more in line with their revenues and to live within their means, continuing a program they have been carrying out for almost a year. We have been pretty vocal about our dislike of the company and doubts that it was poised to do well as many daytraders thought. The latest move makes one question the company's ability to dominate, or even compete well within, the online gaming business. The traditional business has changed and the new avenues for growth, the online gambling business for instance, appear to be delivering underwhelming results. Shares finished the session lower by $0.41 (12.03%) to close at $2.99/share as volume surpassed 65 million shares.
Another internet name we have had concerns about finally had a reality check yesterday as Apple was reported to be seeking deal for its new iRadio service with big, respected news providers saying the service could launch as early as next week. The news is obviously bad for Pandora (NYSE:P) which right now dominates the area, but investors seem finally able to see the threats which once appeared well into the horizon. Yes, Apple (NASDAQ:AAPL) and Google will be fighting each other initially, however it is inevitable that they will make inroads and set their sights on Pandora's audience. Short-term Pandora could rise if either, or both, of the big names stumble out of the gate, but longer-term we remain concerned with their outlook.
Pandora had a great quarter and has been a poster child of success for new tech. Has all of that success attracted unwanted attention? It appears so.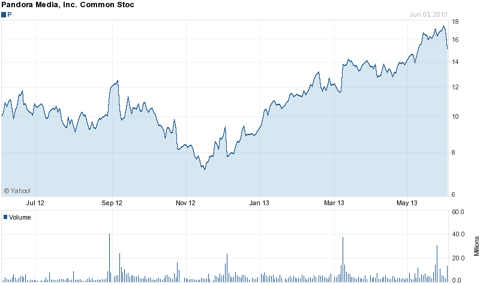 Chart courtesy of Yahoo Finance.
So all eyes shall be upon Apple now as they appear poised to make the next move. It was the New York Times that mentioned in an article that the company was rushing to lock up deals with record labels in order to announce the streaming service at its developers conference (see article here). The conference starts June 10th and if the service is announced could further take the wind out of Pandora's sails and not only stunt their revenue growth but also seriously skew their future comps.
These were some of the first so called 'social media 2.0' stocks to debut and their success has led others to mimic them. In the case of Zynga it was flattering at first but now is misery. As it pertains to Pandora the jury is still out but the verdict appears as it will come back in the opposition's favor. Especially because that opposition is named Apple and Google, two competitors with deep pockets and a history of moving into new markets and quickly dominating.
Biotechnology
MannKind (NASDAQ:MNKD) has been on a run as of late and the news after the close on Friday helped shares put in another solid day yesterday, with shares rising nearly 15% on the session. The shares hit another 52-week high on the session before closing a few pennies off of that level at $7.63 and volume was quite strong with 19.1 million shares traded. Timelines are developing here which should reward investors further and we now know that the company will release follow up data on AFREZZA later this summer. This looks like one of the biotech names that will need to be watched this year as this could be a very large blockbuster drug.
The drug looks promising and investors have been pushing shares higher. This summer will tell us a lot more about the diabetes drug AFREZZA.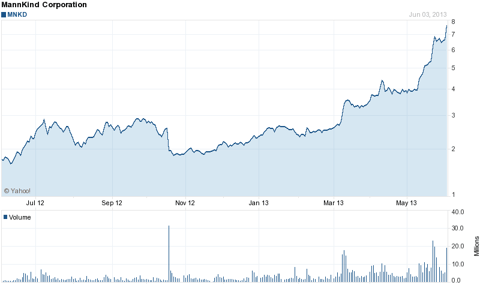 Chart courtesy of Yahoo Finance.
Infinity Pharmaceuticals (NASDAQ:INFI) was one of the big losers yesterday as shares tumbled $10.54 (39.11%) to finish the day at $16.41/share on volume of 12.9 million, well above the average daily volume over the past three months. The downward pressure resulted after investors received the Phase I data the company released over the weekend regarding IPI-145. Whereas investors did not like the news, two brokerages did and they came out to protect the stock. RBC and Jefferies both said that the data was good and the shares present very good value here. Make of the situation what you will, but in our book the market usually speaks louder than analysts and tends to be correct more often than not.
Disclosure: I have no positions in any stocks mentioned, and no plans to initiate any positions within the next 72 hours. I wrote this article myself, and it expresses my own opinions. I am not receiving compensation for it (other than from Seeking Alpha). I have no business relationship with any company whose stock is mentioned in this article.