Fundamental changes are taking place in the structure of the global economy. The acknowledged leaders of emerging markets represented by the BRICs group (Brazil, Russia, India and China) are being replaced by the newly created acronym - MIST group of countries (Mexico, Indonesia, South Korea and Turkey). Mexico, as the second largest of the Latin American economies, particularly stands out from this group. It seems that the 'Asian dragon' now has a worthy competitor. China has become the world's second largest economy exploiting its comparative advantages such as the low-cost labour force that it has a plenty of and the opening-up of the global economy due to globalization. Now Mexico intends to repeat China's success story.
Trade and Economy
The North American Free Trade Agreement, which came into force in 1994, has initiated the process of Mexico's integration into international trade. Currently, this country has signed free trade agreements with 44 states. These agreements assisted to Mexico in becoming the world's largest exporter of plasma TVs, Blackberry smartphones, and refrigerators. The rise of Mexico's manufacturing might will attract producers of consumer goods such as vehicles, airplanes, etc. who will move production capacities to Mexico. Here is an example of how rapid is the rise of Mexican industry. Six years ago this country was the ninth biggest producer of vehicles. Today Mexico exports 2.14 million vehicles a year and moved up to the fourth place after Germany, Japan and South Korea. Since 1990 Mexico's export has doubled, and today comprises 32% of GDP. Currently, Mexico exports more goods than all Latin American countries taken together.
The Chinese export mechanism absorbed billions of dollars, depriving other developing countries including Mexico. Now, when wages and transport costs are rising in China this makes corporations think of moving westwards.
By 2018, the US will be importing from Mexico more than from any other country in the world. The famous label 'Made in China' will soon be substituted by 'Made in Mexico'. Imports from Mexico to the US will reach 16%, leaving behind China at 15.8%. The share of exports to the USA from China will fall to 26.4%, from a peak of 29.3% in 2009. Mexico in the meantime shows a completely opposite dynamics.
For many years, Mexican entrepreneurs were suffering from the 'credit drought'. The reason for that is the so-called 'Tequila crisis' in 1994, when the drastic depreciation of the currency led to the collapse of the banking system. As a result banks had to clean up their balance sheets and avoid active credit growth. Currently, the situation is gradually turning around. Inflation has been held within 5% and credit issued to companies and household is growing by 16% and 23% respectively.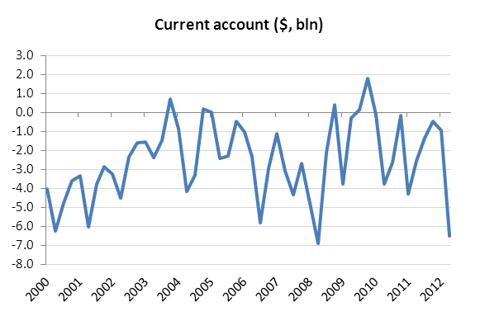 Source: Reuters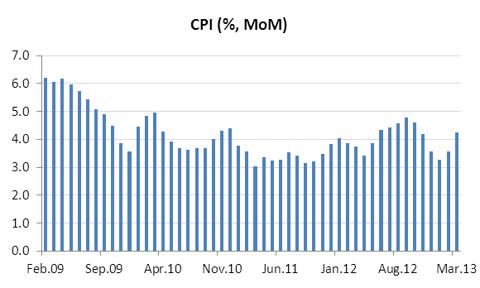 Source: Reuters
The current account deficit was registered at $6.49 billion in the fourth quarter of this year. Historically, during the period from 1960 to 2012, the average deficit was $1.5 billion, with a surplus of $2.1 billion in 1984, and a maximum level of deficit of $7.9 billion in 1994. In 2012 the deficit was $9.25 billion. Foreign direct investment fell to $12.7 billion in 2012 from $21.5 billion registered a year ago. At the same time, portfolio investment increased and doubled from $40.6 billion in 2011 to $80.2 billion in 2012. Increased attention from portfolio investors was caused both by the stable macroeconomic data, and higher yields in Mexican stock and bond markets as opposed to depressed yields in the developed markets.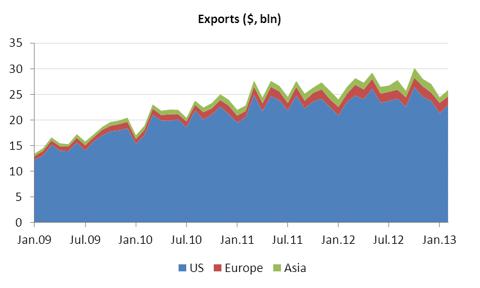 Source: Reuters
An hourly wage in Mexico is now only 31% higher than in China. In 2005 it was 217% higher. Therefore, it is no wonder that Sony, General Motors and Audi are actively investing in plants all over Mexico.
Average wage ($ per hour)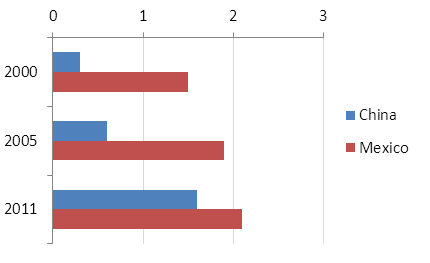 Source: HSBC
The most optimistic forecast of GDP growth is made by Nomura. According to its forecast, by 2022, Mexico will become the largest economy in Latin America, leaving behind Brazil. IMF is more conservative and estimated that it can take place in 2028-2029. It is too early to speak whether Mexico can realize these long-term forecasts, but the fact that the country has all the opportunities to achieve their goals is without doubt.
Demography
Today Mexico is one of the most successful countries in terms of demography. However, by 2020 Mexico could lose this competitive advantage. In 1960, every woman had an average of seven children. Now this indicator has fallen to 2.4, and by 2020 it will be 2.0. As a result, the birth rate will fall below that of the US of 2.1.
At the same time, average life expectancy will rapidly increase. In the 1960s most Mexicans did not reach the age of 50, and the average age was 17 years old. Nowadays, a Mexican on average lives until 77. As a result, the burden on the national budget will increase, as it has been seen in developed countries where the generation of baby-boomers is retiring.
The explosive birth rate growth in the 20th century was encouraged by the state. Mexico lost half its territory to the USA in 1848. The increased birth rate in some ways became a matter of national security.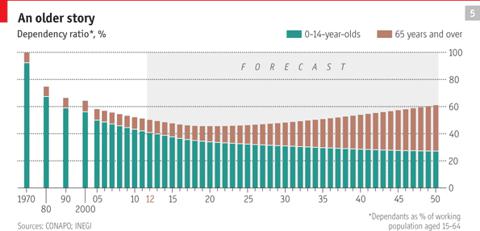 Source: The Economist
Everything changed in 1970. The middle class acknowledged the expense of big families, and together with decreased infant mortality, the birth rate rapidly decreased as well. Even the constitution allowed families to decide on the number of children in the family.
The falling birth rate improved the dependency ratio between the labour force and people outside the labour market (children and pensioners). If 40 years ago one employee had one dependent, today this ratio is two to one. As a result, the pressure on the social costs is gradually crippling up.
Nevertheless, today, in spite of the natural demographic transformation when the population is increasing, lots of labour power (a half of which is under 26) and low average age (27) give Mexico a very profitable position in comparison to other countries.
Risks and Problems
Economic growth during the last 20 years was on average 2.6% y/y. Mexico's performance is rather modest compared to 10% growth in China and 7% growth in India. At the same time, labour productivity today is lower than in 1981, and last structural reforms took place in the mid-1990s.
Another barrier to rapid growth is difficulty in accessing credit for small and medium-sized businesses. Lending to businesses is just 20% of GDP, which is half the level in Brazil. As a result, companies have to apply for credit with interest rates of 50% and higher.
Mexico is still a poor country. According to official data, 50.1 million Mexicans out of 114 million of the population live below the poverty line, and 17.5 million Mexicans cannot feed themselves.
What can impede Mexico on the road to development? One of the main risks is the slowdown in the US. Consumption in the US is 70% of GDP, but, in the long-run it will decrease to 65% and this will hurt Mexico's export industries.
Investment idea: Construction sector
The construction sector is one of the largest in Mexican economy, and by 2012 it accounted for about 7% of GDP, which is the sixth result for the contribution to the GDP. The industry suffered from a crisis of 2008-2009, and could not return to growth until the end of 2010.
Despite the rapid growth of economic activity in Mexico, the country still has a shortage of housing, which currently stands at about 9 million homes and demand grows for around 600,000 a year. This opens up great opportunities for growth of construction companies. It is forecast that this year the growth of the industry may reach 10-15%. At the same time, the sector is highly fragmented with a high level of competition among more than 1,000 companies, many of which are small regional players.
The low-income housing boom was fueled by the previous administration of the conservative National Action Party, which took power in 2000. The party viewed the housing sector as a way to stimulate economic growth and improving the living standards of millions of Mexicans. So the government increased the number of loans handed out by the state mortgage agency Infonavit and directly subsidized homebuilders to develop vast suburban areas.
During the past 12 years Infonavit, which is behind 75% of mortgages in Mexico, have out 4.4 million loans, double the amount it issued from its foundation in 1972 through 2000. The lion's share of Infonavit loans go to the working poor with monthly wages under $630.
Around two million low-income homes, valued from $15,000 to $30,000, have been built since 2000. This construction boom transformed the landscape around many Mexican cities.

The industry is led by a triumvirate of leaders - Urbi (OTCPK:URBDY), Geo (OTC:CVGEF) and Homex (NYSE:HXM). Shares of these companies have been under pressure recently due to changes in public housing programs, which do not apply to land owned by the these companies.
The new leadership of Mexico has announced plans to build a new high-rise housing and improve the existing housing stock, which is located closer to the city. The state, through the mortgage agency, Infonavit, will provide loans for the renovation of existing housing. Such a policy would require a change in priorities from the industry leaders who have already purchased land for the development of large-scale suburban areas. This land was financed through the issuance of bonds which creates certain problems.
To adapt to these changes, the largest construction company Homex started selling off assets and is considering the issuance of junior debt. Understanding the problems that the new policy has caused, Infonavit has created a $246 million fund to provide mortgages in the housing projects which are half completed.
The government has also made a commitment to guarantee up to 50% of the credits that had been granted by the banks to construction companies. In the beginning of April, this rate was already increased to 30% in order to provide additional support to companies facing problems due to decreased value of their assets.
Homebuilders' stocks rallied on Thursday as the government delayed the presentation of new industry rules for several weeks. It plans to hold more discussions with the industry leaders, who plan to propose their alternatives to reforms in the sector.
In general, the Mexican construction sector is exceptionally attractive for investments. The risk in relation to restructuring debts of the largest companies still exists but we believe it will gradually decrease, and will lead to appreciation of bonds. The homebuilders have the capacity and assets to sell in order to carry out a debt restructuring. After selling assets to Carlos Slim and being the market leader Desarrolladora Homex is in the most favorable position. We also think that the sector's fundamentals remain pretty solid despite the recent developments.
Source: Reuters
Consorcio Ara (OTC:CNRFF)

Among other companies that can easily adjust to the new government policies Consorcio Ara is the most attractive one.
In 2012 the company earned $495.5 million. This is a bit lower than earnings during the previous years. Consorcio Ara has a low debt to capital ratio of 24.7%. At the same time indicators such as P/E and P/B are slightly higher than those of the market leaders. Also it has a very solid balance sheet and does not have cash-flow problems.
Consorcio Ara stock reached a maximum price of 5.6 pesos this year, whereupon it went down by 18.7% and now trades at 4.55 pesos. Consorcio Ara is in a better position compared to stocks of other homebuilding companies. We view it as a solid long-term investment while buying bonds of struggling Desarrolladora Homex is a short-term speculative idea.
Desarrolladora Homex SAB de CV

Homex's management does not forecast any improvement in net income this year. It will focus on boosting its cash flow and improving the balance sheet. In April Homex managed to sell $322 million worth of assets to two companies owned by the billionaire Carlos Slim. National orders in 2013 will ensure about 8% of Homex income. It has to be noted that the Mexican company actively operates in Brazil. The income of Homex in Brazil has huge growth potential, and an increase of income by 60-70% is forecasted for 2013.
During the first quarter of this year, Homex sold 5,430 houses, while during the same period last year it sold 8,738 houses. Net income in 1Q 2013 decreased by 57% - down to 263.5 million dollars. At the same time, EBITDA indicator increased fivefold to 20.3 million dollars. The amount of cash and equivalents in the last quarter has slid by 85% to $26.2 million.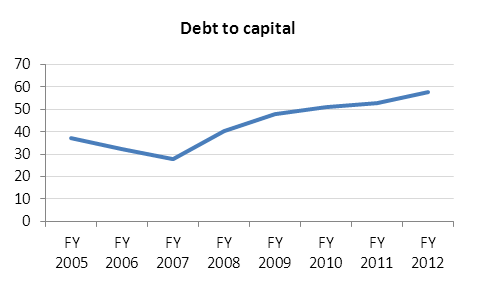 Source: Bloomberg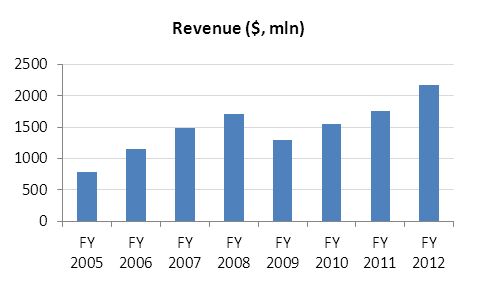 Source: Bloomberg
Recently Homex had to default on its peso-denominated bonds due to credit-rating downgrades and lawsuits from Barclays Plc (NYSE:BCS) and Credit Suisse AG (NYSE:CS) over some kind of derivative contracts. Homex's competitors - Urbi and Geo - have already negotiating on debt restructuring and we cannot rule out that Homex will follow them. There is a high probability that cases of restructuring or default will be carried out under Mexican law. However, uncertainties still remain regarding the jurisdiction under which these cases will be tried.
Idea: buy a bond that matures on 25 March 2020 and a coupon of 9.75%. The current YTM is 41.875%. At the moment, the price is 38.75% of the nominal value. We believe that in the near-term the value of the bond can go up to 50-60% of par.
Disclosure: I am long HXM. I wrote this article myself, and it expresses my own opinions. I am not receiving compensation for it. I have no business relationship with any company whose stock is mentioned in this article.